E.T. The Extra-Terrestrial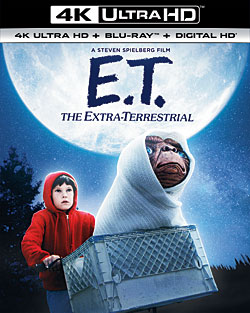 One could make an argument that Steven Spielberg is the finest filmmaker of his generation and that E.T. is one of his greatest endeavors. I was 13 when I saw this in theaters, and it was the first movie I can remember that touched me on an emotional level so deep that it made me cry with both sadness and joy. For the longest time, if I wanted to make myself tear up, all I had to do was think of E.T. lying in a ditch getting ready to be eaten by a hungry raccoon and the tears would start to flow. Even 35 years later, I get chills when E.T. gets that call to go home and the neighborhood kids rally to save the day.
Virtually every movie is shot digitally these days, so it takes a few minutes to get used to watching something that was shot on 35mm film. When the credits begin to roll, you'll notice a layer of film grain, which may be off-putting to those who love perfectly clean digital transfers. This 4K presentation comes directly from a 4K DI which leads to many jaw-dropping scenes that will make you wonder how something this old can look so good. Unfortunately, the special effects don't hold up very well with the added resolution, but it isn't too distracting.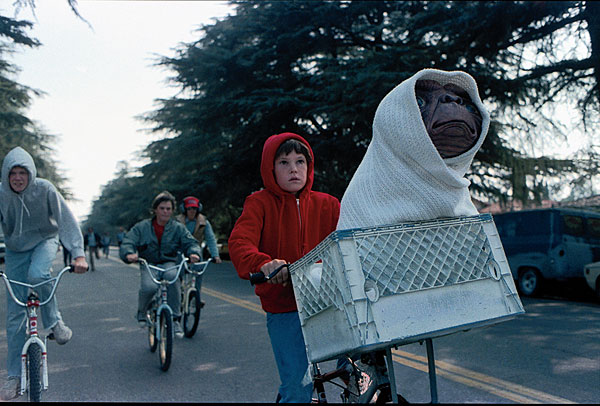 The DTS:X Master Audio track does a more than commendable job of taking the original 2.0 soundtrack and giving it more depth and personality. Discrete effects come at you from every direction—yes, even above. There's a helicopter flyover that sounds eerily lifelike and a clap of thunder that jolts the senses. The excellent imaging and seamless pans create a sure crowd pleaser.
All of the supplements are housed on the included Blu-ray and offer the same package from its last release on home video in 2012. The only new supplement is an UltraViolet Digital Copy so the family can enjoy this masterpiece on both big and small screens.
Blu-Ray
Studio: Universal, 1982
Aspect Ratio: 1.85:1
Audio Format: DTS:X / DTS-HD Master Audio 7.1 core
Length: 114 mins.
MPAA Rating: PG
Director: Steven Spielberg
Starring: Dee Williams, Henry Thomas, Peter Coyote
When an extraterrestrial being is left behind on Earth, he befriends a 10-year-old boy named Elliott who, as luck would have it, is in dire need to be loved and wanted. He's the middle of three children, and his parents' recent divorce has put a strain on the household. The pair share a bond that leads to some trouble at school for Elliott, but in the end, E.T. just wants one thing—to go home—and Elliott and his family are more than willing to help this happen.

SPONSORED VIDEO