Epson PowerLite Home Cinema 5010e 3D LCD Projector HT Labs Measures
HT Labs Measures
Full-On/Full-Off Contrast Ratio: 105,200:1
All of the measurements were taken with the projector in the Natural preset with the lamp in ECO mode. The gamma correction preset was selected as 2.3. All of the calibration was done with the Advanced Iris control in Off, but the contrast-ratio measurements were done in a variety of different modes for the iris, as noted. The lamp had 50 hours on it during the calibration. All viewing and measurements were done on a 120-inch, diagonal Stewart Filmscreen Studiotek 130 screen (1.3 gain).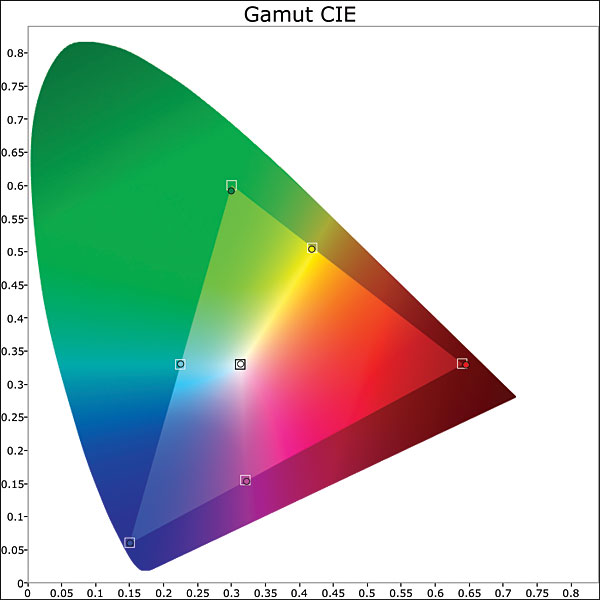 The full on/off contrast was measured with a Minolta T-10 meter 9 inches away from the lens face. I tested various configurations in both Normal and ECO lamp mode with the iris in both Normal and Off mode.
As with any dynamic iris system, overall contrast performance would vary considerably as the average picture level would change. Peak black performance was always with a full black frame, but black levels were decent with mixed material.
The RGB tables were captured from our calibration workflow in CalMAN Version 4.5. As you can see from the results, with the projector in the 6500 preset for color temperature, the out-of-box RGB tracking was off by quite a bit, with an overall Delta E average of 11.6. (Delta E is a figure of merit that indicates how closely the result is to the ideal white point of D65. Below 3 is generally considered visibly indistinguishable from a perfect result). Using the RGB adjustment settings in the advanced user menu, I was able to get the RGB balance much lower with an average Delta E of 0.8, which is excellent.
With the color preset set to Normal in the user menus, the color gamut was close to the BT.709 (Rec. 709) HD color gamut but exhibited some hue errors from most of the secondaries and some undersaturation from green. After calibrating the grayscale, the color gamut was considerably better, and only needed a minor tweak to magenta's brightness level. After this, I was able to achieve an average Delta E of 0.5, which is excellent.
Gamma tracking with the preset gamma set to 2.3 averaged a 2.24 gamma curve. (There is no reference gamma curve because gamma is a function of the brightness of white at each IRE compared to 100 IRE, and what curve you should use depends on the room you're viewing in and the contrast capabilities of your projector.) —KRD

LATEST VIDEO