Elite Projector Offers Outdoor Theater Solution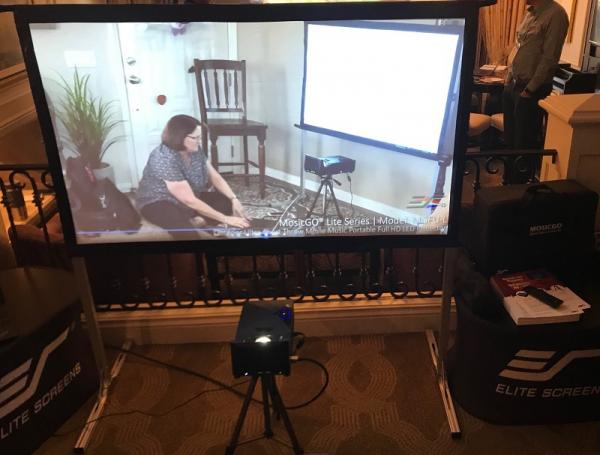 I stopped into the Elite Screens suite in the Venetian to check out whether the company was offering any new video projection screens at CES (spoiler: they were! Two, in fact!). But the coolest thing in the suite turned out to not be one of the two new video screens on display, but rather the complete MosicGo outdoor theater entertainment system under the new Elite Projector brand!
The system comes in two flavors, MosicGo Lite for $999 and MosicGo Sport for $1,299. For that you get an outdoor-rated ultra-short throw LED powered DLP projector at 1920x1080 resolution with a 20,000-hour lamp life. The system features an internal 5-watt stereo amplifier that drives stereo wireless speakers. The system is said to be "drip proof" which means it can withstand some mist in the air along with light sprinkles, but it isn't intended to weather a full storm.
The Sport model adds an integrated 37200 mAH battery that can provide up to 3 hours of wireless movie playback, or power the wireless speakers alone for up to 20 hours, truly taking your next camping trip to the next level! The Sport's internal battery can also power up to 87W USB-C devices, meaning it can charge your cell phone or laptop in a pinch.
You can't have an outdoor theater experience without a screen, so both kits also include a 58-inch diagonal Yard Master 2 Screen. The screen features a lightweight aluminum frame for easy breakdown and travel, and quickly assembles with no tools required. A MosicGo projector tripod completes the install, and guarantees that you can always install the projector in the perfect location.
If a 58-inch screen isn't enough to get your campout going, the 1000 ANSI-lumen-rated projector is capable of driving up to a 100-inch screen, and requiring just 25.6-inches from the screen to do so! So throw that bedsheet up against the side of the Winnebago and fire up your favorite trilogy! At a rated 10,000:1 contrast and covering 100% of the NTSC color gamut, MosicGo should please even the most discerning camping videophile.
Both models are available now!
In Elite Screens news, the company showed a new line of manual pull down screens that feature tab tensioning for a perfectly flat viewing area in an ambient light rejecting CineGray material. Tab tensioning is a bit unusual in the manual screen category, so it's nice to see this premium option being offered at more affordable pricing. The new screens will be available in 106-, 125-, and 140-inches (16x9, diagonal) in mid Q1 at prices of $899, $1499, and $1999 respectively.
The company also demonstrated a new motorized tab tensioned screen for ultra-short-throw projectors. The 103-inch 16x9 screen will be available in mid-year for $2999.