Denon AVR-X7200W A/V Receiver Review Page 2
After a few 5.1 warm-up demos, I slipped Ex Machina into the Oppo's drawer. This is the first (and eagerly awaited) Blu-ray title in DTS:X. Incidentally, the Oppo identified it as "DTS-HD MA 7.1," but the Denon's front panel said "DTS:X MSTR." Presumably, DTS-HD Master Audio is the preferred codec for DTS:X, just as Dolby TrueHD is for Atmos. The new format couldn't have made a more auspicious debut, with humans and robots running amok in this artificial-intelligence scenario. In lieu of the bombastic sonic assault I'd anticipated and dreaded, the disc wowed me with a gentle but constant stream of height-enhanced delights—effects that reproduced or mimicked sounds you'd hear in real life, as opposed to grueling, crunching, synthesized muck.
Nearly all of the action takes place in an Internet baron's secluded dream home, with the subliminal sound of a ventilation system in the background. In the first five minutes alone, the soundtrack mustered helicopter swish, outdoorsy stream burble and birdsong, and distant piano playing in the house. When the score ramped up with the drama, the mix sometimes favored the rear height channels over the front ones, which intensified the emotion by invading my seating space—yet Denon's clean, muscular amp just made me want more. Audyssey's contribution helped match the timbre of objects panning throughout the dome-shaped soundfield. Altogether, it was a surround experience I'll never forget.
DTS:X wasn't the only treat on the menu. I also had a whole bunch of new Dolby Atmos experiences via the Dolby Atmos Blu-ray Demo Disc of September 2015, a neat compendium of trailers, movie and TV clips, music, sports, audio-only demos, test tones, and a video game excerpt. The Denon made its most obvious contribution to the fiery-green harbor explosion from Game of Thrones, which was as dynamically fulfilling as I could have wished for. But I was also struck by how easily the room-corrected amp accessed the beauty of several music clips, including Makoto Nakura's Bach performance on vibraphone, which re-created the large, bare, high-ceilinged space in which the clip was recorded and loaded it with voluptuous harmonics.
As I was auditioning the Denon, the fourth season of House of Cards went live on Netflix, prompting a four-evening binge (more moderate than the two-day binges my household formerly indulged in). Running the Dolby Digital Plus 5.1 soundtrack in the new Dolby Surround mode offered a chance for extended listening to the latter, which derives content for the height-enhanced speaker array from channel-based surround and stereo soundtracks. Dolby Surround diffused and slightly lifted the opening theme, as time-lapse cameras panned through the moody District of Columbia. It was neither an improve- ment nor otherwise, just a distinction. But scenes set in large indoor spaces, for speechifyin' and such, had their dramatic potentials enriched in the height dimension. Dialogue—and this show is all about dialogue—was unaffected, with most of the vocal action remaining in the center speaker. The Denon delivered all the conspiratorial low-voiced passages as adeptly as any receiver I've ever heard.
Classical Rock & Roll
I have Carlos Kleiber's recording of Beethoven's Symphony No. 5, with the Vienna Philharmonic, in every conceivable format—befitting the greatest-ever interpretation of this beloved warhorse. Having rotated through the digital versions, I returned to the foil-wrapped Deutsche Grammophon LP. As close to rock & roll as the sym- phonic literature ever gets, the Fifth demands to be played loud, and the Denon was more than equal to its volcanic demands, conjuring a huge, epic soundstage in 2.1 channels.
Was it sacrilege to spend the first movement switching Audyssey on and off? Well, it's a dirty job, but someone has to do it. Usually, I'd prefer high-volume orchestral blasting without the edge-sharpened tampering of room correction—this is where cheap homegrown room correction tends to fall down on the job—but with Audyssey MultEQ XT32, the result was an even tradeoff. Yes, I could enjoy Beethoven louder without room correction, but just a hair louder. With room correction, the strings and other orchestral sections leaped into focus, and their tone colors were more saturated. By the way, rather than use the pure direct mode for A/B-ing, I elected to switch Audyssey on and off directly. This kept the sub channel from cutting out, giving the kettledrums full weight whether the room correction was operating or not. What is rock & roll without the rhythm section?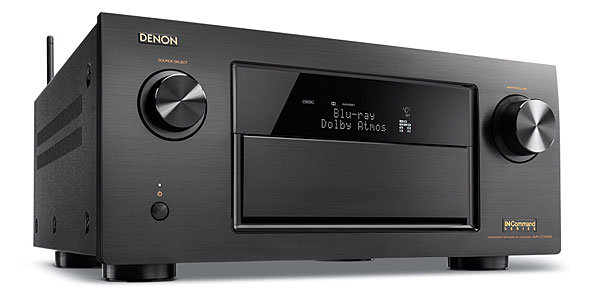 I streamed Abdullah Ibrahim's Senzo from one of my desktop PCs as CD-quality WAV files. The South African pianist flies solo on this gorgeous album of tone poems that drift gracefully from one mood to the next. With correct left-hand weight, fully developed har- monics, and glassine tone color (I felt as if I were listening to a see-through piano), there was no reason to depart from the delicious room-corrected version. Dolby Surround broke the spell with excessive diffusion. While switching between listening modes, I noticed that using the remote's navigation up and down keys unintentionally skipped tracks. Cycling through modes using the remote's red Music key avoided the problem. This would be a good time to mention that the remote's backlighting spontaneously blinked on throughout the review process. This turned out to be a feature, not a bug: The remote has a motion sensor, and it's adjustable.
My mourning period for David Bowie continued with Let's Dance, the toe-tapper he co- produced with Nile Rodgers. This LP was burned into my brain back in the day by KLH and Snell two-way speakers with 8- to 10-inch woofers. Room correction went out the window—I preferred room interaction, along with a relaxed feel—but bass management was welcome to the party. The Denon's intrinsically great-sounding amp danced the album down well-worn neural pathways. It sounded reminiscent of old times, except better.
To call the Denon AVR-X7200W a top- of-the-line receiver with all the goodies would belabor the obvious. But it's also a musically reliable amp with the best possible room correction—the kind that's suitable for both most music and pretty much all movie and TV content. It never let me down. If you're willing to spend more for a receiver that's worthy of a long- term relationship—and you consider that Dolby Atmos and DTS:X have started a new chapter in surround sound history—then this Denon receiver is one you may happily settle down with.