Denon AVR-X7200W A/V Receiver Review
PRICE
$2,999
AT A GLANCE
Plus
Gobs of power for almost any situation
Audyssey MultEQ XT32
Atmos, DTS:X, and Auro 3D
ISF certified
Minus
Daunting price
THE VERDICT
The Denon AVR-X7200W is pricey, but this flagship is loaded with power, features, and performance.
Ticking off all the feature checkboxes does not automatically confer popularity on a flagship audio/video receiver. Some prospective buyers will look at the four-figure price tag of the Denon AVR-X7200W and just say, no, sorry, not for me—despite the fact that many other high-end audio products, and luxury products in general, sell for far more. The AVR category is the spiritual home of those who love to get more for less. Why, asks the hardheaded audio buff, do I need to pay three grand for all those features, all those jacks—all that stuff I'll never need? The answer is that the features you do need may be worth the price. If your speakers are a little more demanding than the home theater norm or you have a large room, you'll want as much power as possible, and this receiver is Denon's best shot.
In another sonically transformative move, Denon has licensed top-of- the-line room correction for this top-of-the-line receiver. MultEQ XT32 has the highest filter resolution of any Audyssey technology, aided by the receiver's 32-bit digital signal processing. How many times has mediocre homegrown room correction compromised receivers passing through my reference system? Frankly, I've lost count. But Denon anted up for the good stuff with this receiver. That alone would be noteworthy.
This receiver is also one of several that support the new DTS:X object- oriented, height-enhanced surround codec (with a software update). It marks the first time I've had a chance to go ears-on with DTS:X.
Number 9, Number 9, Number 9
Denon has nine new AVRs, ranging from $259 for the 5.2-channel AVR-S510BT to $2,999 for the 9.2-channel AVR-X7200W. A half-dozen models have seven channels, and all of those receivers support the 5.2.2-channel versions of Dolby Atmos and DTS:X. But only the AVR-X6200W ($2,199) and the 7200, reviewed here, have the nine amplifier channels needed to muster 5.2.4-channel Atmos and DTS:X surround without resorting to outboard amps.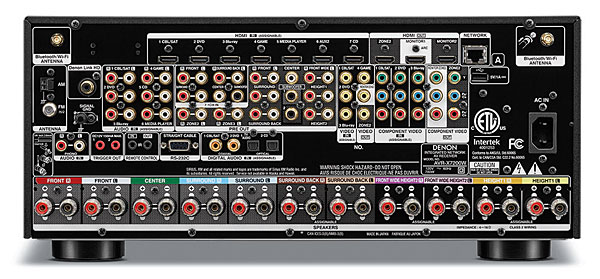 Along with its nine amp channels, the AVR-X7200W has 11 sets of binding posts, 11.2 object-oriented surround channels, and 13.2-channel preamp outputs. The extra con- nectivity allows you to switch among height, back-surround, or width channels; biamp the front left/right; or feed up to three zones. Other niceties include both front and rear USB ports and a phono input. In addition to Dolby Atmos and DTS:X, the receiver supports a third version of height-enhanced surround decoding, Auro-3D. The latter two require a firmware update that became available on January 28; it takes about an hour to run. Denon's Auro-3D updates (at a cost of $199) began on March 29 with the AVR-X4200W and AVR-X6200W, and will likely be available for the AVR-X7200 by the time you read this.
The receiver is rated at 150 watts into 8 ohms with two channels driven. See our Test Bench for five- and seven-channel measurements. Denon says the receiver can handle 4-ohm loads, though the company provides specs down to only 6 ohms. The Eco amp mode adjusts power according to signal level, and the Eco mode display shows power con- sumption in real time.
It goes without saying that this receiver has up-to-date HDMI 2.0a with HDCP 2.2 digital rights management. Additional video features include ISF certification, allowing a technician to optimize the receiver's video processing for your display. Ultra HD video passthrough supports SMPTE-standard HDR, up to 60-hertz frame rate, BT.2020 color space, and 4:4:4 "pure color" subsampling.
With its AKM AK4490 32-bit DAC, the Denon can handle hi-res PCM audio files up to 24 bits and 192 kilohertz plus DSD up to 2.8 megahertz. The dual antennas support Wi-Fi, AirPlay, and Bluetooth; DLNA streams media from your PC and other devices. Streaming services include Spotify, Pandora, and the Internet version of SiriusXM (though even on top-line models, satellite reception seems a thing of the past).
The Audyssey Platinum suite includes the aforementioned MultiEQ XT32 as well as the excellent Dynamic EQ and Dynamic Volume low-volume listening modes, Low Frequency Containment to help mollify your neighbors, and Sub EQ HT for bass optimization of dual subwoofers. This receiver is also Audyssey Pro Installer ready, allowing a custom installer to measure up to 32 listening positions (versus 6 to 8 for a civilian) with an Audyssey Professional Mic. The installer has access to more advanced crossover settings and more target sound curve options, and he can print a certificate detailing the adjustments made to your system.
Associated equipment included five Paradigm Reference Studio 20 v.4 speakers, four Klipsch RP-140SA Atmos elevation speakers, Paradigm Seismic 110 subwoofer, Oppo BDP-83SE for disc play, Panasonic DMP-BD87 for video streaming, Lenovo Windows 7 multimedia PC, Micro Seiki BL-21 turntable, Shure V15MxVR/N97XE cartridge, and the phono stage of (appropriately enough) a Denon PRA-S10 preamp.
DTS:X Machina
Some receivers impress by imposing a strong personality on everything. Others prefer anonymity, defining high performance by their ability to get out of the way. The AVR-X7200W is one of the latter—due to not only a powerful, clean, and well-tuned amp but also the acoustic fine-tuning of Audyssey MultEQ XT32. It kept its cool, always sounding as if it had power to spare. Dialogue seemed stripped of all false coloration, including any obvious transitions at the sub crossover. Past experience with Denon/Audyssey receivers has led me to prefer Audyssey's Reference mode for movies and its Flat mode for music. This time, I cut to the chase and stuck with those choices.