Denon AVR-S900W AV Receiver Page 2
Associated equipment included the whole menagerie: five Paradigm Reference Studio 20 v.4 speakers, Paradigm Seismic 110 subwoofer, Oppo BDP-83SE universal disc player, iPad mini retina for AirPlay and Bluetooth streaming, Meridian Director USB DAC running with Foobar 2000 on a Lenovo Win 7 laptop, Lenovo Win 7 desktop PC via DLNA, Micro Seiki BL-21 turntable, Shure V15MxVR/N97XE cartridge, and Onix OA 21s integrated amp serving as phono preamp. All movie demos were Blu-ray Discs with DTS-HD Master Audio soundtracks.
An Exceptional Denon
You can usually rely on Denon to produce a decent-sounding receiver, but the AVR-S900W is exceptional. The amplification is intrinsically clean and satisfying on its own, and it got a lot more after-hours use than needed to complete this review. Where Audyssey came in handy was in the choice of room correction modes. For movies, I favored the Reference setting, "with a slight rolloff at high frequencies," as the GUI's context-sensitive help said. The rolloff enabled higher volume settings, a bigger soundfield, and greater comfort at high-decibel moments. But for music, I favored the Flat setting, "optimized for small rooms where your listening position is closer to the speakers." As long as I remembered to change horses when switching between movies and music, I was a happy rider. Unfortunately, this could be done only via GUI and remote; the app didn't handle Audyssey settings. Denon says you can tag your favorite Audyssey curves to the quick set buttons for easy recall, though.

The Hobbit: The Desolation of Smaug made the case for the AVR-S900W as a lean, mean movie machine. It kept its composure with scene after scene of dynamically demanding effects. Most memorable was the emergence of Smaug, the dragon voiced by Benedict Cumberbatch, as he stomped around the gold-strewn cave in pursuit of the hapless Bilbo. While the Reference-setting rolloff did soften voices slightly, it compensated by allowing listening comfort at higher overall levels, which not only restored intelligibility but also made this movie exactly what it ought to be: an epic. I just got on that rocket and rode to the stars.
Another effect of the rolloff was to rebalance and enlarge the war drums that pound away through so many movie soundtracks. In The East, the tale of an investigator infiltrating an eco-terrorist movement, this gave drum flourishes a thick, meaty presence that contrasted beautifully with the score's warm, tense string section. (My only complaint—admittedly a peripheral one—was that Fox studios disabled both the track-skip and the fast-forward keys for previews, so I had to sit through 12 minutes of filler before being allowed to access the top menu.)
The Place Beyond the Pines is a long, thoughtful story about what happens when a bank-robbing motorcyclist crosses paths with an ethically tormented cop. I inadvertently started the movie with the Flat setting and wondered why the opening scene—a long tracking shot that follows the motorcyclist through a carnival—was so bright and fatiguing. When I switched from Flat to Reference and replayed the same footage, it lost its uncomfortable edginess, and the walls of my room practically dematerialized, to be replaced by the big soundfield I had come to relish. The slight rolloff of the top frequencies made the high whine of several bank-job motorcycle getaways less strident, more exciting, and more involving.
The Remaster Master
Jimmy Page's recent remastering of Led Zeppelin's self-titled debut album (96/24 FLAC from HDtracks) trades some of the original U.S. LP's sepia tone color for clarity and punch. The Denon blasted off, endowing songs like "Good Times Bad Times" and "Communication Breakdown" with the calculated power and immediacy that Page must have intended when they first laid down the track. The more candid treble of Audyssey's Flat mode did this material no harm. In fact, even without any room correction at all, the receiver's handling of this revitalized Zep was superb. More than just palatable, Denon's treatment was fine-grained, and in the best sense, revealing.
In The Transcendentalist, a CD on the Heresy label, pianist Ivan Ilić mingles the mystically potent works of Alexander Scriabin with compatibly exploratory pieces by John Cage, Morton Feldman, and Scott Wollschleger. With Flat room correction engaged on the receiver, the piano got an ideal distribution of frequencies, balancing the left hand with the right, with precise decays and a refined physical presence.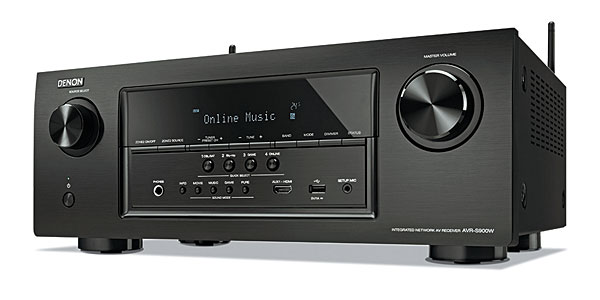 Dissatisfied with their early CD masterings, I've been repurchasing Jan Akkerman's 1970s jazz-pop solo albums on LP, hoping for better representations of the original analog recordings. One especially problematic case is Akkerman's 1977 self-titled album, in which the echo is laid on with a trowel, outrageously distorting the string orchestra. On vinyl, it's still a lousy production, but the Denon managed to extract the musical essence from the mint-condition black grooves, teasing apart bits of the instrumental fabric, so that it sounded less like canned mush and more like a guitar-led band playing with an orchestra.
The wireless technologies, in brief, worked. DLNA access to music on a networked PC was slow and balky; here, Denon noted that performance may vary based on the server and library size, and that its mobile app is probably best suited for simple navigation of a large library. But I was pleased to play DSD files on a USB thumb drive, and Miles Davis' Seven Steps to Heaven sounded smooth and sweet, with loads of well-imaged texture from the muted trumpet. (Thanks to Acoustic Sounds' SuperHiRez.com store for the download.)
Denon's AVR-S900W is a receiver that tries to do everything and pretty much succeeds. Triple wireless connectivity, a thoughtful interface, and solid room correction are pluses—and the supplied mike stand is a great idea. But the biggest attraction is great sound, at what amounts to a very affordable price, no less. That's what makes it all worthwhile.