Denon AVR-S900W AV Receiver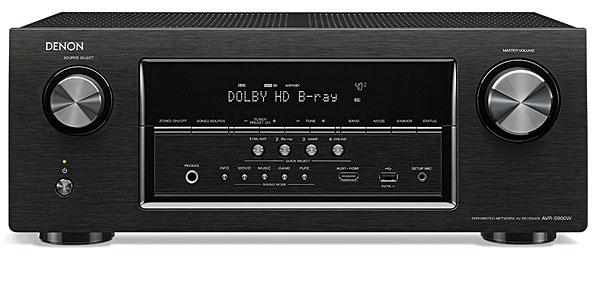 PRICE
$650
AT A GLANCE
Plus
Wi-Fi, AirPlay, Bluetooth
HDMI 2.0
Cool cardboard mike stand included
Minus
Slow DLNA media access
No MHL for phone streaming
THE VERDICT
The Denon AVR-S900W offers high value at a crowded price point, with superb performance, a competitive feature set, and a supplied stand for the room-correction mike.
You can't set up room correction without a microphone, and you can't use the mike without bringing it to ear-level elevation. But few AV receiver makers include a mike stand. Along with Anthem, Denon is now one of the happy exceptions. No, the stand packed with the AVR-S900W isn't a metal photography tripod with all the mechanical trimmings. But it is an effective platform for the mike used to set up Audyssey room correction. Constructed entirely of black card stock, it consists of a four-finned base, two plain column pieces, and a third column piece with sawtooth holes for height adjustment. Piece it all together, top it off with the customary Hershey's Kiss–shaped mike, and you have something that looks like a rocket. Run Audyssey's auto setup and room correction program—in this case, the MultEQ version, which measures from six seating positions—and your home theater system is ready for liftoff.
Triple Wireless
The AVR-S900W ($650) is one of three new Denon receivers, along with the AVR-S700W ($500) and AVR-S500BT ($300). In the past, I've knocked Denon for including AirPlay wireless connectivity but not Bluetooth. Well, all three of these receivers have both, even the super-affordable bottom model. Denon has also joined the wireless-triple-threat club by providing integral Wi-Fi for the network connection in the top two models. No awkward extra-cost accessories needed.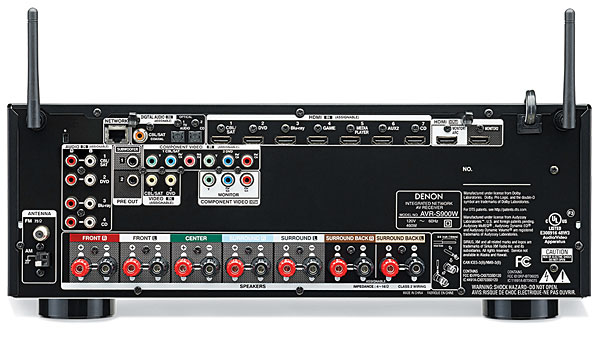 The AVR-S900W is rated at 90 watts times seven with two channels driven, versus 75 and 70 for its two siblings. It is said to be stable with more demanding 4-ohm loads, but Denon doesn't issue a spec for wattage at that impedance. (We do, however, measure with two channels driven into a 4-ohm load; see Test Bench for details.)
Flanking the front panel are the usual volume and source-select knobs. Not shy about front-panel functionality, Denon provides three rows of buttons, each row featuring a different button size and shape. One row is devoted to four Quick Select buttons, which associate each with a specific input, sound mode, and setting (similar to Yamaha's Scene controls). The front panel also includes an iOS-hip USB jack and an HDMI jack. None of the receiver's HDMI inputs is MHL compatible for Android smartphone streaming.
On the back panel are dual antennas that serve for both Wi-Fi and Bluetooth reception. HDMI connectivity is plentiful, with eight inputs (including the front-panel input) and two outputs (though the second cannot be used to independently feed a zone 2 display with alternate content). This receiver is up to date with HDMI version 2.0, which supports 4K video at 60 hertz (on this receiver, that includes scaling up to 4K/30 Hz), 4:4:4 pure color, 21:9 aspect radio, and dynamic lip sync.
Additional HD connectivity comes with two component video inputs and one output. In general, outputs have been trimmed: There are two composite video inputs for legacy sources. The four stereo analog inputs, two optical digital inputs, and one coaxial digital input aren't matched by any line-level audio outputs. And there are no multichannel analog ins or outs. But Denon does provide two subwoofer outputs for the usual mono subwoofer channel.

The Audyssey Bronze package includes not only MultEQ room correction but also Audyssey Dynamic EQ and Dynamic Volume. These are among the industry's best low-level listening modes, and they offer multiple levels of adjustment. The Audyssey suite doesn't have DSX width- and height-enhanced listening modes (no great loss), though the Dolby Pro Logic IIz height mode is present. An Eco mode reduces power consumption and may influence volume levels. For maximum dynamic impact, it can be shut off. The remote control has a dedicated button for it (green, of course), and the onscreen display's volume bar shows its status.
Network audio features include DLNA 1.5 for media access from PCs and other devices, plus Spotify, Pandora, and SiriusXM Internet radio. The receiver's digital-to-analog conversion supports the DSD file format as well as high-res PCM. Like most receiver makers, Denon no longer provides a printed manual, but you can access the manual via supplied CD-R or online, and either one would be more searchable and easier to use—so chalk it up to progress. The remote control has been simplified, with fewer buttons and better organization, and Denon also offers a Remote App for Android and iOS devices.
The Audyssey auto setup's first instruction is to assemble the cardboard mike stand. This takes just a minute or two and requires no tools. The stand is adjustable for heights from 21.5 to 42 inches, so you can measure from positions in the seating area or from the floor. Only a photography nerd, or maybe an AV nerd like me, would own a proper tripod, so kudos to Denon for thinking of something new and useful that eases the setup process and indirectly benefits performance.
This is the slickest Audyssey implementation I've seen. MultEQ's six measuring positions, above and in front of a sofa, are shown in a neat onscreen color diagram. Another diagram uses the outline of a seated human figure to show how to place the mike at ear height. You're asked whether to turn on Dynamic EQ; I'd suggest keeping it off until you've heard the receiver at full throttle. Other steps include AirPlay device setup and verification of source components.
Even when I pursued my usual post-setup manual tweaks, the receiver anticipated every move. For example, when I changed speaker size from large to small and switched crossover from individual speaker settings to a single global setting, the crossover point suddenly adjusted itself to my preferred 80 Hz, the most likely choice for monitor speakers (though you'd probably prefer 100 to 120 Hz for smaller satellites). Denon seems determined to make life as easy as possible for both newbies and experienced users. I'm impressed.