Denon AVR-3312CI A/V Receiver Page 2
Associated equipment included five Paradigm Reference Studio v.4 speakers, a Paradigm Seismic 110 sub, and an Oppo BDP-83 Special Edition Blu-ray Disc player. All movie demos (and one music demo) were Blu-ray Discs with DTS-HD Master Audio soundtracks.
All-Around Performance
The AVR-3312CI was a strong all-around performer. In most of the demos, it tended toward the dark-toned side—although not severely—with a warm, full bass above and below the 80 hertz crossover I typically use. I would not attribute this to the interaction of Audyssey MultEQ XT with my room. If anything, turning off the room correction thickened the tonal balance even as it weakened the soundfield—again, these were subtle differences—so I kept it on most of the time.
Killer Elite brought together Jason Statham, Clive Owen, and Robert De Niro in a tangled tale of feuding assassins. This high-caliber action movie had the kind of hard, clattery soundtrack typical of Statham vehicles, and the receiver did little to sugarcoat it. The first exploding car had me seeking sanctuary in Audyssey Dynamic EQ and Dynamic Volume, with the latter at its lowest setting (my default setting when I use DEQ/DV at all). Dialogue was clear in this and all succeeding selections.
Final Destination 5, a vehicle for savage and mocking bloodshed, was front-loaded with a spectacular bridge collapse that gave the receiver a chance to deliver bass-heavy all-channel effects through my speakers (of average sensitivity) without flinching. The opening music was rich and warm, signaling that the clattery sound of the previous movie was characteristic of the movie, not the receiver. Bass lines were fattened (like me), but not morbidly obese.
The Ledge is a drama whose complex weave of characters and themes—the romantic triangle, the gay-versus-fundamentalist angle, the suicide counselor struggling with paternity issues—culminated with the leading man on a building ledge, ready to jump. Dialogue was everything, and the receiver delivered it all clearly. Voices had a more nasal emphasis than in the previous movie demos, but since it occurred only in this selection, it must have been content-induced. Again, the bass component of music was thick but not overdone. Audyssey Dynamic EQ and Dynamic Volume continued to subtly firm up the soundfield, but I followed my usual practice of turning them off for the music demos.
Yes on Steroids
Symphonic Live is the decade-old, demon spawn of Yes and the European Festival Orchestra with conductor Wilhelm Keitel. I liked it better than I'd expected to. Chris Squire's bass and Alan White's meaty drums benefited from the room correction with both a generous bottom end and plenty of Rickenbacker bass-guitar twang at the top end. Jon Anderson's voice cut through the mix —yet the receiver did not let it go thin, and it retained its youthful suppleness. There were many moments when I wished the receiver had delivered more transparency to separate the many layers of orchestral and rock-band sound, especially when the
band drowned out the orchestra, but at least these were sins of omission. The orchestra still had its chance to shine in the floaty bits of "Close to the Edge" and the reimagined "Long Distance Run-around." Steve Howe's acoustic guitar solo was a model of multichannel recording and playback, here with 5.1 of the receiver's channels combining to produce a nuanced account of a single, woody instrument.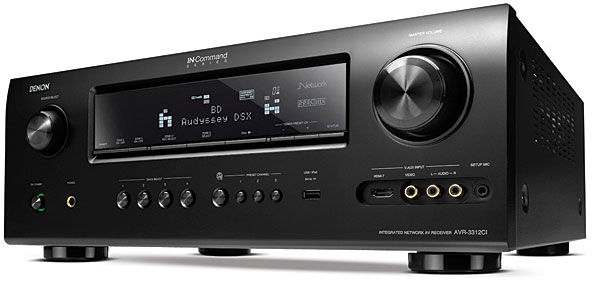 In the French Impressions CD, Joshua Bell and Jeremy Denk offer sonatas for violin and piano by Saint-Saëns, Franck, and Ravel. Operating in stereo, the receiver had no trouble imaging the famous violinist within a convincing soundstage. It wasn't as wide, deep, or precise as I'm used to getting with top-of-the-line, boutique receivers or pricey, two-channel components, but it was balanced and pleasing.
Madeleine Peyroux's Half the Perfect World was a more casual demo than the others—I ran MP3 files encoded at 192 kbps via AirPlay, hardly an audiophile-approved choice. But the miracle of AirPlay never ceases to amaze. As usual, I had to spend a few moments rooting around in the GUI to enable Network Standby. After that, it was simple: I started the album on my iPod touch, tapped the AirPlay logo on the touchscreen, selected the AVR-3312CI, and then the receiver did the rest, powering itself up, selecting the right input, and streaming the music. The Steely Dan-ish gloss of producer Larry Klein stood up well to lossy compression when played at low to moderate volumes. I don't play MP3s any other way.
The Denon AVR-3312CI is a fine-sounding receiver with a definitive feature set, especially for those intending to integrate it into a custom installation. Many features are especially suitable as the death spiral of the CD format accelerates: This receiver will stream from Rhapsody, Napster, or your iThing, or pull media out of your PC, or even play vinyl (turntable not included). These are the choices that listeners increasingly demand. So this is far more than another dumb black box—it's the nerve center for a 21st century audio system.

SPONSORED VIDEO