Denon AVR-3312CI A/V Receiver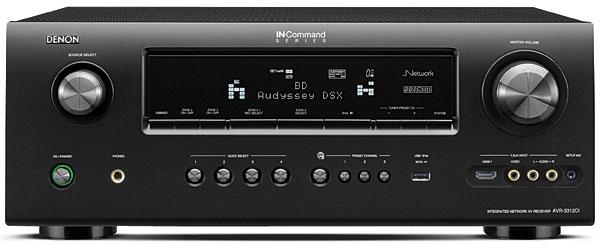 Price
: $1,100
At A Glance
: Discrete amplifier circuitry, 125-watt channels • CI customintegrator features • Full Apple and Audyssey suites
Denon has long been among the most nimble of the major manufacturers of audio/video receivers. If a feature of any significance raises its head above the parapet, Denon nails it faster than just about anyone—and often spreads it among many models. You might quibble over the value of, say, the company's quick and near-universal inclusion of multiple height-channel surround enhancements. But as one of Denon's CI-series models, the AVR-3312CI also has a substantial array of features designed to make life easier for custom integrators and their clients. It sure doesn't hurt that the receiver is Apple-hip.
Lest you think Denon neglects the fundamentals in favor of fripperies, its rated 125 watts per channel arrive via discrete amplifier modules. The internal layout follows a simple and straight philosophy that keeps signal paths as short as possible to avoid degradation. Denon has also exerted itself to suppress vibration, with the power supply mounted to a rigid chassis. So unless you go berserk and connect it to speakers that need way more than a moderately priced receiver can be expected to provide, your system should achieve liftoff and be orbiting the earth in no time.
Pick One of Three
Denon's current line breaks down into a half-dozen CI (Custom Integration) models and another four without CI features. The AVR-3312CI falls in the middle of the CI series. It is the highest seven-channel model in the line, with the three above it going to nine channels. The extra channels in the nine-channel models enable users to engage two out of three potential surround enhancements: height, via Dolby Pro Logic IIz or Audyssey DSX; width, via Audyssey DSX; or traditional back surround, best enjoyed with software so encoded. With the 7.2-channel model under review, you have to pick one of the three to use—but with 11 sets of speaker terminals, you can connect all three and switch among them as desired. The ".2" part makes it a little more interesting by simplifying connection of a second subwoofer. Given how hard it can be to achieve uniform bass coverage with a single sub—even one ideally positioned—this extra flexibility is a good thing.
As a CI model, this receiver is Control4 certified, enabling it to function within that widely accepted home-automation standard. Other CI features include IP control for third-party controllers such as AMX, Crestron, RTI, URC, and Savant. With remote access via the Internet, your CI can manipulate the receiver settings without making a house call. Denon's CI certification and training program had 1,350 registered in-person members as of 2011, while the CI Portal website had 5,000 registered users.
In Denon-speak, the AVR-3312CI is also an IN-Command model. This catchall designation brings together numerous network-enabled features. They include Apple AirPlay, Windows 7 Play To capability, both Pandora-personalized and conventional Internet radio, Napster and Rhapsody music streaming, Flickr photo sharing, and DLNA 1.5 certification for media sharing. If you're connecting a USB device to play music, this receiver supports FLAC, the popular, lossless, open-source codec in addition to the usual lossy and/or Apple-approved suspects. Over-the-air HD Radio is present along with conventional AM/FM. For more information about IN-Command and other Denonphilia, see the Denon microsites at http://usa.Denon.com/incommand, http://usblog.denon.com, and http://youtube.com/denon.
The combination of AirPlay and DLNA gives you two approaches to playing music via the network: push or pull. With AirPlay, you can push music from your iPad, iPhone, or iPod touch to the receiver. When these Wi-Fi devices send signals to the router, the Ethernet-connected receiver will automatically power up and go to the AirPlay input. Or you could use DLNA to burrow into the receiver's menus to pull music (and photos) out of your router-connected PC.
You're also free to plug your iOS device directly into the receiver's USB input without resorting to a dock. But using AirPlay would give you the added opportunity to simultaneously use your iThing as a remote with the Denon Remote App. It is not the slickest or most full-featured AVR control app out there, having earned only two and a half stars in the Apple App Store. The receiver can also be controlled via a Web browser.
Although Denon's remote control and Remote App are just so-so, the Setup Wizard makes your first few minutes with this receiver as ergonomically painless as possible. It steps through language select, speaker connection, Audyssey speaker calibration, setup of source components, and network connection in an orderly fashion. It'll even help you set up the remote control to handle your entire system. The version of Audyssey it uses is MultEQ XT, second from the top out of a series of four. Its high-resolution filters are not as good as the ultrahigh-resolution filters in MultEQ XT32, but better than the midlevel and basic filters in MultEQ and 2EQ. Denon made the appropriate choice for this price point.
The connectivity suite is up to par with a couple of notable exceptions. This is one of the few receivers I've seen recently with S-video inputs (two). Denon's inclusion of a moving magnet phono input is also worthy of a manufacturer on top of the latest trends. While there is a set of 7.1-channel analog preamp outputs, which potentially might turn this surround receiver into a surround preamp-processor, there is no corresponding set of 7.1-channel inputs, so forget about plugging in a pre-HDMI universal or other disc player.