Definitive Technology BPVX/P Surround Speaker
A speaker that Tony Montana would definitely love.
Power is considered to be very important in our society. Tony Montana's immortal words in Scarface said it all: "First you get the money, then you get the power, then you get the woman." Of course, Tony was talking about a different kind of power than what you or I would be interested in (drug-kingpin power is very different from a nine-to-fiver's kind of power), but possessing even a minute amount of power can electrify one's self-esteem. Granted, Tony's zeal for power led to his coked-out paranoia and ultimate demise, but other types of power can, in fact, be quite healthy.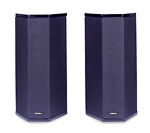 Definitive Technology is a company that understands the notion of power very well. Having offered loudspeakers with built-in powered subwoofers not long after the dawn of home theater, the folks at Definitive understand what powered speakers can do for performance. Good engineering plus power equals plenty of fun. While this deviates from conventional loudspeaker design, most of the stalwart hi-fi speaker manufacturers have switched over to this way of "powered" thinking.
First in Definitive Technology's history were the BP 2000 tower speakers; later came their mammoth siblings, the BP 3000TLs—with built-in 1,000-watt subwoofers. These immense speakers were a statement of form and function melding into one practical result, offering a ton of bang for the buck. They also allowed the Dolby Digital/DTS requirement that there be full-bandwidth loudspeakers at every channel to be practically instituted. Since the 5.1 spec asserts that a full-bandwidth signal go to all five channels and a limited "bass" channel go to the LFE "0.1" track, you could theoretically have six subwoofers in a system. Although this sounds like it could perhaps be too much bass for one room, it isn't, since all the subs wouldn't necessarily be playing at once. At the same time that they released the BP 3000TLs to critical acclaim, Definitive came out with their C/L/R 3000 center speaker, also with a powered subwoofer. Since then, we've been waiting for their solution to the problem of a surround speaker to use when a typical tower speaker just won't do. Well, I'm here to tell you that the wait is officially over—it's here.
The BPVX/P is an on-wall surround loudspeaker with a bipolar design, featuring four cast-basket 6.5-inch bass/midrange drivers (two on each side), as well as two 1-inch pure-aluminum-dome tweeters. The built-in 125-watt amplifier drives two of the 6.5-inch drivers, and this combination results in performance similar to what you'd expect from a regular subwoofer. Of course, a conventional amplifier is still needed to power the passive portion of the loudspeaker. Like the rest of Definitive's products, these are not powered loudspeakers in their entirety—just the bass portion is powered.
Aesthetically, the BPVX/P is quite good-looking. To me, the appeal of Definitive's products has always been that they're quite diminutive. They tend to visually disappear into a room. Of course, sonically, they do not. But more on that in just a bit.
To test these speakers, I hooked them up to my buddy Jimmy's system, which is remarkable. His room is a good size, and he uses Definitive's BP 2000s as his main speakers and the C/L/R 3000 for center-channel duty. For rear speakers, he uses Definitive's
BP 2X speakers, which have a passive bipolar design that works great. We thought it would be really interesting to try out the BPVX/Ps in the BP 2Xs' place along the back wall in the room.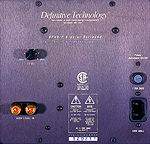 Setting up the speakers was a cinch. For our purposes, we placed them on a pair of 4-foot stands. You can wall-mount these speakers using the built-in mounting plate, but we chose (for ease of comparison) to simply place them up against the wall, just like the BP 2Xs. A major consideration for powered speakers has to be the inherent necessity of a power outlet at each channel. A lot of people like the idea of speakers with built-in subwoofers but forget that they'll need juice for each channel. This can get a little cumbersome with surround speakers, depending on your home theater room. In this case, there were AC outlets right near where we were gonna place the speakers, so we were in luck.