Def Leppard - London To Vegas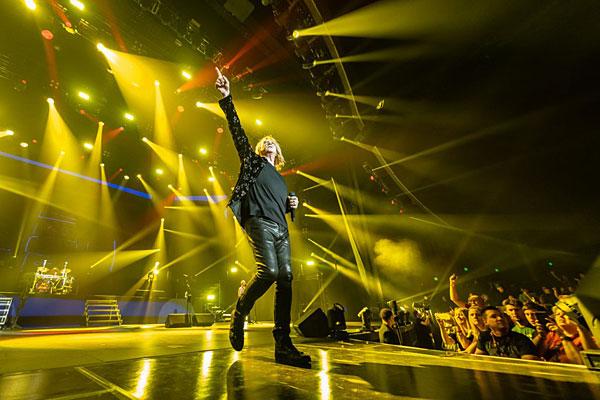 In 1980, their debut album, On Through the Night, hit the Top 20 in the UK and caught the attention of AC/DC producer Robert John Lange, who signed on to produce their second album, High 'n' Dry, in 1981. Under his tutelage, the band started to craft a sound that would suit them well in the coming years. A minor hit from that album, "Bringin' On the Heartbreak," became an MTV staple in 1982, which helped to create a fan base on the other side of the pond.
In mid-1982, Pete Willis was fired because of alcohol abuse and instantly replaced by Pete Collen while the band was recording its third and eventual breakout album, Pyromania (also produced by Lange). The lead single, "Photograph," was an instant hit and follow-ups "Rock of Ages" and "Foolin" helped Pyromania sell 10 million copies and rocket up the charts to #2 in 1983—there was no chance at #1 with Michael Jackson's Thriller holding that spot. The band went from being an opening act to selling out San Diego's Jack Murphy Stadium (55,000 seats) in the span of one year—they had arrived.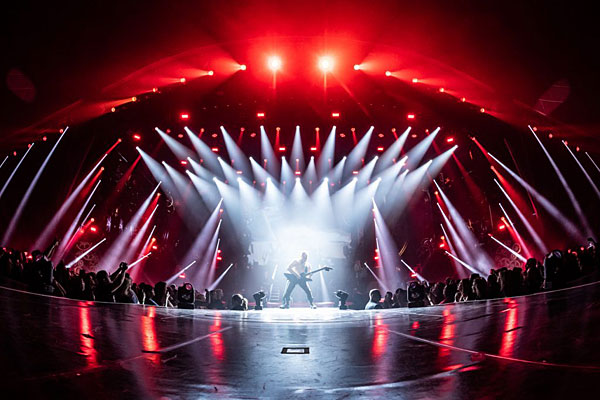 After an extensive tour, Def Leppard went back into the studio in 1984 but Lange bowed out of the process for personal reasons. The band soldiered on, but on New Years Eve of that year Rick Allen was in a horrific car accident and lost his left arm. While rehabbing in the hospital, Allen postulated that he could use his legs to do a lot of the tasks that his arm used to do and dedicated himself to relearning his craft. To his bandmates credit, they never sought a replacement for him. (Playing the drums is hard enough with two arms, I couldn't imagine doing it with only one!)
A silver lining from the accident was that the delay allowed Lange to recharge his batteries and he returned to help with the band's fourth album, Hysteria, which took over three years and an astounding $5 million to produce. The album ended up generating seven hit singles on its way to 25+ million copies sold and was the pinnacle of the Def Leppard's career.
In 1990 the band went to work on its fifth album, Adrenalized, when tragedy struck again. This time, it was guitarist Steve Clark who took a break from the band to enter rehab. Unfortunately, he couldn't shake his demons and was found dead in his London home in January 1991 from an overdose of prescription drugs and alcohol. Clark was ultimately replaced by Vivian Campbell in February 1992 a month before Adrenalized hit the market. "Let's Get Rocked" was the first single and it rushed to #1 on the charts.
Def Leppard would go on to release six more albums over the next 20-plus years, along with six compilations and three live albums. Now their fourth live album, London to Vegas, has arrived in a spiffy box set that includes two recent shows—one in London and the other from Las Vegas presented on two Blu-ray discs along with dual CDs from each concert coupled with a hardbacked book loaded with photos of the band along with track listings.
The London concert was shot at the O2 arena in 2018 while the Vegas concert was filmed during the band's second stint at Planet Hollywood in 2019—the first was in 2015. Both concerts are entertaining and showcase the band's hits along with some lesser-known songs. Watching them on back-to-back nights didn't give me a sense of Déjà vu—each has their own distinctive look and energy and the band confirms they can still rock a large venue as if they were 30 years younger.
Surprisingly, each of the concerts are presented in a different resolution—Hysteria Live at 02 is 1080p while Vegas Live at Planet Hollywood is 1080i—though they don't look drastically different. Both were pretty damn impressive when played back through my system. I noticed occasional banding along with sporadic moiré on background displays on the Vegas concert. But pixel-peeping aside, the discs feature sharp images with bright colors and serve as a showcase for the band's stage presence.
Both discs feature DTS-HD MA 5.1 and LPCM 2.0 tracks but default to the stereo track. I preferred the immersive experience of the DTS track, which places you within the venue. The concerts have ample low-end heft and the overall are plenty loud. Much like many live concerts I've attended, the music can be a bit overpowering at times, which drowns out Elliot's lead vocals. Switching over to the stereo track improves things a bit in this regard, but then you lose that "being there" sense that the multichannel mix provides.
There are single supplements on each disc, but the better of the two is Hysteria: Then and Now on Hysteria at the 02. It runs just over 11 minutes and features interviews with the band as they reminisce about the original album and the ensuing years leading up to the concert. The supplement on the Vegas disc is a mostly forgettable behind-the-scenes featurette showing the setup of the stage and some short rehearsal tidbits.
I've never had the pleasure of seeing Def Leppard live, but both of these concerts proved to be the next best thing. Sure, some of the material crosses over between the two, but as a fan, I didn't mind one bit. The box set is somewhat unorthodox in its design, which may be bothersome to the OCD crowd, but it looks just fine sitting on a shelf. Highly recommended.
2 Blu-rays / 4 CDs
Studio: Eagle Rock Entertainment
Aspect Ratio: 1.78:1
Audio Format: DTS-HD MA 5.1, PCM 2.0
Length: 248 minutes
Director: James Russell and Jim Yukich
Def Leppard got its start back in 1977 in Sheffield, South Yorkshire, England when Rick Savage, Tony Kenning and Pete Willis formed a band called Atomic Mass. Joe Elliott joined the band a short time later and became the lead singer and proposed a new name, "Deaf Leopard," which was ultimately adopted with some modified spelling. Kenning ended up leaving shortly before their first recording session and was replaced by a fifteen-year-old drummer by the name of Rick Allen. The band got its first big break in 1979 when BBC Radio host DJ John Peel gave extensive playtime to "Getcha Rocks Off."