Deadpool 2 Super Duper $@%!#& Cut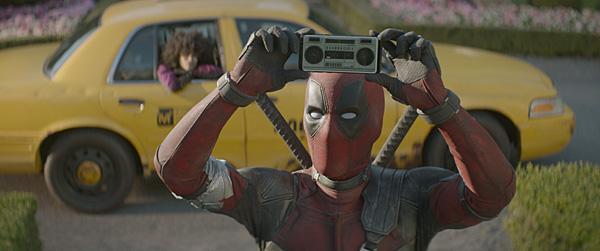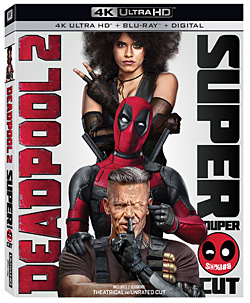 Captured using a blend of film and digital media, the image is immaculate, with a predominately warm, natural look throughout. The deft use of focus on different elements within the 2.39:1 frame is striking, with razor-sharp rendering of subtle nuances that also extends to scenes with mist and smoke. Thanks in large part to the high dynamic range, colors appear deeply saturated and shadow detail is remarkably rich—just what we need to catch the brief, bountiful Easter eggs peppered about from start to finish.
Built upon a Dolby TrueHD 7.1 core, the Atmos soundtrack is as bodacious as Wade would want, with aggressive exploitation of all speakers. Bass is powerful yet precise, and the surrounds are utilized quite effectively as well, particularly in an imaginative simulation of an out-of-body experience. Deadpool's grittier approach to mayhem reveals a different sonic personality versus Cable's high-tech weaponry, and the combination of both during Act II's convoy battle makes for an exhilarating joyride. (The bundled 1080p Blu-rays have DTS-HD Master Audio 7.1 soundtracks.)
Reynolds, director David Leitch, and screenwriters Rhett Reese and Paul Wernick supply an entertaining audio commentary on the 4K platter. The HD disc carries a pair of deleted/ extended scenes plus video odds and ends, some of which are not what they might seem at first glance. No extras appear on the Super Duper edit, although the chapters with additional/ alternate footage (which is most of them) are called out with a little icon on the timeline.
ULTRA HD BLU-RAY
STUDIO: Fox, 2018
ASPECT RATIO: 2.39:1
HDR FORMAT: HDR10
AUDIO FORMAT: Dolby Atmos with TrueHD 7.1 core
LENGTH: 119/134 mins.
DIRECTOR: David Leitch
STARRING: Ryan Reynolds, Josh Brolin, Morena Baccarin, Julian Dennison, Zazie Beetz, T.J. Miller
Although never quite as disturbingly dark nor as overtly sexual as the original, Deadpool 2 is nonetheless a more-than-worthy sequel, recapturing that sublime balance between raunchy comedy and edgy action. The story has surprising heart, as super-powered contract killer Wade/Deadpool (Ryan Reynolds) struggles to cope with a sudden loss while reluctantly coming to the aid of Firefist, a powerful teenage mutant in crisis. Firefist is fleeing a painful secret, and his turbulent young life becomes more violent than ever with the arrival of Cable (Josh Brolin, Avengers: Infinity War), a mysterious hunter from the future. The fights and chases are many, wild, and rather graphic, while the rapid-fire jokes are definitely adults-only, and that's before we even switch over to the extended, unrated Deadpool 2 Super Duper $@%!#& Cut. Like Fox's Ultra HD release of Logan, this is a four- disc set with the theatrical and alternative presentations on separate 4K and HD Blu-rays.