Dayton Audio B652-AIR Speaker System Review Page 2
For cheap speakers, the Daytons were surprisingly easy on the ears. Finding the right master volume level for Captain America: The Winter Soldier (Dolby Digital) was a set-and-forget affair. The speakers rendered everything palatable, from the pounding-drum hand-to-hand combat scenes to the assault-weapon attack that lavishly pocks Samuel L. Jackson's heromobile. Pulverized motor vehicles? No problem. Futuristic warships set aflame in the air? Bring 'em on. While this was not my kind of movie, the Daytons had a way of delivering bombast and making me like it.
Maleficent (DTS-HD Master Audio), the live-action reimagining of the Sleeping Beauty story, brought out the B652-AIR's strong suits. Dispersion was so wide that moving around the sofa, or even standing up, did little to disturb the soundfield. These speakers really did fill the room. Images were solid but remarkably un-speaker-bound, another strength not usually associated with inexpensive speakers. That included vocal imaging, though the speakers had enough textural resolution to find the orchestral treatment somewhat canned. (They preferred better-sounding material in the music demos.) And again, action-rich effects that filled the soundfield—notably a dragon attack in a dungeon—were dramatic, as intended, but not wearying.
The November Man, a Pierce Brosnan spy thriller set in Serbia, gave the Daytons a chance to show off their big-soundfield strength in numerous crowd and nightclub scenes. The score's synth bass gave the sealed speakers and ported sub a chance to bloat, which they gracefully declined.
Good Evening, Friends
Another reviewing project took me away from my home theater system for a few weeks. But during that time, the Daytons were up and running, and they soon became constant evening companions.
One night, I was re-auditioning two LPs evacuated from my childhood home. It had been decades since I'd heard Released and Last Autumn's Dream by Jade Warrior, a British progressive rock band that combined journeyman songwriting with atmospheric instrumental passages that evoked worldbeat and New Age before they became fashionable. The Daytons zeroed in on what would prove to be the most enduring elements of the band's later sound—the muted-trumpet-like double-tracked electric guitars of Tony Duhig and the massed flutes of Jon Field— simultaneously defining these lush and complex instrumental textures and lofting them around the soundstage without tying them to the speaker positions.
A quick check of Natty Dread by Bob Marley and the Wailers confirmed my feeling that the satellites haven't got much bass when running full range, though the restraint of the sealed cabinets may be preferable to the port-induced bloat of many inexpensive speakers. The output capability of the sub itself was as much as my medium-sized room ever needed.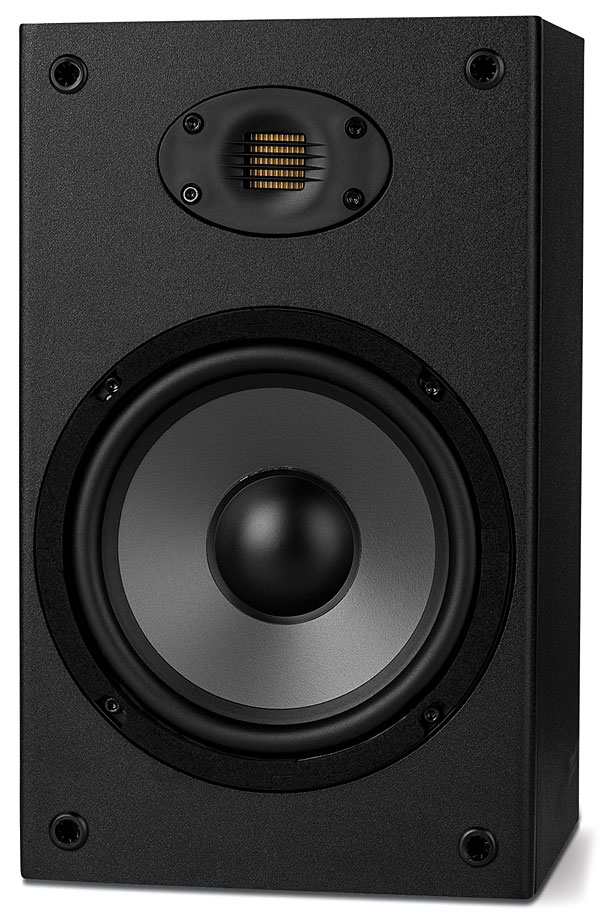 The CD box set of Richter in Hungary documents radio broadcasts by pianist Sviatoslav Richter between 1954 and 1993. The Eastern Bloc recording engineers involved didn't hit their stride until about 1976, on the disc devoted to Beethoven, and the discs covering works by Tchaikovsky and Grieg sound superb. The piano being a hybrid, percussive instrument, I paid attention to the good if not exceptional meshing of woofers and subwoofer. The Daytons did justice to Richter's passion for dynamics, not only in the range of soft to loud but also at numerous levels in between. In general, the speakers encouraged boldness in master volume setting. They didn't go clattery at high volumes, so I played 'em loud and was rewarded with better perception of the low to moderate end of Richter's dynamic vision, as he painstakingly custom- ized the level of each phrase.
An orchestral tone check with Haydn's Violin Concertos, performed by the Concerto Köln and soloist Midori Seiler, suggested that what I'd previously perceived as a gentle top end was far from dumbed down. Upper-midrange and high frequencies were fully developed, even with grilles on.
Thelonious Monk's Brilliant Corners has been in heavy rotation since I first bought the Japanese-import JVC CD (since replaced by the domestic SACD/CD used here). While the recording is in mono and has only a bit of subtle depth information buried in it, the Daytons nonetheless stayed true to form, expanding the mono image into a room-filling experience. A beamier speaker might have produced a tighter mono image between the speakers, but the Dayton's approach enriched the music more.
Here's the part that will raise an eyebrow. Why on earth would I give these cheap speakers a five-star performance rating? Usually, I don't like dwelling on ratings, but let me point out that our ratings generally measure a product's merit relative to other products on the market in its price range, not in absolute terms. Compared with other monitor-size speakers in our Top Picks at all prices, the B652-AIR would win a solid three and a half to four stars. But relative to speakers that sell for $60/pair, which don't make our Top Picks at all, they are five-star champions. What would that otherwise buy you? Cheap, nasty, plastic-cabinet computer speakers, that's what. I'm almost equally as sanguine about the SUB-1000. It may not be the most powerful sub out there, but a $119 sub that doesn't bloat is a rare bird.
Anyway, if you want to spend the absolute minimum on a starter system—but one with real speakers—the Dayton B652-AIR and SUB-1000 will give you more performance for less money than any speakers I've yet reviewed.