Coros Omni Cycling Helmet: Safe with Sound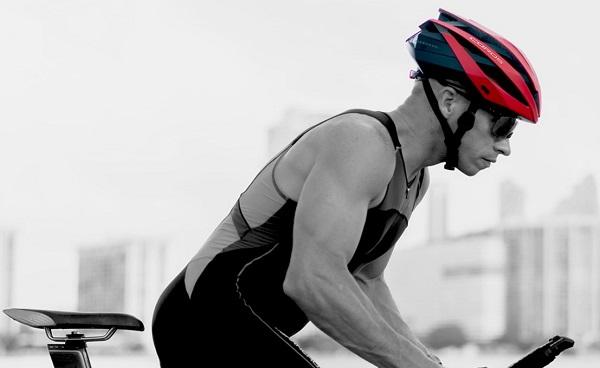 I know what you're thinking. This is Sound & Vision Magazine. Why the heck is a bicycle helmet reviewed here? Simple. The Coros Omni Smart Helmet has built-in bone-conducting headphones. That's why.
The Coros Omni helmet ($199) features wireless bone-conducting earpieces attached to the straps. It's actually brilliant, because the straps on a properly fitting helmet place the earpieces in the ideal spot for the bone-conduction to work. Why put this feature on a helmet? It is absolutely essential to be able to hear ambient noises while cycling: approaching sirens, passing cars or cyclists, noises from the bike, etc., not to mention that wearing both sides of headphones is illegal on the road.
The Coros Omni also features LED tail lights that can be controlled via the Coros app or the handlebar remote. The lights can be set to automatically come on when they detect darkness, or you can set them to always be on, albeit flashing. There is a microphone for placing phone calls - it is located inside the helmet so wind noise is diminished - it works okay at normal speeds, but not recommended to use if the wind or your speed exceeds 25 mph.
Coros introduced a helmet a few years ago with similar technology, but it was heavy and not as comfortable. The new Omni helmet has fixed all the issues that the older Linx had, and has added new features and improved performance. Even with a 700 mAh battery onboard providing up to 7 hours of LEDs and music, plus lights, speakers, and a microphone, the helmet doesn't weigh much more than a standard helmet; it weighs in at 340 grams, while similarly priced helmets are under 300. Adding any kind of blinkie and headphones to other helmets would make the weight comparable.
The Omni comes with a removable visor, so it's suitable for road and mountain-biking (see Velominati Rule #35) and it has an optional walkie-talkie available for group rides, coaching, etc. It has sweat-resistant padding and since the headphones work best when tightly secured, there's an extra bit of padding for the chin strap. The helmet comes nicely packaged with a carrying bag.
Pairing with my phone was simple, and it has voice prompts to help. Once paired, I could play music, takes calls, or even get navigation and ride prompts via the Coros app. I was mainly interested in how it sounds while riding. I was pleasantly surprised.
The sound quality of the Omni was a lot better than I expected. Was it audiophile quality? No, but if you're listening that intently on a bike ride, you're not working hard enough. The bass response was very much dependent on how tightly the transducers were placed next to my ears. They can be slid up and down the helmet straps, and placing sunglasses over the straps helped position them properly. (And sunglasses should always be worn over the straps. See Velominati Rule #37.)
There is sound audible without the bone-conducting, but quickly covering your ears shows how much does convey through the bones. The balance is good, but it could use more bass, even with the straps uncomfortably tight. However, for on the bike listening, it was more than adequate. In fact, I had forgotten just how inspiring music could be until I was using these on a long ride with an unrelenting headwind. Springsteen's "Born to Run" came up on my playlist and gave me the extra push I needed for the last few miles home. The percussion was crisp and bright and vocals were clear, although overall, there was a lack of detail in the upper high-end and the bass was thin. Music playback was so dependent on the position of the earpieces, so it is hard to give it an accurate report; there was one position that the sound just pulled together - bass response improved, high-end clarity appeared. However, getting that position right on every single ride might not be possible.
While on those last miles, I also came to appreciate how important it is to keep your ears uncovered. Not only could I hear approaching traffic, I was easily able to hear an ice-cream truck playing its joyful tune from a block away. Hey - I earned that ice cream cone on my ride. I was also able to carry on a conversation with the ice cream man without having to turn down the music or remove my helmet.
I gave up trying to listen to music years ago when my daily ride was on a busy roadway. I used to try to wrap earbuds around my helmet straps and crank it up loud enough to get just a hint of what was playing, but that sounded atrocious. With the Coros Omni, I can enjoy listening to music safely, benefit from the full range of sound, while being safe, and legal. That's a win in my book. For now, let's just ignore Rule #62.