Como Audio Unveils Streaming Turntable, Smart Speaker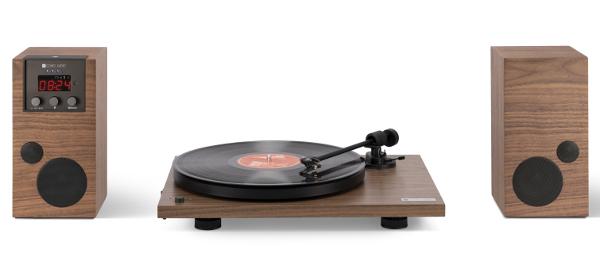 Como Audio, the Boston-based maker of the Top Pick-designated
Solo and Duetto music systems
, today unveiled its first streaming turntable and announced plans to ship a new voice controllable smart speaker in the fall.
The Como Audio Turntable is available in limited quantities for $399 and the SpeakEasy Stereo System announced last year is expected to sell for $399 with a standard walnut finish. The company also launched a campaign on Indiegogo to fund the new speaker system.
The turntable is a belt-driven design fitted with an Ortofon phono cartridge that can be connected wirelessly to any Bluetooth-enabled music system, including the forthcoming SpeakEasy system (pictured). Alternatively, it can be connected in traditional fashion by running an audio cable from the turntable's (moving-magnet) phono output to the music system's auxiliary input.
A low-noise AC synchronous motor and "ultra-precision" DC-driven AC generator, designed to provide speed stability without adding vibration, spins the turntable's metal platter, which provides "smooth rotation with decreased resonance." The base of the turntable is made of medium-density fiberboard (MDF) finished in hickory or walnut wood veneer or high gloss black or white.
The turntable is covered by a two-year warranty (excluding stylus) and comes with a black felt mat and removable dust cover.
The SpeakEasy comprises two stereo speakers, one of which houses system power and all controls, and features Google Assistant voice control and Chromecast Audio for multiroom playback with Como Audio and other compatible systems. In addition to being able to control the system with voice commands such as "Hey Google, play country in the kitchen," SpeakEasy owners will be able to use voice commands to check the weather, set alarms, or dim the lights and control other smart-home devices.
Each speaker pairs a custom 3-inch woofer with a 0.75-inch dome tweeter in a cabinet that occupies 5 x 5 inches of space and stands 9.4 inches tall. A tuned port on the rear panel extends bass response and doubles as a carrying handle. The system is powered by an external 2200mAh lithium-ion battery pack/charger rated to provide up to 8 hours of playback on a full charge (which takes just under 4 hours).
SpeakEasy's master speaker is appointed with an anodized aluminum faceplate and control knobs, and both speakers feature a furniture-grade wood-veneer cabinet finished in walnut, hickory, piano black, piano white, or one of five designer colors; all finishes except walnut bump the system price to $499. The knobs control volume, play/pause, Bluetooth pairing, and other functions, while a display window shows time plus status of the alarm and other settings; an optical sensor gauges ambient light conditions and automatically adjusts the display's backlight. The alarm has a snooze feature and can be set by voice command.
The system is covered by a two-year warranty and includes a 15-foot speaker cable, allowing the speakers to be separated enough to produce a "convincing stereo soundstage."
Como Audio plans to offer a complete music system in the fall that packages the turntable with the SpeakEasy speakers for $798 ($499 for those who sign up now for an early bird offering on Indiegogo).
For more information visit comoaudio.com.