Como Audio Kickstarts Voice Controlled Music System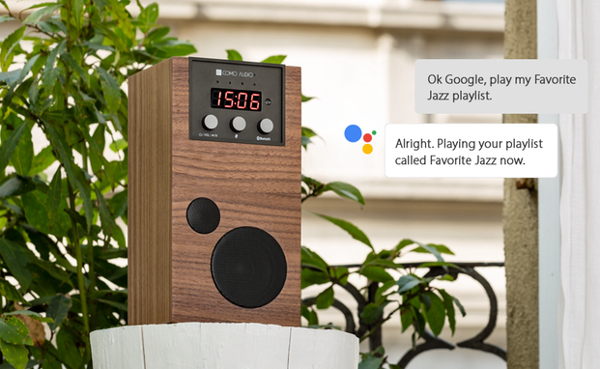 Como Audio, the Boston-based maker of the Top Pick-designated
Solo and Duetto music systems
, today launched a
Kickstarter campaign
to introduce a portable Wi-Fi-based multiroom music system that can be controlled by voice. The company also announced its first turntable.
Dubbed SpeakEasy and slated to hit the market in October for $349 to $399 (depending on finish), the battery-powered system is built around the voice-based Google Assistant platform, which can be used to play music and control smart-home devices using the Google Home app. The system supports Bluetooth streaming and can be grouped with other Como Audio speakers via Google Chromecast dongles; it even has an alarm with a snooze function that responds to voice commands.
SpeakEasy is compact at 9.4 x 5 x 4.9 inches and, like its siblings, pairs a 3-inch woofer featuring a custom four-layer voice coil with a 0.75-inch dome tweeter; a tuned port on its rear panel boosts bass performance and doubles as a carry handle.
The system boasts a furniture-grade wood cabinet appointed with an anodized aluminum faceplate and knobs that control volume, play/pause, Bluetooth, and other functions. Other features include an optical sensor that adjusts the system display based on ambient light conditions and LEDs that indicate when Google Assistant is "thinking" or the battery is charging, etc.
Connections include a USB charging port and speaker output that can be connected to an optional speaker to create a more spacious stereo sound field.
"As with other Como Audio devices, I want to fill a void in the marketplace and create a product that not only includes all of the great advantages that the Google Assistant has to offer, but is coupled with a beautifully designed, great sounding music box," said Tom DeVesto, founder and CEO of Como Audio and designer of SpeakEasy. "Designed as a multiroom audio system, listening to great sounding music from a plethora of sources just became sweeter and so much more."
Pricing with a walnut-veneer finish is $349 or $399 with a hickory, piano black, or piano white finish. The system is covered by a 2-year warranty.
Como Audio also announced plans to bring a belt-driven turntable with a built-in moving-magnet phono preamp to market this fall. In addition to playing vinyl records, the table will wirelessly stream music to Como systems around the house. Pricing was not announced.
For more information, visit kickstarter.com.