Changing to a country horse . . .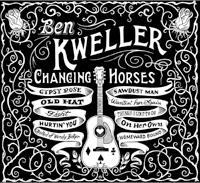 Let's hear it for Kitt Kitterman!
Who?
Kitt Kitterman is the Dobro and steel player who really should receive co-billing on Ben Kweller's latest album, Changing Horses, since no one has a more pronounced effect on its sound.
Yes, Ben Kweller, the youthful power-pop wunderkind, has gone alt-country. Arguably, it's a "return to his roots" - if geography represents one's "roots" - since Kweller grew up outside of Dallas and now resides in Austin. He sings here in a noticeable twang that occasionally sounds like he's moonlighting as an understudy to Ryan Adams; meanwhile, his band aims for the austere atmosphere of Bob Dylan's John Wesley Harding. Kweller's songwriting lights the path, but it's Kitterman's dramatic swoops and tasteful touches that define the overall experience.
"Gypsy Rose" opens things on a questionable note. The band plays sparsely, with the Dobro punctuating the country-blues feel. Kweller doesn't possess the gravitas to pull off the field-holler strife behind a line like "I got no friends, I got no kids, and I don't got kin." He will never be a blues singer - and quite frankly, he sounds like he's slumming here.
It's with the second track, "Old Hat," that Kweller comes into focus. Here, he slinks up to the bar with his best one-liner - "I never wanna be the old hat you put on your pretty head" - and pulls out some Southern California country rock that would do the Eagles proud. The harmonies are tight, and the production is desert-dry. Next up, "Fight" centers on a quick-skipping country shuffle that gets shamelessly corny with its rallying title chant and its hoots and hollers, nearly approaching a barrelhouse rocker. In contrast, "Sawdust Man" brings out the 1970s AM radio in Kweller, offering up a Jim Croce-style piano jaunt.
Lest you think he's some lightweight, Kweller throws a few slower-burning logs onto the fire. "Ballad of Wendy Baker" recalls Ray LaMontagne at his most laidback, each word slowly rising to the surface until all emotion is wrung out. "Wantin' Her Again" dabbles in that spare Harding sound but replaces that album's mysticism with the more traditional country platitudes Dylan found for Nashville Skyline. "On Her Own" kicks up with the Rolling Stones' "Dead Flowers" hiding in its groove, as Kweller uses the moment to sing a Mary Tyler Moore self-empowerment anthem ("She is gonna make it on her own"). And the CD-ending "Homeward Bound" (not the Paul Simon standard) is Kweller's satisfying attempt at an old country hymn. "Who's gonna carry him down?," he sings with convincing finality, surrounded by professional mourners - well, a respectable choir of voices, who give the closing moments a proper rest.
Personally, I miss Ben's pop verve. His enthusiasms here sound like they're under obligation to fulfill certain stylistic clichés. Yet the album is designed like pure Kweller, ten concise tunes swinging forth in rhythm and tone with little concern for overriding concept. Then again, as the rollicking good-time charm of "Fight" charges out of the speakers, I can't help but feel like I'm hearing a young man trying on a cowboy hat and a sheriff's badge on a Sunday afternoon. He's having fun - and it's an enjoyable diversion - but it feels like a phase he's sure to grow out of.
"Mamas, don't let your babies grow up to be cowboys." Remember that? Well, in Kweller's case, it's okay to play cowboy once in a while, as long as it doesn't betray his natural gift for power pop. Deal?