CD Review: Steve Earle
Named after the last single that Hank Williams released before his death, I'll Never Get Out of This World Alive is swamped in Steve Earle's contemplations of mortality. His father died weeks after Earle began writing the album. Three years later, he's delivering a first novel (with the same title, on May 12) and these songs, heavy on the usual folk, country, and blues sources and all adhering to what has become the Steve Earle standard. Producer T Bone Burnett, a guardian of Americana, keeps things organic and slightly flat. If Sun Records dared the imagination of its listening audience, Burnett and Earle merely confirm it.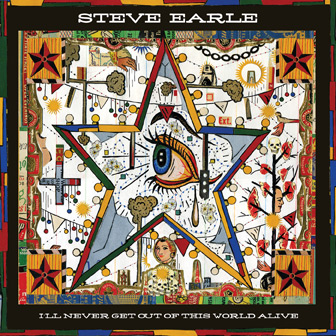 "Molly-O" uses Nickel Creek fiddler Sara Watkins to complete the hoedown feel. "This City," an Emmy- and Grammy-nominated track from the HBO series Treme, is a love song to the resilience of New Orleans. Earle's wife, Allison Moorer, duets on "Heaven or Hell," but even though they pose that eternal question of passionate lovers, the song is surprisingly safe.
That's the basic drawback here. Anyone who has collected a fair share of Earle albums has heard what he can do in fresher circumstances. Even his strength with ballads has better examples than this album's "Every Part of Me" or "Lonely Are the Free." The tunes yearn for a few stretches from his great weathered voice, a few notes you didn't hear coming. As they stand, they are interesting mood pieces.