CD Review: Ryan Adams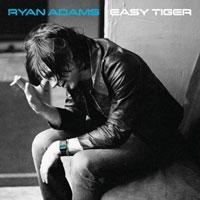 Easy Tiger Lost Highway
---
Music •••½ Sound ••••
Ryan Adams is like that supersmart kid with ADD: You know he's got it in him, if only he could
focus
. For nearly a decade now, since leaving Whiskeytown for a solo career, Adams has been writing and recording at an incredibly prolific pace (in 2005 alone he released
three
albums, including the double
Cold Roses
). All the while, he's been compulsively spilling forth confessions in a primarily alt-country setting (with a few other stylistic jolts along the way), waiting for the world to confirm his genius. Only problem: The refusal by Adams (or his handler) to do some basic editing has made it frustrating for us old-fashioned listeners who think it's the artist's responsibility to get to the point. Long before there were boxed sets documenting every spare take and outtake of every session, there were albums that concisely delivered the important information. Last I checked,
Sticky Fingers
had 10 tracks.
So, with his ninth solo album, Easy Tiger, Adams streamlines his attack to 13 tunes, only one lasting beyond 3:30. The sound is clean and distinct, taking advantage of his stop at the legendary Electric Lady Studios. The music ranges from soft, elegiac melancholia ("Two," "Everybody Knows," "I Taught Myself How to Grow Old"), bucolic Grateful Dead harmony numbers ("Goodnight Rose"), and weepers driven by pedal-steel and mandolin ("Tears of Gold," "Pearls on a String") to orchestrated countrypolitan ("Rip Off") and Southern Cali country rock of the '70s ("Two Hearts"). Even after crossing age 30, Adams still navel-gazes, speaking truth ("I wanna show you what I got inside"), self-loathing ("God, I listen, but I'm not listening"), and false humility ("Most of the time, I've got nothing to say"). Any way you interpret it, even reigning in his excesses, Adams places the focus on himself, making each moment count as personal trial and triumph.
The self-importance can be overwhelming when the tunes don't quite hold up. Writing as many songs as Adams does, he's bound to repeat himself. Yet there are keepers: The gorgeous harmonies of "Everybody Knows," the sad undercurrent through "Tears of Gold," and the joyful quickstep of "Two Hearts" all deliver a singer/songwriter's view of alt-country steeped in but never surrendering to tradition.
more Entertainment reviews Back to Homepage What's New on S&V
LATEST VIDEO