CD Review: The Nightwatchman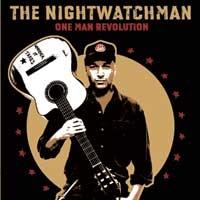 One Man Revolution Epic
---
Music •••½ Sound •••
As his Nightwatchman alter ego reveals, Tom Morello doesn't always need his hip-hop-flavored electric guitar - let alone his once-and-current bandmates in Rage Against the Machine - to fire up some heated protest music. For
One Man Revolution
, he's armed with only his own voice (a gruff sing-speak that's surprisingly effective), an acoustic guitar (folky and stripped-down in a Springsteenian
Nebraska
sort of way), and just a few other instruments (occasionally played by producer Brendan O'Brien).
Morello sings about incendiary times: "There's a riot on Sunset, and fires burn in the park / The sun has set, my friend, and California's dark." And the way the words combine with his strumming and the subtle touches of slide guitar certainly gets the social-justice juices flowing. Whereas big, bombastic arrangements have marked Morello's work with RATM and the now-defunct Audioslave, it's the axman's rootsy, low-key approach and his embrace of nuances (like the keyboards that help carry the title track and "Let Freedom Ring") that make this unpolished album unique and successful.
Woody Guthrie's guitar bore the motto: "This Machine Kills Fascists." Morello's guitar says: "Whatever It Takes." And as One Man Revolution proves, even when he's not plugged into a big amp and backed by Zack de la Rocha's volcanic wail, Morello's rage and compassion are still quite powerful.
more Entertainment reviews Back to Homepage What's New on S&V