CD Review: Kate Nash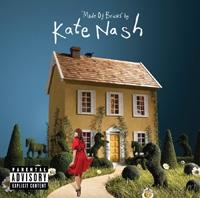 Made of Bricks Geffen/Fiction
---
Music •••• Sound ••••
Another one of the clutch of young, gifted, and female solo artists who've emerged recently from England, 20-year-old Kate Nash is a thoroughly modern Georgy Girl who first gained prominence posting her quirky songs on a MySpace page. Within months, she'd scored a U.K. No. 1 single ("Foundations"), which in turn helped her debut album hit the top of the charts last summer.
Now that Made of Bricks is finally released here, it's easy to understand all the buzz, as Nash's mashup of girlish gush and pop-tart wit makes for a refreshingly unfettered listening experience. She's unquestionably veddy British, not only in her accent, theatrical style, and cultural bent (as she notes in the what-I-am rant "Mouthwash," "I've got a family and I drink cups of tea") but also in her postmodernly arched phrasing, which brings none other than Morrissey to mind. Her strongest overall influence, though, appears to be America's Regina Spektor, whom Nash at times seems to channel for infectious piano-based fare like the careening "Mariella" (who "glued her lips together so she never had to speak") and the c'est-la-vie fling account "Merry Happy" ("Don't tell me that you didn't try and check out my bum").
As with Spektor, it's hard not to root for someone this (so far, at least) unguarded and open in both heart and mind. Just keep those dancing feet on the ground, kid.
more Entertainment reviews Back to Homepage What's New on S&V
LATEST VIDEO