CD Review: Drive-by Truckers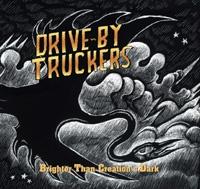 Brighter Than Creation's Dark New West
---
Music ••••½ Sound ••••
A band that can steamroll through a 4-hour gig, and nail it - even while accompanied by several bottles of Tennessee firewater (well, the gig in question was on New Year's Day . . .) - sure gets my endorsement. But when its recordings often match, and sometimes surpass, the quality (not the length, thank heavens) of such a live performance, that band also qualifies as one of the greatest bands of this era.
The Drive-By Truckers blew many of us away with their two previous albums (Decoration Day and A Blessing and a Curse), and they do it again with Brighter Than Creation's Dark - despite having parted ways with singer/guitarist Jason Isbell, who was also an ace songwriter. After that split, it turns out, the Truckers embarked on a semi-acoustic tour, and it's obvious that the jaunt recharged their heartfelt, Southern-built engines.
As the new album opens with "Two Daughters and a Beautiful Wife," frontman Patterson Hood sings from the perspective of a dead man who's wondering what's up next for his family. The accompanying acoustic guitar, piano, and banjo - as well as the eerily atmospheric pedal-steel guitar, courtesy of John Neff (who recently became a full-time band member) - will stick in your ears for a long while. Such stripped-down simmer, however, is only part of this roots-rock melting pot. The eerie calm soon leads to the swaggering, electric wail-out that is "3 Dimes Down," featuring slide guitar that should make Joe Walsh envious.
The album chronicles the struggles of plain folk trying to live their lives in a messed-up world. On "The Righteous Path," the Truckers riff steadily about a family guy trying to grab an uncertain American dream. Later, the band offers sad tranquility about an alcoholic father ("Daddy Needs a Drink") and an illegal gun dealer ("Checkout Time in Vegas").
Truth be told, the Truckers reach new levels of excellence here, but if I'm gonna commend anyone in particular, it has to be bassist Shonna Tucker. On a clutch of songs, including the wily "Home Field Advantage" and the haunting "The Purgatory Line," her songwriting talents and downright beautiful voice bring the band to fresh territory. All of this, plus the post-traumatic stress disorder of "That Man I Shot," and you have something brighter than most every other album out there.
more Entertainment reviews Back to Homepage What's New on S&V