CD, DVD Review: Dinosaur Jr.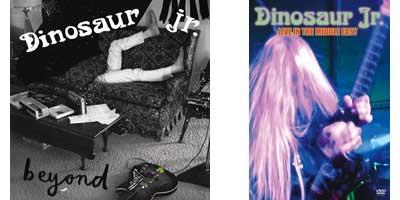 Beyond Fat Possum CD
---
Music ••••½ Sound ••••
Live in the Middle East Image DVD
---
Show ••••½ Picture •••• Sound •••• Extras ••••
Just when you thought their bones were headed straight for the nearest Museum of Natural Music History comes Dinosaur Jr.'s
Beyond
, a snarling album that reunites frontman/guitarist J Mascis with original bassist Lou Barlow and drummer Murph. These indie-rock legends overload their amps sorta like they did on their three full-length gems, and they also conjure the rusty-metallic, Neil Young-ish riffs that marked the Mascis/Murph (but mostly Mascis)
Green Mind
.
On the opening "Almost Ready," Mascis's squealing guitar and Bronto-sized hooks complement his warm-and-fuzzed-out vocals. The band gets a little more laid-back on the jangly "Crumble," but they bring the noise again on the rumbling "Back to Your Heart" and the raucous "'Been There All the Time." Well beyond your average comeback album, this happens to be one of the band's finest records, period. And how can the dirty sound be four-bullet "excellent"? Because it's exactly what the Dinosaur ordered.
Before returning to the studio, the band toured in December 2005 - and it nailed the killer concert DVD Live in the Middle East, captured mostly at Boston's Middle East but also at New York's Irving Plaza and other clubs. After a goofy monster prances onstage, the trio comes alive with "Gargoyle" (from its first album, Dinosaur) as Barlow croons his heart out and Mascis rips some feedback-drenched fury. Then, as Mascis sings a mesmerizing "Kracked" (from the brilliant You're Living All Over Me) while playing off of Barlow's booming bass and Murph's crisp drums - well, we're only two songs in, but it already feels like 1987 all over again.
The DVD's main performance is riveting, but the extras help make Middle East extra great. There are intriguing interviews with indie-rock heavy-hitters like Kim Gordon, Thurston Moore, Mike Watt, and Steve Albini. Kevin Shields (of the late great My Bloody Valentine) speaks about the stripped-down power of Dino's rhythm section. Even actor Matt Dillon fondly recalls Murph's drums always being on the stage, not raised up on a platform. Everybody gushes, and by the end of Middle East, you'll be gushing, too.
more Entertainment reviews Back to Homepage What's New on S&V