Casablanca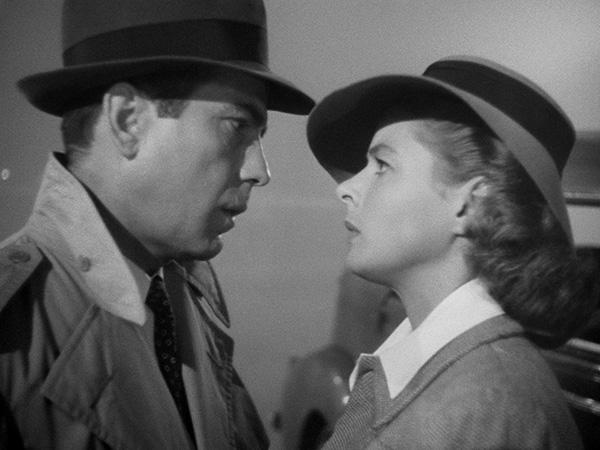 As a film enthusiast and writer, I often find myself involved in discussions revolving around what are my favorite films, and what I consider to be The Best Film of All Time. Neither question can be simply answered, however there is no doubt that Casablanca will always be a part of the conversation.
Based upon the play by Murray Burnett and Joan Alison, Casablanca remains relevant 80 years after its release. Its tale of romance set in Morocco during World War II is far from what modern audiences would deem typical. Rather, it draws its characters up front, beginning with Rick, owner of an eponymous café and a seasoned hustler who has managed to carve out a niche that plants him on firm ground with the local clientele, the authorities, and his employees.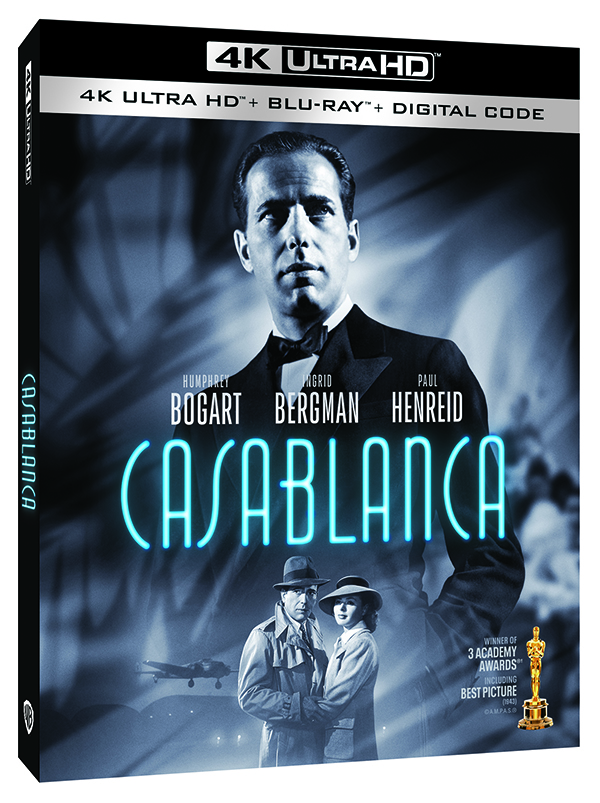 Brief introductions are made to the ancillary characters, several of whom have integral roles to play within the plot, before Ilsa makes her appearance, throwing Rick's stoic control over all that he surveys into sudden chaos. What we learn about Ilsa, her power over Rick, and what each is prepared to do about it makes this story so thematically compelling. Add to that superbly crafted dialogue, two stars (Humphrey Bogart and Ingrid Bergman) at the top of their game, and apt direction from Michael Curtiz, and you have an Oscar-winning masterpiece beloved by legions of fans the world over.
According to the studio, the new Casablanca ultra high-definition image was restored and remastered from a 2022 4K 16-bit scan of the best-surviving nitrate film elements. It went through an extensive process to clean and repair the image, which was then graded in high dynamic range. The results are magnificent. The 1.37:1 picture offers definition and resolution that belies its age while carefully preserving grain structure. Blacks aren't inky but appear dark, with appreciable interstitials that enhance perceived depth. The gradations visible in whites, grays, and shadows, as well as the transitional elements that comprise them, are reproduced beautifully.
The lossless monaural soundtrack is rendered with resounding clarity, excellent prioritization, and fair dynamic range. Dialogue shows no signs of sibilance even at higher levels and retains distinction when combined with the track's various elements.
Bonus features include audio commentaries by Roger Ebert and Rudy Behlmer, television specials, two documentaries, deleted scenes and outtakes, two period radio broadcasts, movie trailers, and a Movies Anywhere digital code. "This is the beginning of a beautiful friendship" is the famous last line in the film and an apropos way to describe this phenomenal home video offering that befits this classic's status.
Ultra HD Blu-ray
STUDIO: Warner, 1942
ASPECT RATIO: 1.37:1
HDR FORMATS: HDR10
AUDIO FORMATS: DTS-HD Master Audio 2.0 Mono
LENGTH: 102 mins
MPAA Rating: PG
DIRECTOR: Michael Curtiz
STARRING: Humphrey Bogart, Ingrid Bergman, Claude Rains, Conrad Veidt, Sydney Greenstreet, Peter Lorre