Cary Audio DMS-550 Network Audio Player Review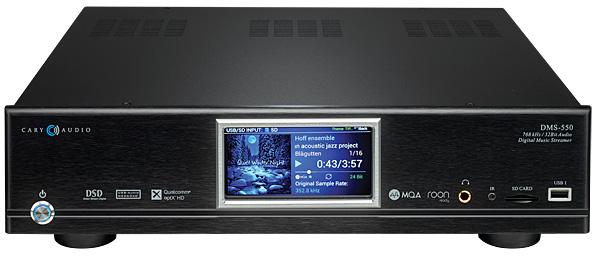 PRICE
$5,495
AT A GLANCE
Plus
Impressive sound quality
Extensive feature set
Flexible control app
Minus
Limited remote control IR range
Pricey
THE VERDICT
With its extensive features and flexible sound output options, Cary Audio's DMS-550 network audio player represents digital audio playback done right.
Network audio players are an emerging component category aimed at audiophiles who have made a full leap into music streaming. Many such components can also act as a preamplifier by accommodating externally connected sources such as a CD player or turntable and passing on a line-level signal to an amplifier. Because they are network-connected, streaming high-res audio files from a computer or NAS is also on the features menu, and higher-end models are often Roon Ready and MQA Certified.
Simaudio's Moon 390 I recently reviewed is one example of a network-capable streamer/preamplifier. The Cary Audio DMS-550 under review here is another such specimen, though the company labels it as a network audio player. A lack of analog inputs and a volume control knob on the DMS-550's front panel would support that categorization, though the presence of digital inputs and analog outputs, plus an ability to switch sources and adjust volume via both a hardware remote and control app, allow for it to be used as a digital preamp. Let's take a closer look at this curious beast to see what makes it tick.
Features and Build Quality
The DMS-550 is about as feature-packed as you'd expect for a network audio player that lists for $5,495. It uses AKM 4493EQ "Velvet Sound" DAC chips that provide native playback of up to 32-bit /768 kHz PCM plus DSD512 files and is MQA Certified with "16x decoding" of files for output in 768kHz format. The DMS-550 is also Roon Ready (a free 60-day subscription comes with purchase), compatible with MU-MIMO Wi-Fi (also known as next-gen AC) routers, supports AirPlay and aptX HD Bluetooth streaming, and has a built-in class-A headphone amplifier that handles cans with impedance values ranging from 8 to 600 ohms and provides independent volume control.

One feature I found intriguing when I reviewed Cary Audio's AiOS integrated amplifier back in 2017 was its proprietary TrueBit DSD and PCM upsampling and conversion. The same capability is offered on the DMS-550, letting you upsample any PCM file up to 768kHz (a boost from 384kHz on the AiOS) and also convert them to DSD64, 128, 256, or 512 format using a 128-bit DSP engine. Also present is the company's OSO (Onboard Signal Origination) feature, which buffers and reclocks incoming signals to reduce jitter.
The DMS-550 delivers on the rugged build quality you'd expect of a Cary Audio component, with a thick aluminum faceplate and heavy-duty rubber isolation feet. A large color LCD display shows album art for streamed sources, along with artist and track name, elapsed playback time, original sampling rate and format (plus upsampling data if applicable), and MQA decoding status. Volume adjustments in 0.5 dB steps are also displayed onscreen in characters large enough that they can be seen from several feet away. Front panel connections include USB and SD Card inputs and a 1⁄4-inch headphone output.
Cary Audio's remote control is a full-sized handset loaded with plenty of small-size buttons that let you do things like change inputs directly, adjust brightness of the front-panel display, and switch between upsampling and conversion settings on the fly. The company's iOS/Android control app lets you do all the same things possible with the hardware remote and can also be used to queue up playlists of tracks from streaming services (Tidal, Qobuz, Spotify, vTuner) or network and USB-connected drives. Sorting options for browsing a digital music collection include by Date Added, A-Z, Artist name, and Release date, and the app displays the same album artwork and info shown on the component's front-panel display. Swiping left on the app lets you switch between the main interface and a control screen that lets you switch inputs and adjust other settings on the DMS-550.
Setup and Use
Although the DMS-550 can be used primarily as a network audio player connected to a preamplifier or integrated amplifier, I opted to use it as my main preamp for this test, with the analog outputs linked to a 150Wpc Hegel Music Systems' H190 integrated amp. The Hegel was set to bypass mode so it would function purely as a stand-alone amplifier, with volume adjustment carried out by the DMS-550. Cary Audio provides plenty of setup flexibility for different configurations. For example, if you were to deploy the DMS-550 as a player only, you get the option to use its Independent Volume setting to adjust the volume for each input source to equalize their output level. When serving as a digital preamp, however, it's recommended that you use the Master Volume setting, which will output the same level for all sources.