NAD C 658 Network Audio Player/Preamplifier Review

PRICE
$1,649
AT A GLANCE
Plus
Great sound quality
Onboard Dirac Live room correction
Well-designed control app
Minus
Overly busy remote control
THE VERDICT
NAD's streaming preamp brings vinyl playback and Dirac Live room correction to the mix for a very complete package at an affordable price.
I'm no stranger to the network audio player/preamplifier category, having evaluated two such specimens in 2019: Cary Audio's DMS-550 and Simaudio's Moon 390. These components act as a hub for switching a range of digital and analog sources, along with streaming music from online services and local networked storage. The DMS-550 and Moon 390 impressed me with their versatility and sound quality, but at $5,000-plus, both are priced outside the range of an average listener. Fortunately, other options exist such as the NAD C 658, a $1,649 network audio player/ preamplifier aimed at audiophiles on a budget. How does the C 658 hold up against the pricier models? Let's give it a listen.
Features
NAD categorizes the C 658 as a BluOS Streaming DAC. (BluOS is a high-res-capable multiroom music streaming protocol used in select NAD components and in products from its sister brand Bluesound.) The C 658 uses an ESS Sabre 32-bit/384kHz digital-to-analog converter to process incoming digital signals, and it can decode MQA to extract high-res audio from Tidal streams and other MQA sources. Network connections include Gigabit Ethernet and dual- band Wi-Fi. NAD's network audio player/preamplifier also features both AirPlay and aptX HD Bluetooth for streaming from a phone or tablet, and out to BT headphones.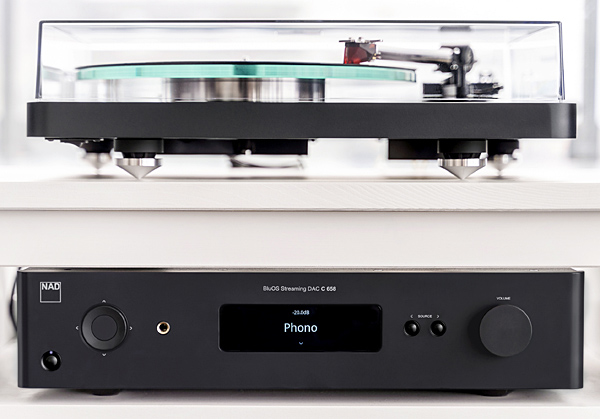 The feature set listed above would be plenty for most components, but there's even more going on with the C 658. Along with its streaming functions, NAD's preamplifier has inputs for multiple digital and analog sources, along with a built-in moving magnet phono stage. Dirac Live room correction is onboard, with an option to upgrade to an enhanced, full- frequency version (the included "lite" version of Dirac Live tops out at 500 Hz).
NAD has always brought a no-nonsense design sensibility to its products, and this one is no exception. Encased in black aluminum, the C 658 sports a stripped-down front panel featuring a volume adjustment knob, source select and power on/off buttons, and a control pad to navigate menus via the C 658's LCD display. There's also a 1⁄4-inch output jack for headphones listening.

Back panel connections on the C 658 include a pair each of coaxial digital, optical digital, and stereo analog RCA inputs, plus a phono input for a direct turntable hookup. There are balanced XLR and RCA preamp outputs for an outboard amplifier, as well as stereo subwoofer outputs. Other ports include USB type-A for connecting an external drive, IR in/out, and 12-volt DC trigger in/out. Custom integration support on the C 658 extends to Crestron, Control4, URC, RTI, Lutron, and others.
Two unused slots labeled MDC (for Modular Design Construction) on the C 658's back panel are unique to the NAD universe. These can be used with optional modules that add features such as HDMI inputs. And since NAD refreshes its MDC module lineup on a regular basis, the offerings should keep step with HDMI version changes.
NAD bundles a perfectly functional remote control with the C 658 that can be used to operate other sources such as one of the company's CD players or AM/FM tuners (yes, they also make that stuff). Consequently, the keypad is fairly packed with buttons, although the ones you'd use most often like volume up/down are centrally located for easy access.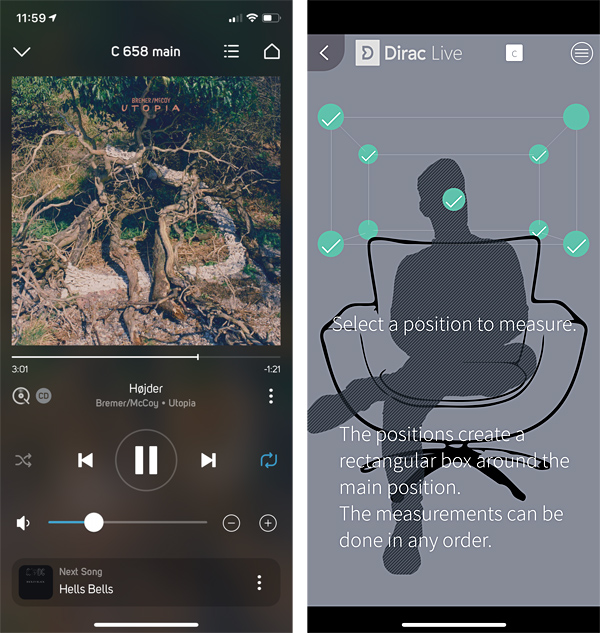 Though I appreciated having a hardware remote nearby, I mostly used NAD's BluOS iOS/ Android app to control the C 658. This provides independent control of streaming to multiple BluOS devices, along with basic source switching and volume adjustment. It also provides audio configuration options such as speaker setup for single- or dual-subwoofer systems (with variable cross- over selection in 10 Hz steps from 40 to 200 Hz), gain adjustment for volume levelling of full albums or tracks, and switching your Dirac Live filter presets (or shutting Dirac Live off altogether). Otherwise, the BluOS app is very easy to use and lets you easily navigate playback from streaming services including Tidal, Qobuz, Spotify, Amazon Music, HDtracks, Deezer, Napster, TuneIn radio, and iHeartRadio.
I hooked the C 658 up in a system consisting of a NAD C 268 stereo amplifier that the company sent along for use during testing and Polk Audio L800 tower speakers. While the C 268 is conservatively rated for 80 watts continuous output into 8 and 4 ohms (20 Hz-20 kHz at 0.03 percent THD, both channels driven), it easily drove the full-range Polk Audio towers to a satisfactory listening level. Sources included a Panasonic DMP-UB900 Ultra HD Blu-ray player for CD playback and a Pro-Ject Debut turntable with Clearaudio Aurum Beta/S moving magnet cartridge for vinyl. The music streaming services I used for my testing were Tidal Hi-Fi, Qobuz Studio, and Amazon Music HD.
After connecting the C 658 to my home network using a wired Ethernet connection, I fired up the BluOS app, which immediately recognized the NAD streaming preamp as a "player." I next customized the labeling of my connected sources to read "CD Player" and "Pro-Ject Turntable," and then configured streaming services by entering email and password information. It was extremely simple to get the C 658 up and running, and I experienced no crashes, hiccups, or other headaches.