Elac Discovery DS-S101-G Music Server Review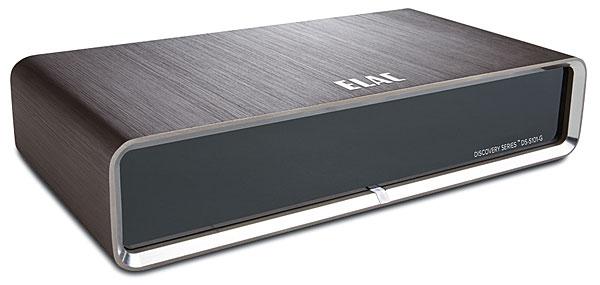 PRICE
$1,100
AT A GLANCE
Plus
Free app from Roon Labs
Wired and wireless multiroom playback options
Impressive sound from built-in DAC
Minus
Track count limited to 30,000
Requires wired LAN connection
THE VERDICT
Elac's Discovery provides a simple, elegant option for adding a networked music server with Roon to an existing audio system.
Before diving into a review of Elac's Discovery DS-S101-G music server, it seems apt to ask: What is a music server? In the past, it was a standalone audio component with a built-in hard disk that stored and played a ripped CD collection while connecting to the internet to fetch metadata. While products that fit this description still exist, a music server can also be something as basic as a software application running on a computer or on a network-attached storage (NAS) appliance. The server application, wherever it may reside, acts as a librarian for your digital audio files, sorting and retrieving them, and then routing the data to a USB DAC or a networked audio component that translates the ones and zeros into music.
With no built-in storage, Elac's Discovery is a compact component that links to either external USB storage or a NAS device, provides analog and digital outputs to connect to your audio system, and is controlled by an app. In this case, however, the software that runs the show is from Roon Labs, a music library and discovery platform that has earned acclaim for its advanced user interface and sophisticated handling of metadata. Regular users of Roon pay $119 per year (or $499 lifetime) for a subscription. With the Elac Discovery, you get a scaled-down version called Roon Essentials—included at no extra charge. The main difference is that, with Essentials, your music library is limited to a still substantial 30,000 tracks.
Besides maintaining a music library ripped from discs, Roon Essentials provides software integration with the CD- or better-quality Tidal streaming service (subscription required). This means that when you use the Discovery, albums, tracks, and playlists in your Tidal library will show up as part of your larger music collection, alongside the ripped CDs and standard- and high-resolution downloads. The Discovery's built-in DAC supports uncompressed WAV, AIFF, FLAC, and ALAC files with up to 192-kilohertz/24-bit resolution, along with the compressed MP3, AAC, and OGG formats.
An unassuming piece of hardware that measures about 8 x 5 inches (WxD), the Discovery has a case that's crafted from solid aluminum, and there's a rubber pad on the bottom that keeps it snugly set on top of a receiver, an integrated amp, or any other component you use it with. (Just don't block any cooling vents! (An LED indicator on the front panel glows white when the server is in use. Audio connections on the back include two pair of stereo analog RCA outputs and both coaxial and optical digital outs. Data connections include a gigabit Ethernet port for linking to a wired network (a requirement for using the Discovery) and a USB port to plug in USB storage.

Along with single-zone operation, the Discovery can be configured for synchronized multiroom playback via its dual analog outputs. Wireless multiroom streaming is also possible when using AirPlay speakers, Roonready Wi-Fi speakers from Bluesound and Elac (specifically, the company's forthcoming Discovery Z3), and Sonos products. However, wireless speakers that use different protocols (e.g., AirPlay and Sonos) can't be grouped together for synchronized multiroom playback.
Setup
Setting up the Discovery in my system involved first running an Ethernet cable from a powerline adapter to link it to my home network. I next made analog and coaxial digital connections to an Outlaw Audio RR2160 stereo receiver (Sound & Vision, November 2017) powering a pair of GoldenEar Technology Triton Five tower speakers (Sound & Vision, May 2015). After I downloaded the Roon Essentials app to my iPhone (Android, OS X, and Windows 10 versions are also available), the Discovery was detected as the "Roon Core" on my network. The final steps were to enter my Tidal login credentials and to configure a USB drive loaded with ripped and downloaded music files and plugged into the Discovery's back panel as the main music "folder."
Since I was using both the digital and analog outputs, I could set these up as separate zones in the Audio Settings panel of the Roon Essentials app. This allowed me to compare the performance of the Discovery's built-in DAC with that of the Outlaw receiver. I also configured a Naim Mu-so Qb speaker in my bedroom as a wireless AirPlay zone, though I wasn't able to group it for synchronized playback with the Discovery in the main system.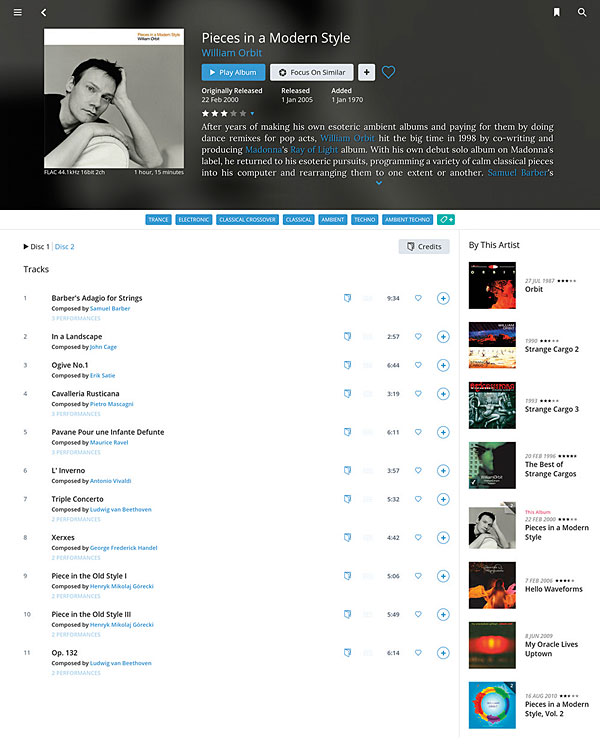 Performance
I started my listening session with the Discovery connected to the Outlaw receiver's analog input. When I played "My Valentine," a 96/24 HDtracks download from the Brad Mehldau Trio's Blues and Ballads, the piano tone was smooth and cool, with just the right touch of crispness to the high notes. The drums had a full presentation that easily conveyed the rich overtones of the brushed cymbals, and a double bass solo midway through displayed a level of detail and focus that conjured up the precise location of the instrument in the soundstage. As I listened, the metadata in the Roon app (which taps its content from AllMusic.com) informed me that "My Valentine" was composed by Paul McCartney, and the embedded links in other tracks led me to learn more about the composers of those songs. And that's just one small example of the magic of Roon, which really does merit its own full review outside the context of Elac's server.
Next, I played a Tidal stream of Van Morrison's "Into the Mystic" from Moondance. The acoustic guitar, piano, and electric bass in the background had a warm, liquid quality that contrasted nicely with the sharper tone of Van's vocals. The soundstage on this track came across as especially wide, with a tambourine pushed forward in the mix serving to create a realistic sense of depth. Switching over to classical music, I played a Max Richter composition, "War Anthem," from his Three Worlds: Music from Woolf Works. The Elac and Outlaw combination conveyed a strong sense of spaciousness and clear layering between the solo instruments and the orchestra. Massed strings sounded full and textured, and the steady, low rumble of percussion instruments created a powerful foundation.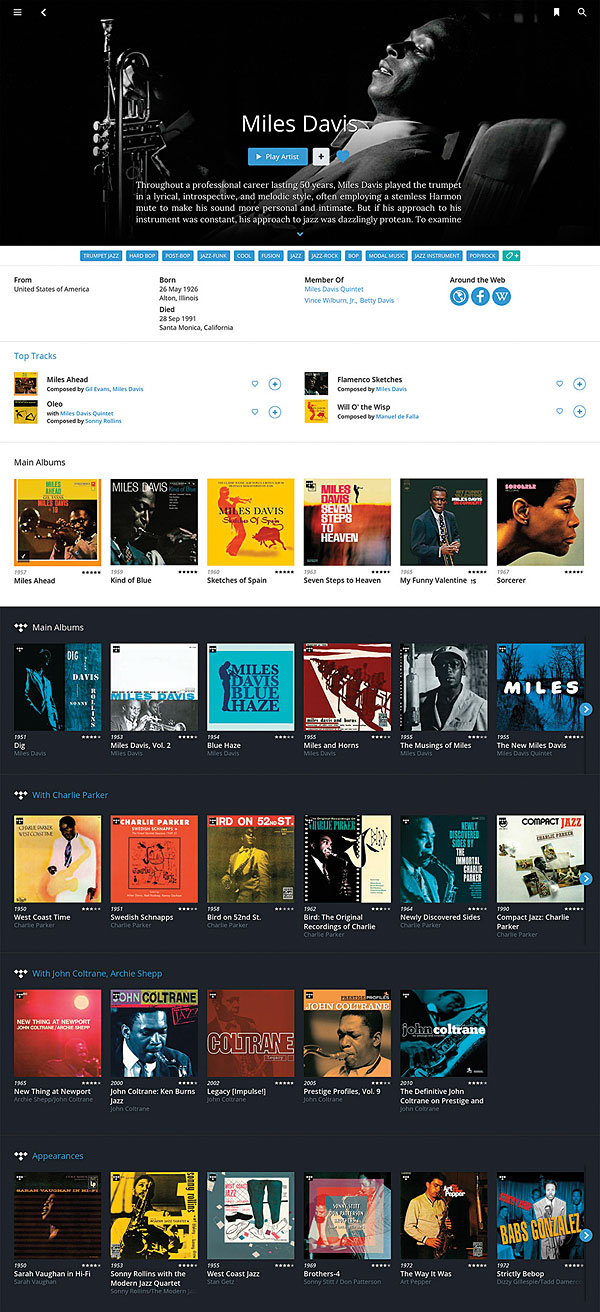 When I compared the same tracks using a digital input on the Outlaw receiver, the sound remained impressive, but there were instances when the Discovery's DAC showed a clear advantage. One example: The piano on "My Valentine" had a warmer overall tone via the Discovery, and the cymbals displayed better air and detail. Also, on the Moondance track, Morrison's vocals were better integrated in the mix, which resulted in a more seamless presentation. And when I listened to the Richter piece, the strings were conveyed with a finer sense of bloom and decay. When combined with a slightly better bass depth, the overall sound with Elac's DAC was more dynamic and lively.
Conclusion
Wrapping up my take on Elac's Discovery, I'm hard-pressed to find a good reason why someone seeking to add a networked music server to their system wouldn't want one. The Discovery eliminates any need to use a dedicated computer to store music or operate your system (beyond your mobile device to run the app), and it works with both inexpensive USB and NAS storage options. Its compact form and minimalist design allow it to be integrated unobtrusively with an existing hi-fi rig. Also, you'll get great sound quality from its built-in DAC, along with wired and wireless multiroom audio support, including installations that use AirPlay or Sonos speakers.
Ultimately, the Discovery's strongest selling point is the bundled Roon Essentials app, which gives you a free pass to the world of Roon, a platform that's widely regarded as a superior solution for the browsing and playback of digital music. The Discovery might not fit everyone's conception of a music server, but I'm confident it will fit many listeners' needs as they evolve their systems for networked audio playback.