Moon 390 Network Player/Preamplifier Review

PRICE
$5,300
AT A GLANCE
Plus
Excellent sound quality
Strong feature set
Good ergonomics and control app
Minus
Pricey
THE VERDICT
Simaudio's Moon 390 is a high-res stream machine that combines high-end sound with an extensive feature set and solid ergonomics.
Canada's Simaudio has been designing and manufacturing audio electronic components from its home base in Quebec for almost four decades. While the company's product lineup clearly skews toward the high end—a pair of its flagship Moon 888 monoblock amplifiers will run you around $120,000—the company also makes a wide range of other components with more approachable price tags. A number of these, such as the Moon 390 preamplifier ($5,300) we have under review here, feature the MiND 2 streaming module, a built-in network player that lets you stream audio from services like Tidal, Qobuz, and Deezer, along with files stored on a NAS or USB drive or computer. Not only that, but the Moon 390's multiroom capability allows it to stream signals from its digital or analog inputs to other MiND 2 zones attached to your home's network.
What differentiates the Moon 390 from many other network audio players is its particular emphasis on high-res streaming. MQA decoding is onboard to play Tidal Masters tracks with up to 24-bit/192kHz resolution, and you can also stream the 24-bit/192kHz tracks available on Qobuz's Studio and Sublime+ tiers. The Moon 390 additionally supports playback of up to 32-bit/384kHZ PCM and DSD 256 files through its Ethernet and USB ports. Last, but certainly not least, Simaudio's preamp is Roon-ready, permitting use with Roon music library and management software.
Putting aside its network streaming and multiroom capabilities for a moment, the 390 looks and feels the part of a traditional high-end stereo preamp. Its case features heavy-duty aluminum sides and curved metal ends on the front panel. An OLED display provides input, volume, and sampling rate information, along with artist and track information when streaming via the MiND 2 module. A large rotary knob provides smooth tactile feedback when adjusting volume, which is done in 0.5-dB steps. Front panel control buttons let you toggle inputs, dim the display, mute volume, and make selections (in combination with the rotary dial) during setup. There are also three memory preset buttons that can be configured to select internet radio stations without having to launch the preamp's iOS/Android control app.
The Moon 390's hardwired network connections are accompanied by Wi-Fi and wireless aptX Bluetooth streaming options. Its range of digital inputs include coaxial, optical, and AES-EBU, along with four HDMI 2.0 inputs and one HDMI-ARC port. While the 390 doesn't support playback of Dolby or DTS bitsreams (you'll need to set a connected device for stereo PCM output), it can decode native-DSD from SACD discs spun on an HDMI-connected universal disc player.
Analog sources are also well-supported by the 390. Both stereo RCA and balanced XLR inputs are provided, and its built-in phono preamp accommodates both moving magnet and moving coil phono cartridges. Furthermore, the 390's setup options let you manually select gain, impedance, and capacitance options for the phono input, as well as switch between a standard RIAA or an IEC EQ curve.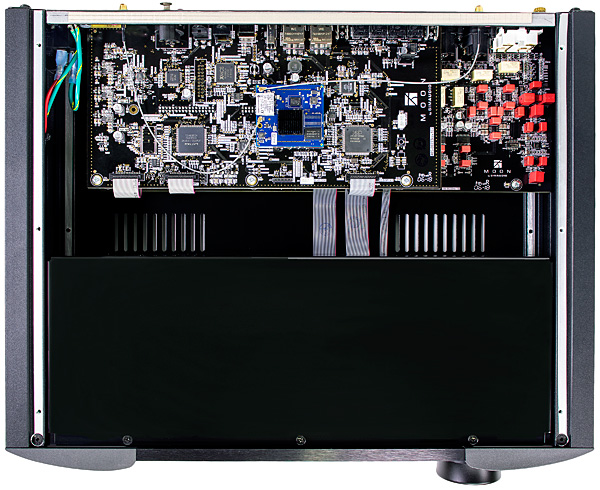 Setup And Use
To get up and running with the Moon 390, I first connected it to my home network using a powerline adapter. The next step was to enable it as a Roon endpoint in the Audio settings panel of the Roon software running on my Macbook Pro. While you don't need to use Roon to stream music to the 390—the company's MiND control app can readily handle that task—I'm a regular user and also wanted to take advantage of the Qobuz support that had just been added to Roon. Other equipment I used for my test included a Pioneer BDP-88FD universal disc player, Pro-Ject Debut turntable with Clearaudio Aurum Beta/S moving magnet cartridge, GoldenEar Technology Triton One.R speakers, and a 150Wpc Hegel H190 integrated amplifier. The preamp was connected to the integrated amp using its variable analog RCA outputs, with the Hegel set to bypass mode so it would function purely as an amplifier. Speaker cables and interconnects were Nordost Purple Flare.
Simaudio's remote control for the 390 is a full-featured handset that can also be used to operate other Moon components such as a CD player. The remote's rubbery back surface makes it easy to grip and also prevents it from accidentally skidding off a coffee table or other surface when it's set down.