Cary Audio AiOS Integrated Amplifier/DAC/Streamer Review

PRICE
$2,995
AT A GLANCE
Plus
Neutral sound from Class A/B amp
Upsamples and converts PCM and DSD
Compact form factor
Minus
Futuristic design means no mechanical controls
No wired headphone output
THE VERDICT
Cary Audio's all-in-one system looks great, sounds great, and is packed with cutting-edge features.
Cary Audio is known in the high-end audio scene for making vacuum-tube and solid-state stereo components, and the brand has also established a foothold in the home theater world with its Cinema 12 preamp/processor and multichannel amplifiers. Cary's AiOS (All-in-One System) is the first offering in the company's Lifestyle series. With built-in aptX Bluetooth, wired Ethernet and Wi-Fi connectivity, AirPlay and PhoneShare support, and onboard Tidal, Spotify, and vTuner streaming, the AiOS really does have everything you need to immediately start playing music. Just download the company's iOS/Android app, connect speakers, and you're good to go.
The AiOS supports DLNA/UPnP and SMB connectivity and accepts a wide range of digital file formats through its network and USB inputs. It can play FLAC, ALAC, and AIFF (among several other formats) with sampling rates up to 384 kilohertz, WAV up to 768 kHz, as well as DSD in the 64, 128, 256, and 512 flavors. The AiOS also features Cary's TruBit upsampling and conversion, which taps a 128-bit DSP engine to play incoming signals at a sampling rate ranging from 44.1 to 384 kHz. It can convert PCM to DSD 64, 128, or 256, as well as upsample DSD signals. In addition, all digital inputs benefit from the company's OSO (Onboard Signal Origination) re-clocking, which buffers and reclocks incoming signals to help minimize jitter. As for analog inputs, you get the option to digitize, upsample, and process them as well, or to select a bypass mode so they can pass through untouched.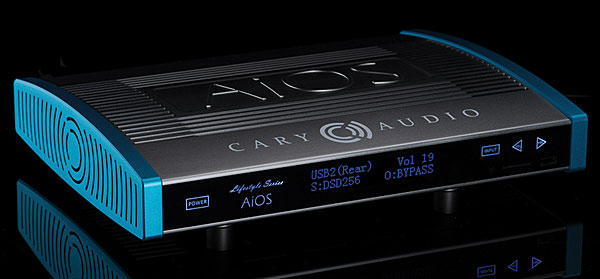 The AiOS is MQA certified, meaning its DAC can fully decode hi-res MQA files streamed from Tidal or downloaded to a computer or external hard drive (as well as USB thumb drives and SD cards). With the AiOS, MQA tracks additionally undergo MQA 16x rendering; they are decoded at full resolution and then played at either a 705.6-kHz or a 768-kHz sampling rate.
Although Bluetooth has become an obligatory feature of integrated amps and receivers, it gets special treatment here. The digital output of the Qualcomm aptX Bluetooth receiver is conveyed to the AiOS's digital processor, where it benefits from the same buffering/re-clocking and upsampling features as other digital inputs do. The AiOS can also be configured as a Bluetooth source, allowing you to send any incoming audio signals to Bluetooth headphones or speakers.
The AiOS is impressively compact for a component that houses a 75watt x 2 Class A/B amplifier. A slightly curved aluminum case gives it a fresh, stylish look. If you want to add a splash of color, the unit's gunmetal gray side panels can be swapped out for optional green, red, blue, champagne/gold, or plum versions ($89 extra). Also, the color of the front-panel LCD is switchable to match the specific hue of the side panels.
Shock of the New
Another innovation about the AiOS is that its front panel lacks any mechanical buttons to control input selection or volume adjustment. The illuminated controls for the same are touch-sensitive and auto-sensing, but I must say I missed being able to reach out and twist a knob for quick volume-adjustment tweaks. The panel's main screen has three different modes. The first displays the source, volume level, input sampling rate, and active upsampling rate (or bypass status). The second displays just the artist and track info, and the third augments that with source and volume level info.
Connections on the back panel include three RCA analog stereo, one 3.5mm analog stereo, and optical and coaxial digital inputs, along with analog stereo, full-range subwoofer, and optical and coaxial digital outputs. The AiOS has three USB ports (one is located on the front panel) for connecting USB drives, a LAN port for a wired network connection if you choose to go that route, and IR in and trigger out jacks. Its compact binding-post speaker outputs accept banana plugs and bare wire, but they're spaced tightly enough that I imagine you might have trouble fitting cables with spade lug connectors. Despite the AiOS's ability to push a Bluetooth signal to wireless headphones, one notable omission is an integrated headphone amp and jack; 'phone enthusiasts will have to use an analog or digital line output and dedicated headphone amp or amp/DAC for a high-performance wired connection.
While most people will use Cary's app to operate the AiOS, the company also gives you a full-featured remote control. Buttons you'll use most often, such as those to select inputs and adjust volume, are located near the bottom of the keypad. Also, there are dedicated buttons to adjust display color and brightness, toggle between SRC (Sample Rate Conversion) settings, and output signals via Bluetooth.
Setup
I connected a Pioneer Elite BDP88FD universal player to the AiOS's coaxial digital input and then ran an Ethernet cable from a powerline adapter to the LAN port on its back panel. I also connected the included Wi-Fi and Bluetooth antennas so I could check out those options. The next step was to download the AiOS control app to my iPhone and enter sign-in credentials for my Tidal and Spotify accounts. Lastly, I fired up JRiver Media Center 21 on my MacBook Pro to stream locally stored content to the AiOS via DLNA. For speakers, I switched during my evaluation between GoldenEar Technology Triton Two and Triton Five towers. These speakers have similar voicing except that the Triton Twos include powered woofer sections while the Fives are passive models.