Cary Audio AiOS Integrated Amplifier/DAC/Streamer Review Page 2
Cary's control app has a clean, well-organized layout that makes it easy to use. The app's main panel provides buttons to control most AiOS features, and it has a display window that mirrors the info being shown on the unit's front-panel LCD. When you're streaming music from an internet or network-connected source, swiping left on your phone's screen reveals a second panel that shows album art, elapsed time, volume level, source format (e.g., FLAC, 44.1 kHz), and SRC mode (e.g., DSD 128) for the currently playing track, and it provides control buttons to pause, play, skip forward/back, and repeat albums and tracks. Controls are also available to select an EQ mode (including a 15band Custom setting) and SRC settings.
Having used control apps for a number of products that are similar to the AiOS, I must say I really like this one, which is both feature-packed and simple to navigate. About the only thing I didn't like was that adjusting volume with the slider in the second (album art) panel usually resulted in dramatic level jumps. Fortunately, the app's main panel offers its own slider—one that adjusts volume in more granular, one-step increments.
Performance
I started out my evaluation of the AiOS not by streaming but by playing a CD—something us old-timers used to do a lot in the old days. As I listened to, appropriately enough, "Old Man" from Neil Young's Live at Massey Hall 1971, the AiOS easily conveyed the body and texture of Young's acoustic guitar as he alternated between muted chords in the verses and open-stringed strumming in the chorus. Switching between an analog and a digital connection from the Pioneer player, I didn't hear much of a performance difference between the Pioneer's high-quality DAC and the one in the AiOS. An adjustment that did affect the sound came when I used SRC to convert the incoming 44.1-kHz/16-bit signal to DSD: Young's somewhat strident voice in the chorus lost a bit of its edge, and the resulting sound was smoother and more pleasing.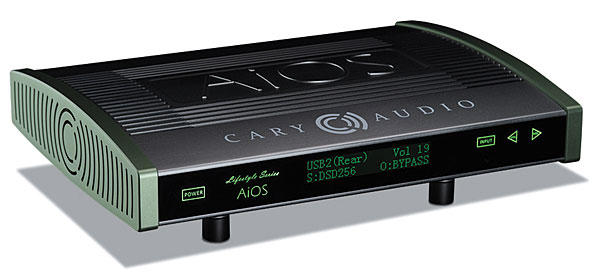 Calling up Tidal in the control app, I streamed "Eden" from Talk Talk's Spirit of Eden. The AiOS's handling of dynamics on this track was impressive. Quiet passages conveyed ample negative space and were noise-free. And when the clangorous swells of guitars and keyboards eventually burst in, the sound retained a sense of ease, as opposed to becoming strained. Furthermore, the bass guitar sounded rock-solid and deep, and it retained its fullness over a range of volume levels. For kicks, I turned on SRC again to convert the Tidal FLAC stream to DSD. Same as with the Young track, the sound transformed in a good way: Details that had been layered deep in the mix, such as burbling synths and a forlorn, faraway trumpet, gained in clarity. To use a visual metaphor for what I was hearing, it was like tweaking the focus on a pair of binoculars.
Since MQA decoding is a key feature of the AiOS, I made a point of streaming numerous tracks from the Masters section of the Tidal app. When I listened to Crosby, Stills & Nash's "Guinnevere," a blue dot in the app's screen confirmed that the track was being decoded at original Master Quality resolution. The spread of acoustic guitars across the soundstage was vivid and detailed, and I could hear a clear separation between voices in the group's three-part harmonies. Although I would characterize the AiOS's overall sound as neutral, the warmth that came through on this track was notable.
Tapping the DLNA function to access JRiver Media Center 21 on my computer, I next streamed some jazz via a native DSD track: "You Go to My Head" from Bill Evans' Some Other Time: The Lost Session from the Black Forest. The crisp attack of the pianist's energetic playing was easily conveyed by the AiOS. Eddie Gomez's upright bass sounded fluid and full, and Jack DeJohnette's smooth brushstrokes on his snare came through clearly. The lively and balanced sound on this track delivered a vivid sense of acoustic instruments played in real space. It was like being whisked away in a time machine back to 1968.
Conclusion
Cary Audio's AiOS provides a comprehensive solution for those who want—or need—to cut down on audio clutter. It combines a streamer, a DAC, and an integrated amp in a compact, eye-catching package, and it offers innovative features like MQA decoding, PCM and DSD upsampling, and PCM-to-DSD conversion. Shortly after my evaluation, Cary also issued a firmware update making the AiOS Roon ready, allowing users of that music library software to access the AiOS as a Roon endpoint; the update is available free to existing owners. The AiOS's sound is neutral in the best sense of the word, and build quality is everything you'd expect from a company with a highend pedigree. Let's not forget Cary's well-designed control app, which makes operating the AiOS a breeze.
Downsides? I found a few to quibble about. At $2,995, the AiOS isn't cheap, though its cost is comparable to those of similar products from other high-end manufacturers that offer fewer features. Its lack of a wired headphone output may be an issue for some (though it wasn't for me).
The AiOS froze up twice during my evaluation, requiring a full reset to bring it back to life—but that's not so unusual in the network-connected audio world, where the components are basically sophisticated computers, and I gather future firmware updates will further improve stability. Finally, while I found the sleek exterior and auto-sensing controls to be cool, I often found myself wishing for some form of physical interaction—specifically, a volume control knob—but that may be more my personal preference than yours. At the end of the day, though, the AiOS excelled in the most important criteria: It sounded great, looked great, and was easy to operate. You can't ask more of an all-in-one.