OSD Black SRT4 Streaming Media Server Review

PRICE
$649
AT A GLANCE
Plus
Unbeatable price point
Supports major streaming services
Good connectivity options
Minus
Analog audio quality
Occasional lockups
THE VERDICT
The SRT4 is a value-priced multi-zone streamer that will fill your house with music for not much money, but also comes with ergonomic and sound quality limitations.
Housewide audio distribution has evolved rapidly over the past few years, with new systems abandoning traditional music sources like CD changers and terrestrial radio tuners to move almost exclusively to streamed content. When it comes to choosing a multizone music streamer for a system, the buying criteria today often boils down to how many streaming services it supports, app ease of use, and cost.
Sonos is the biggest player in the streaming market by far but creating a four-zone Sonos audio system would require four separate components (either the unpowered Port or powered Amp) at a cost between $1,800 and $2,600. For those on a limited budget who want to fill the various rooms in their home with tunes while using an app to control it all, OSD Black's SRT4 four-zone media streamer could be music to their ears.
Black is the New Black
A bit of background about Black by Optimal Speaker Design. The company's founder, Dave Chai, had initial success with a direct-to- consumer line of outdoor speakers. He then wanted to provide an affordable indoor high-end audio experience and launched the Black line to that end. Black now includes a full line of indoor and outdoor speakers as well as amplifiers and streamers, with the company employing research, development, and design teams based in the U.S.
Looking into the company, it occurred to me that finding where to purchase any OSD Black products may be tricky for most consumers. When I asked a company rep about this, I was told, "Black products are sold only through custom installation audio/video specialist dealers in order to ensure proper system design, installation, and total customer satisfaction. We are developing a Find a Dealer tool, but currently customers can contact our customer service team for a dealer reference."
First Impressions
The SRT4 server arrived with zero fanfare in a plain white box with simple black lettering. Inside the box was the unit itself along with a wall-wart power plug (12-volt DC, 1.5 amp), detachable rack ears, and a user guide.
My initial impression upon removing the SRT4 from its box was how incredibly light it felt, reminding me more of a speaker selector than a four-zone media server. I didn't bother to take the top off, but I'm guessing there aren't a lot of parts inside. Obviously, a product's weight only tells a part of its story, but the SRT4 doesn't scream "build quality" when you're holding it.
Setup
The SRT4's front panel has a single power button as well as LEDs to indicate zone power and source status. The bottom zone power lights are always illuminated green whether something is playing or not, and if there is a way to turn a zone off—or to dim those lights—I couldn't figure it out. The top source LEDs illuminate blue to indicate network streaming, red for a line input, and purple for USB or optical digital audio input. Even with nothing playing, the top source LEDs remain blue.

The streamer is pretty well outfitted around back, with separate banks of connections for each zone, along with a bus input that's shared across all zones. An Ethernet port allows for hardwiring to a network, and there's an RS485 connection to interface with third-party control systems.
There are no control drivers at present that lets the SRT4 work with popular control systems from Control4, URC, Elan, Crestron, and others. When asked about this, OSD replied, "The RS485 control will allow for integrators to write their own drivers [but] we are working with several manufacturers to have approved control drivers."
Each zone provides simultaneously active analog stereo RCA and optical digital audio outputs, along with a USB connection to add a local drive. There's also a WPS button for each zone to make an easy connection to a WPS-enabled Wi-Fi router. The bus input offers an optical digital audio input plus two sets of stereo RCA analog connections for legacy audio sources. These inputs are available as sources for all four zones.
Since the SRT4 is essentially four separate modules housed in a single chassis, those using Wi-Fi for a network connection will need to set up each zone individually instead of just logging in once and then having the system mirror those credentials across zones. Fortunately, the app makes this a bit less painful by pre-populating your login info for the additional zones.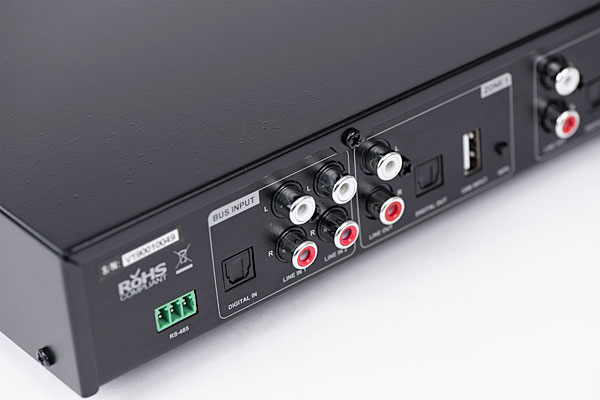 The SRT4 is 2.4GHz-only and doesn't use an external antenna. Whether the lack of an antenna is an issue or not will depend on the strength of your Wi-Fi signal and where the SRT4 is located. (I prefer to use a hardwired connection whenever possible.)
Ergonomics
Once the SRT4 is installed, you'll have almost zero interaction with the chassis itself–– unless you have to reboot it or want to connect a USB drive—and will carry out all commands via OSD's app. I used the iOS app exclusively for this review, though an Android version is also available.