Roku Streaming Stick

PRICE
$50
AT A GLANCE
Plus
Private listening via mobile device
Voice search via Roku Mobile App
Quad-core processor
Minus
No motion control for games
No 4K Ultra HD support
THE VERDICT
Roku Streaming Stick offers a glut of net-sourced channels enhanced by rapid performance and tight integration with the Roku mobile app.
Roku media receivers continue to ride the tsunami of internet-delivered movies, videos, and TV channels but with fewer company-owned turfs to protect than competing products from Apple, Amazon, or Google. In so doing, Roku's users now have more than 3,000 channel choices. Its latest device, a finger-sized Wi-Fi receiver that juts out of an input on your TV or A/V receiver, largely solves two problems that have plagued the stick-it-in-HDMI category compared with tabletop streamers—lower performance and inferior interface.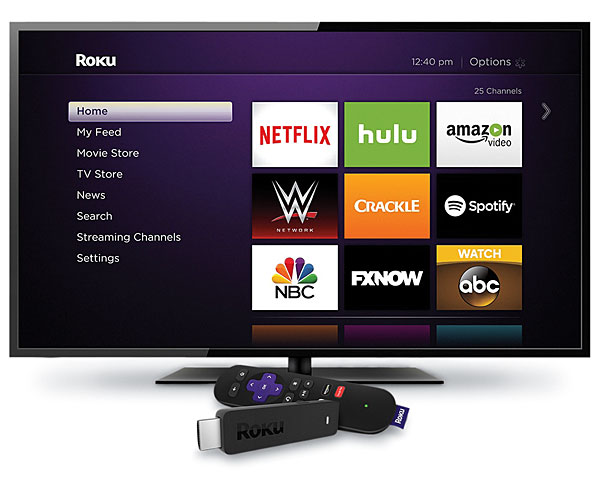 Installation was straightforward. I plugged the Roku Streaming Stick into my home theater receiver and attached the AC adapter to the stick. Alternatively, power can be derived from a TV's USB port. The Let's Get Started screen appeared. Roku found my Wi-Fi network, prompted me for its password, and connected to the internet. Using a PC (which also could have been a phone or tablet), I went to the Roku site, entered a code shown on the TV screen, and added the stick to my pre-existing Roku account. I was also prompted to link to my Amazon account.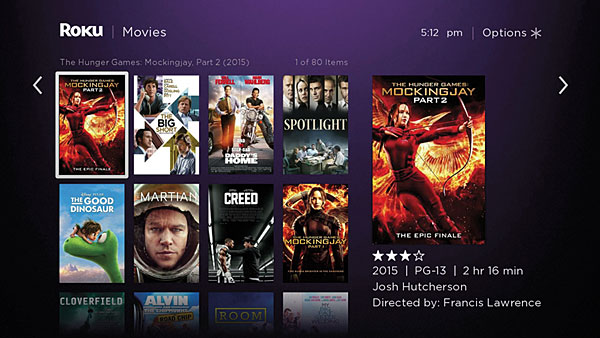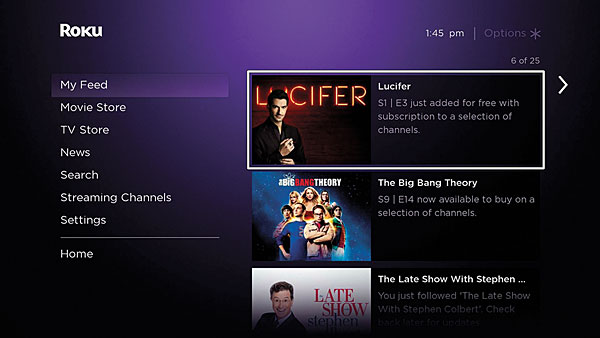 I then followed Roku's next suggestion: download the Roku Mobile App for iOS, Android, or Windows devices. Upon installing the app on my iPad, the app recognized both an older Roku box and the new stick. I selected the latter and began using my mobile device as the remote. Setting up the app on my Android phone went even faster since I'd already registered the stick with Roku.
The first thing I noticed was how quickly the stick responds to commands. There was no lag between taps on my handheld screen and results on the TV. When I selected Netflix, the service appeared almost instantly. (You can also reach for the included remote and launch the service without backing out of another program by pressing the dedicated Netflix button. Amazon, Sling, and Google Play also have their own hard buttons.) The stick embeds a quad-core processor, which is eight times faster than the company's first-generation stick, according to Roku.
Though Roku users have been able to plug headphones into the dedicated remote that comes with box models, the company has deftly moved that capability to the earphone port on your app-enabled phone or tablet. At the bottom of the mobile screen's navigation icons is one for headphones. Upon touch- ing the icon, the speakers muted and my headphones took over.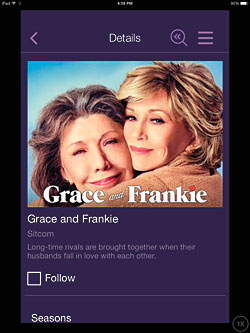 Another thing that the mobile app enables is a touch keyboard that's much faster than the directional pad for entering each letter on the TV screen. I used it to sign into Netflix. However, when I tried to search within YouTube, all I could access was the directional pad. According to Roku, developers must build in mobile keyboard support for it to work.
The keyboard always works when you choose the Search function from the Roku mobile app's main screen. So does Voice. When you touch the mic icon, the screen displays: "Tell me what you're looking for." I misspoke "Frankie and Grace," referring to the Lilly Tomlin/Jane Fonda sitcom that premiered its second season that day. Roku interpreted what I meant, Grace and Frankie, and displayed a Netflix button for me to touch to watch it. The show began playing with 5.1 sound in my home theater.
When it comes to being able to mirror whatever is on your mobile screen to your TV, Roku has lagged behind Airplay for the Apple TV box and Google Cast for its Chromecast stick. I tried a beta version of screen mirroring for Roku's Android app. Using YouTube on my phone, I started watching the rock band, Foals, from the Coachella Festival in California. I successfully transferred the concert to my TV. I wasn't successful, however, mirroring video recorded on my phone. The Roku TV screen blinked but wouldn't play it.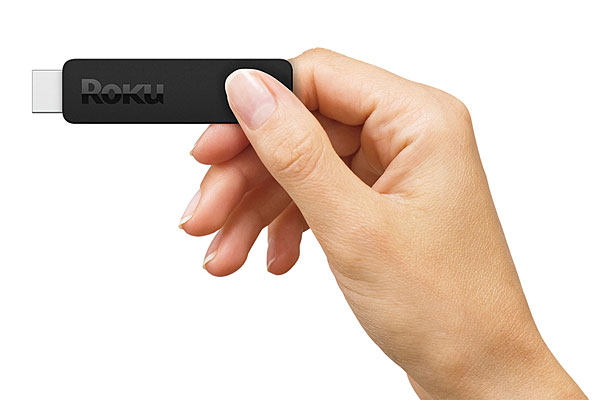 The joys of a beta feature aside, the Roku Streaming Stick is a small wonder at a small price. Anyone seeking a huge variety of on-demand entertainment on their TV would be well advised to plug it in.