OSD Black SRT4 Streaming Media Server Review Page 2
Beyond Wi-Fi setup, the app displays zone info (IP address, Wi-Fi strength, MAC address, firmware version, etc.) plus the six presets available for each zone. It also allows for the renaming of each zone and can be used to set an alarm or sleep timer.
When you open the app, a spinning radar scope appears with colored dots representing each of the zones. Once connected, the app's main screen displays what is currently playing per zone. I did experience a few occasions where the app lost contact with all connected zones but closing and reopening the app or rebooting the main chassis would cause them to reappear.
Grouping zones together to allow the same music to play in sync in multiple areas was as simple as dragging one zone into another in the app, while ungrouping was accomplished by dragging the zone back out again. There's a button to pause music in all zones, but nothing like a party mode that quickly groups all zones together. I experienced several instances where a zone would fall offline or playback would lock-up and become unresponsive when coming in or out of group play, especially if using the USB input. The only way to resolve the problem was a hard reboot of the SRT4. (OSD Audio says they are aware of these issues and are working to resolve them in a future software update.)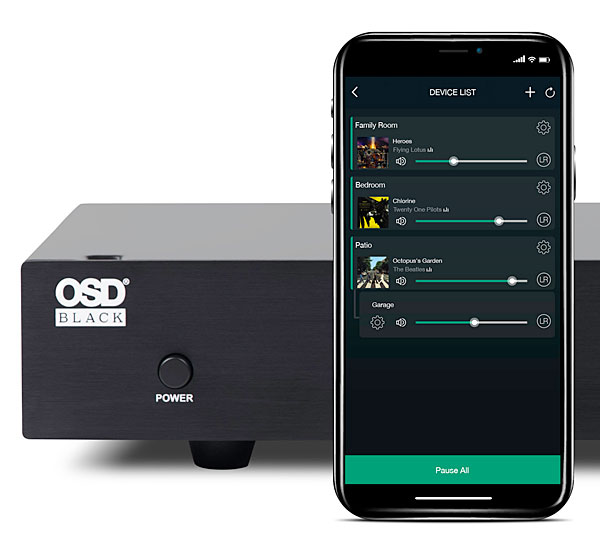 Streaming services supported by the SRT4 include Spotify, Napster, Tidal, iHeartRadio, and TuneIn internet radio. It can also play music from any of the bus inputs and stream music stored on your phone/ tablet or from a DLNA server (compressed MP3, WMA, and ACC formats are supported, along with up to 24-bit/192kHz WAV and FLAC formats). The SRT4's lack of AIFF and ALAC support might be problematic for some—many of my high-res albums from HDTracks are in those formats—and having no Pandora was a bummer. The SRT4 also doesn't support gapless playback.
When music is playing, the app displays a rotating record with the label showing album art; pause the music and the record stops spinning. This is a cool little visual effect that distinguishes the app's look from the static album art used by nearly everything else.
While OSD Audio's single- zone SRT1 offers a Bluetooth connection, the SRT4 does not. The company says this is because they expect it to be installed in a closet or rack system rather than out in a room. The SRT4 also doesn't support Chromecast built-in or AirPlay.
You can hide unused streaming services (people still use Napster?) in the app but hiding a service for one zone hides it for all zones, which could potentially create a problem. Six favorites can be set for each zone, but these can only store locally sourced content from "My Music." (OSD says this feature will eventually be expanded to support streaming services.)
I found the experience of using Spotify Connect and the other supported services to be equally intuitive. Browsing music on a NAS drive was a little clunky since it's mostly folder-based and can take time depending on the size of your collection, with no option to search or "jump to" an artist or album. (There is a search function but it's only for music stored on your device and returns incomplete and inaccurate results.)
The app provides no way to modify the Now Playing queue such as reordering, deleting, or combing songs from different albums—every time you select something new, it wipes out the previous music in the queue. You can add a song to a list of music played from your device or local network and create playlists from music stored both on your device and local network, though songs can only be added one-at-a-time rather than entire albums or artists.
Performance
To test the SRT4's sound quality, I connected it to a variety of setups including my home's multi-room audio system. OSD Audio touts the SRT4's inclusion of 24-bit/192kHz-capable DACs for each zone, and I was hoping that would translate to some sweet sound. I initially connected the SRT4 to a Yamaha stereo receiver driving a pair of Monitor Audio Silver Series bookshelf speakers. My first impression was how quiet the analog output was—some- thing that forced me to push the Yamaha's volume knob way up to get a decent level.
The SRT4's sound when using its analog output had a dull and flat quality, with no sense of spaciousness or dynamics. Switching over to the digital output improved things considerably: the soundstage opened up, and I heard more detailed highs and deeper and better-defined bass.
Of course, most people will use the SRT4 in a distributed audio system, so I next connected it to my home's multi- room audio, using a Triad audio matrix (capable of both analog and digital inputs) connected to a Triad 16-channel amplifier driving a variety of in-ceiling speakers. Again, the difference in sound quality between the SRT4's analog and digital outputs was stark. Whether it was jazz, pop, or rock, music always sounded more open, airy, and detailed via the SRT4's digital output. Even processed music like Selena Gomez's "Lose You to Love Me" or Billie Eilish's "When the Party's Over" had much more space and life, particularly in the highs.
As a point of comparison, I queued up the same albums on Tidal and compared the SRT4's outputs to those of my Control4 EA5 multizone controller. The SRT4 came up sonically short in the comparison, with the Control4's audio sounding more dynamic through both its analog and digital outputs. Unfortunately, since many distributed audio systems are not able to handle digital audio signals, users might be forced to use the SRT4's inferior-sounding analog outputs.
Conclusion
OSD Black's SRT4 is priced considerably lower than other four-zone streamers on the market, making it an inexpensive option to fill a home with music. And while that's a good thing in itself, I hope the company is able to resolve the lock-up issues that I experienced and continues to add music services. Also, depending on the system it's being connected to, the SRT4 is a piece that potential buyers should try to first hear for themselves, since sound quality when using its analog outputs proved to be disappointing in comparison with a digital output.