Cary Audio DMS-550 Network Audio Player Review Page 2
While I generally had no problems using the DMS-550 as my preamp, one ergonomic issue that I encountered involved its lack of a front panel volume control—adjusting volume invariably meant seeking out the hardware remote or pulling out my iPhone and tapping on an app screen. That's a minor quibble in the grand scheme, but also something someone planning to use the DMS-550 in a similar configuration should be aware of. I also noted that the remote control's IR range was very limited, with the DMS-550 responding to commands only when the handset was pointed directly at the IR window on the front faceplate.
While I did sign in to Tidal in the Cary Audio control app to test out that app's capabilities, most of my streaming activity was executed via Roon running on a MacBook Pro connected to an external hard drive. I also used a Panasonic DMP-UB900 Ultra HD Blu-ray player plugged into the DMS-550's coaxial digital input for CD playback. My turntable, meanwhile, sat by dormant and unloved, the new all-digital setup refusing to accommodate any analog source whatsoever.
Performance
Starting out with CDs, I first spun one of my long-standing reference tracks, Ray Lamontagne's "Barfly," and compared the performance of the DMS-550's DAC with the one built into the Hegel H190 integrated. The differences overall were fairly slight, though I did sense better separation between male and female vocals in the mid-section, along with a cleaner rendering of overtones from the ride cymbal in the drawn-out jam that concludes the song. Comparing the same track with the Panasonic player's analog output connected to the Hegel, I also experienced a wider, more coherent soundstage with the DMS-550's DAC handling the conversion.
Moving from CDs to 16-bit/44.1kHz Tidal tracks streamed via Roon, I next played John Martyn's bluesy interpretation of "Glory Box," a trip-hop classic by England's Portishead. Both the snare drum rim hits and electric guitar leads in this song had a crisp, snappy quality, while the electric bass had a fat, low-reaching presence that fully rounded out the sound. All of this provided a rich foundation for Martyn's fleshy, brooding vocals, which were delivered with a sense of dynamic ease.
The same fine balance that I heard with "Glory Box" was also in evidence when I streamed composer Arvo Pärt's Da Pacem Domine (16/44, Tidal). The swell of voices in this large choral group performance was delivered with impressive warmth and fullness. At the same time, I was able to distinguish layers of individual voices within the mass, and also the texture of the minimal string instruments accompanying the chorus. Sticking with the Estonian composer, I next played De Profundis as performed by the Hilliard Ensemble and the Stuttgart State Orchestra (16/44, Tidal). The layering of voices in this piece was notably more defined and there was a vivid sense of the environment in which it was recorded. I heard clear separation of voices up front and the organ and percussion instruments further back in the space. Also, the slow-burning build of dynamics in this piece was tracked with a high degree of precision.
Transitioning to jazz, I next played a DSD128 download of "On Green Dolphin Street" performed by Bill Evans on the album Some Other Time: The Lost Session from the Black Forest. This phenomenal time capsule of a recording presents drummer Jack DeJohnette panned wide left and bassist Eddie Gomez panned wide right, with Evans' piano floating nimbly across the center of the soundstage. The intimate tone of the recording was perfectly rendered by the DMS-550, with the piano sounding crisp, yet warm and the standup bass coming across as natural and full- bodied as if it were hovering there in the room.
I made a point of toying with the DMS-550's upsampling and conversion features with all of the above tracks and more. While each adjustment—upsampling from 44.1kHz to 176.4kHz, for instance—seemed to bring slight sound quality differences, the transformation that made my ears perk up most was when I converted tracks to DSD256 format. The John Martyn track, to cite one example, seemed more dynamically open in its new DSD256 skin, and there was an overall smoothness to the sound that nonetheless didn't obscure its crispness and detail.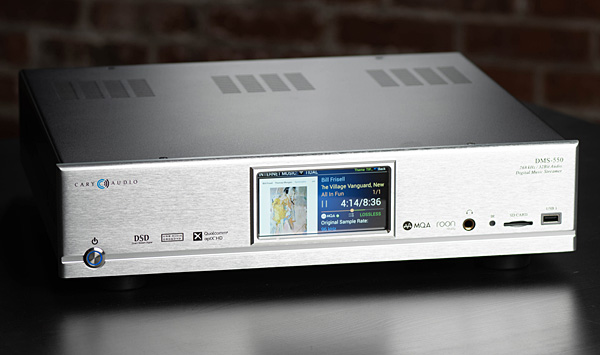 To test out the DMS-550's headphone amp, I listened to both CDs and high-res files using fairly sensitive over-ear headphones from Sennheiser and Bowers & Wilkins. The DMS-550 had no issue driving both sets of cans to loud volumes, and the fine level of detail it fleshed out in a few favorite high-res downloads like The Kinks' "Oklahoma, U.S.A" and the Jimmy Cobb Quartet's "Every Time We Say Goodbye," made for an engrossing listen. Equally important (to a reviewer, at least), the amp's smooth, effortless performance allowed me to hear key sound quality differences between the Sennheiser and Bowers & Wilkins models.
Conclusion
Network audio player or digital preamp? Cary Audio's DMS-550 deftly wears both hats, and in both cases provides stunningly good sound quality when listening via speakers or headphones. Support for Qobuz, Tidal, and MQA makes it a particularly high-res audio- friendly option, and Roon Ready status means it's compatible with the best available music library and management software right out of the box. I encountered some limitations when using the DMS-550 as a digital preamp—in particular, I didn't like being forced to seek out its remote control or call up an app when making volume level tweaks. But I found the DMS-550 a delight to work with for the most part, and Cary Audio's app also served nicely as a streaming and control gateway when used independently of the Roon app. At $5,495, the DMS-550 sits most decidedly at the high end of the network audio streamer price spectrum, but it also offers high-end performance and build quality to back up that cost.