Cars 3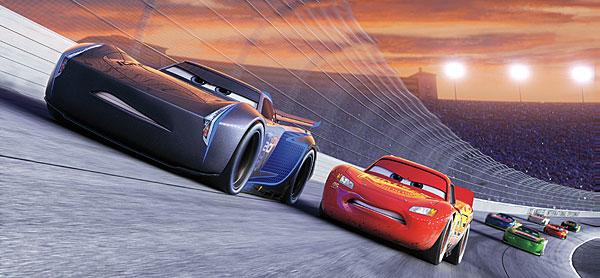 In my first viewing on a projector and big screen, I was put off by the film's slow start, lame humor (Mater has little more than a bit part here, and he's missed), and less than subtle messaging that, while fine in a one-shot story and found in innumerable Disney films, compromises McQueen's character arc as established in the first two films. When viewed again, this time on a flat-screen UHDTV, I did like it better despite my continuing issues with the direction it took. But for dedicated Lightning McQueen fans, I'd suggest a rental rather than a purchase.
Pixar's animators have been so consistently flawless that the standards they've set are becoming difficult to exceed, even for them. Nevertheless, they almost do so here, and the superb Ultra HD picture quality fully reveals their efforts. As with most brightly lit animated films, there are few opportunities for the UHD disc's high dynamic range to stand out. But you'll spot it nevertheless, particularly when McQueen and Cruz (his trainer) find themselves in a nighttime, mudsoaked demolition derby complete with bright pyrotechnics. The color and resolution are also superb; the metallic sparkle on McQueen's post-makeover re-paint, for example, is clearly visible, with the new red deeper and richer than before.
Oddly, the disc defaults to lossy Dolby Digital on loading; you have to select the lossless Dolby Atmos track manually. I listened to the latter, but in 5.1. The sound is big, clean, and dynamic. While not quite as wow-inducing as the best-sounding films I've heard, it doesn't disappoint and is enhanced by a beautifully recorded Randy Newman score.
The extras are extensive, with deleted scenes, making-of featurettes, the short film Lou, and additional background information—plus an interesting but clearly merchandizing short on the many commercially available, miniature die-cast models of the Cars characters. There's also a commentary track, but only on the HD disc.
Blu-Ray
Studio: Pixar, 2017
Aspect Ratio: 2.39:1
Audio Format: Dolby Atmos 7.1.4 (Ultra HD), DTS-HD Master Audio 7.1 (HD Blu-ray)
Length: 103 mins.
MPAA Rating: G
Director: Brian Fee
Starring: Owen Wilson, Cristela Alonzo, Chris Cooper
In the original Cars, from 2006, hotshot racecar Lightning McQueen learned to be a gracious winner but a winner nonetheless. In Cars 2, Pixar learned that they could produce a less than sparkling sequel. Now, in Cars 3, the second Disney-Pixar property to produce a threequel (after Toy Story 3), McQueen is getting older, losing his edge, and suffering both losses and trash talk from newer, sleeker, faster racers. But he goes back into training, gets up to speed (so to speak), and is on the verge of motoring back to the top when….OK, you don't expect spoilers, do you?