Boston Acoustics M25 Speaker System

Price
: $3,345
At A Glance
: Leather-like enclosure finish • Beefy subwoofer • Easy-listening, aggression-free treble
The question "what speakers should I buy?" is increasingly giving way to the more provocative "why should I buy stand-alone speakers at all?" Loudspeakers have to argue for their very existence in a world where consumers are logging fewer listening hours with component systems. Instead, stylish music sources such as tablets and smartphones are driving listeners toward equally stylish all-in-one wireless/docking systems and headphones. Today, the poor old loudspeaker has to work harder to attract attention. It has to convince you to buy it—oh, and one of those pesky audio/video receivers to power it. For every young listener who wants a high-quality component system to play his latest 180-gram virgin vinyl acquisitions, there are several more MP3 addicts who equate component audio systems with rotary-dial telephones.
So: Why buy speakers? For the listener who values both movies and music, the answer begins with the bedrock principle of home theater—the recognition that you need to complement a big-screen display with good speakers, a good amplifier, high-quality source components, and high-res software. You want a room-filling soundfield to surround you, well-defined images within that soundfield to stimulate your brain, bass to rattle your bones, and enough realism to suspend disbelief and plunge you into new cinematic and musical worlds. But it sure would be easier to make that case if most loudspeakers weren't so darn dowdy.
That's why the Boston Acoustics M Series is a speaker system for the times we live in now. It will do anything—and I mean anything—to get your attention. It wants to be the tail that wags the dog, the component that makes you need the other components that make up a system, the tipping point of temptation, square one on the path to a real system. It wants you to take one look and say, "I want that."
Leather Comes Standard
The configuration under review consists of the Boston Acoustics M25 monitor ($799/pair), MCenter ($599), MSurround ($748/pair), and MSubwoofer ($1,199). Other models in the M Series line include a trio of towers: the three-way M350 ($2,499/pair), the three-way M340 ($1,999/pair), and the 2.5-way M250 ($1,499/pair).
If you are in fact seduced by these speakers, Boston Acoustics will make you wait just a little longer for them to emerge from their packaging. With ceremonial overtones, you loosen the bright red drawstring of a thick, soft fabric bag, which falls away to reveal the speaker.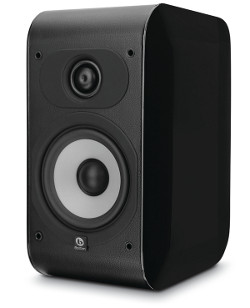 The first thing you notice about the M25 monitor is the shape. Sharp edges and corners are all but banished. Viewed from the side, the speaker evokes the round-cornered footprint of a Mac mini, an Airport Express, or an Apple TV streamer—not to mention numerous products from other manufacturers that evoke the same feeling. You might even think of it as an iPhone that's eaten too many potato chips.
The second thing you notice is the leather-grained vinyl that wraps continuously around the baffle, top, bottom, and back panel. It has unexpected tactile qualities—softness combined with pleasing irregularity. Side panels are gloss black. The enclosure is constructed of two layers of fiberboard separated by a layer of damping adhesive and totaling nearly an inch thick. This Lo-Q enclosure, as Boston calls it, is designed to defeat extraneous vibration and box coloration. It is present in both monitor and center but not in surround or sub.
The M25's drivers include a 5.25-inch polypropylene-coned woofer and an unusual 1-inch tweeter to which Boston gives the names EWB (Extended Wide Bandwidth) and CDCD (Coupled Dual Concentric Diaphragm). This fabric-domed tweeter has an dimple in the center which is terminated to a brass piece extending from the motor system to the back side of the dome. This is claimed to minimize phase cancellation and eliminate the need for a phase plug in front of the tweeter.
Normally, it is an article of faith—at least for me, if not for our audio technical editor—that the drivers in a 5.1-channel system should match in sizes and materials to ensure a continuous timbre-matched soundfield unless the designer has a pretty convincing reason to do otherwise. This system's MCenter and MSurround speakers depart from the norm by replacing the monitor's fabric dome tweeter with a driver utilizing a 2.5-inch flat corrugated paper diaphragm and covering both high and upper midrange frequencies. Boston calls it a BMR, or Balanced Mode Radiator, and says it produces sound using both piston and bending-mode motions.
When I ran pink-noise test tones to match levels, I noticed that the predominant pitch of the center and surround speakers appeared to be higher than that of the monitors. As a practical matter, this means the center and surround speakers are a timbral match for each other but sound a little different than the monitors. This suggests that frontal side-to-side panning may be less than perfect, though in the listening demos, the variation in timbre and dispersion didn't call attention to itself.
All woofers have polypropylene cones, though of a different size for each speaker: 5.25 inches for the monitors, dual 4.5 for the center, and 3.5 for the surround. The woofers mated with BMRs operate in separate enclosures to avoid internal interference.
The MSurround is designed for on-wall use, with its flattish profile, distinctive upward-firing dual ports, and two cross-shaped slots on the back for hanging. It would look good affixed to your wall.
The MSubwoofer adds $1,199 to the system cost. It's money well spent: In most monitor-or satellite-based speaker packages, the sub is often a weaker performer than the other speakers; in this system, it's as good or better. It combines a 10-inch active front-firing driver with a pair of 8-inch passive radiators at the sides, all polypropylene cones. Don't let the driver sizes fool you: This sub can woof like a champion, with the help of a 500-watt amplifier that is claimed to double that power at peak moments.
Associated equipment included a Pioneer Elite VSX-53 receiver, Oppo BDP-83SE universal disc player for Blu-ray and CD, Panasonic DMP-BD87 Blu-ray player for streaming, Micro Seiki BL-51 turntable, Shure M97xE cartridge, and Onix OA 21s integrated amp serving as phono preamp. All movie demos were Blu-ray Discs with DTS-HD Master Audio soundtracks.