Boston Acoustics Classic Series 2300 II Speaker System Page 2
Associated equipment included a Rotel RSX-1550 A/V receiver and Oppo BDP-83SE universal disc player. All movie demos were Blu-ray Discs, and all music demos were CDs.
Driver Personality
While it's as easy to incorrectly stereotype driver construction as it is to unfairly stereotype people, there are still personalities I've come to associate with certain materials. The textile tweeter the CS 23 II satellite and CS 223C II center use had what is in my experience a classic soft-dome sound, with a non-resonant, polite, but not particularly veiled top end that made for easy listening with the majority of demo material. The system mustered a big, fat midrange that allowed the speakers to sound bigger than their physical size and was generally flattering to the material. Unfortunately, there seemed to be a persistent upperbass disconnect between the 3.5-inch woofers of both the satellite and center and the sub's down-firing 10-inch woofer. This is a common trait with small sat/sub systems. It's attributable more to the higher crossover point required by the inherent limits of small woofer sizes in the satellites than to the sub's overall performance. But they both need to work together. I should add that at the beginning of each session, the sub greeted an incoming audio signal with a loud pop.
"Sounds big," began my notes for X-Men: First Class and its DTS-HD Master Audio surround. But "not layered," I added soon afterward. With the polyester domes strewing my path with flowers, I found it easy to get through this often aggressively dynamic, effects-heavy movie soundtrack at a uniform volume without many downward corrections. When the Bostons erred, they did so on the side of smoothness and never became vague enough to obscure dialogue.
"Do I look like I carry a pencil?" demands Jason Statham's grim cop-turned-executioner in Blitz (Dolby TrueHD). This action movie surprised me with its musical underpinnings. A variety of amped-up music—the kind that normally turns into a grainy mash in this kind of movie—actually sounded palatable much of the time, sweetened by the satellite's and center's euphonic midrange. "Top and bottom just OK," my notes added. This limitation is probably what kept all that gunfire from pounding my eardrums into submission. Strings in the musical soundtrack that accompanied one shooting had an unexpectedly but pleasantly colored sound. I expect strings in movie soundtracks to be big and bland. Here they were big and sweet.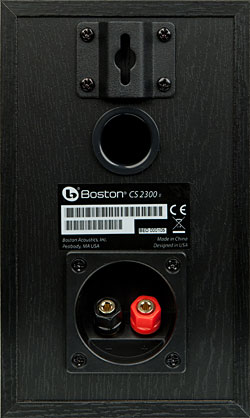 Chloe (DTS-HD Master Audio) turned down the volume with the voluptuous Amanda Seyfried as the femme very fatale who messes with Julianne Moore and Liam Neeson's marriage. Without the constant distractions of splashy surround effects and low-frequency cannon fodder, I could pay more attention to the quality of vocal delivery. It was commendably free of sibilant hype and natural in the always impressive midrange of these speakers. But although it was intelligible, it wasn't particularly airy, and the speakers didn't have the you-are-there imaging I get with speakers that resolve detail better but also tend to come with more challenging price tags. Once again, the orchestral music that accompanied a love scene was fully developed in the mids and gentle on top.
From Opera to Oranj
Vittorio Grigolo's Arrivederci is a collection of Italian and pop songs that flaunts the tenor's emotional (and sonic) dynamics. I switched between the Dolby Pro Logic II Music mode and stereo, which indicated good timbre matching in the center speaker—not always a done deal with horizontal centers. The center's two woofers didn't cause noticeable lobing when I listened off axis. The main difference was that in stereo, the soundstage collapsed when my ears and I moved off axis. When Grigolo sings at low to moderate volumes, I was impressed by how thoroughly the mids integrated with the highs. In fact, there was no sense of one detaching from the other at any level. Only when the tenor erupted into the top of his dynamic range did vocal timbre lose a little of its texture—not hardening, but smearing very slightly.
It seemed somehow fitting to go from opera to the poetic ranting of The Fall's Mark E. Smith. I Am Kurious Oranj showcases his full array of curious microphone techniques. When Smith goes into pseudo-megaphone mode—which completely transforms the character of his voice—the speakers' big midrange made the altered vocal timbre sound richly textured rather than muddy and uncommunicative. While the sub did an adequate job of punching out the rhythm section, the drum sound was confined to the sub and otherwise on the light side—as I'd expect in a system of this size—except when the distinctive twang of Stephen Hanley's bass reached into the satellites' confident midrange.
Béla Fleck and the Flecktones' breakthrough 1990 self-titled album combines banjo, harmonica, bass guitar, and synth-ax/drumitar percussion—potentially a recipe for thin and fatiguing sound, aside from the melodic bass playing. Sensitive production helped bring out the instruments' textures. The speakers' mid/high character also contributed strongly, making the players come alive in a large, coherent soundstage that became even more spacious with Dolby Pro Logic II processing. The body of Fleck's banjo was strongly present, befitting a lead instrument, although its attack was blurred.
Conclusion
The Boston Acoustics Classic Series 2300 II is a good deal if you're looking to outfit a modestly priced A/V receiver with affordable speakers that will sweeten aggressive movie soundtracks and impart a silky warmth to music. While those seeking airy top-end resolution and brute-force bass will have to seek satisfaction elsewhere—and those things will be hard to find at this price point—others will relish the agreeably smooth and listenable character of these speakers.