BlacKkKlansman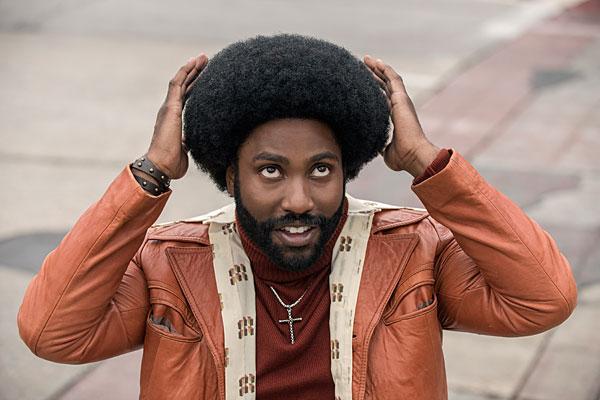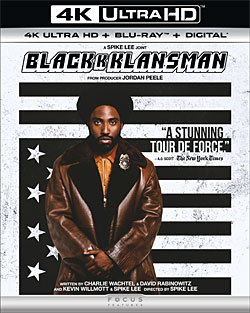 The movie was shot on film by Chayse Irvin with a somewhat soft focus that gives it an era-appropriate look. There's modest grain and only minimal compression artifacts to mar the respectable 2.4:1 image. Black levels are lifelike but with some murk here and there, particularly a slight loss of depth in smoky interior scenes. Shadow detail is strong, notably on backlit faces. Dolby Vision HDR makes the most of the somewhat subdued but very natural palette, adding a welcome bit of punch to the proceedings.
The Dolby TrueHD 7.1-channel soundtrack at the core of the Atmos mix fully expands the soundstage to marvelous effect, adding real enjoyment and even a bit of levity at times with the placement of well-edited, discrete voices. It's one of the most surround-aggressive tracks I've heard in a long time, using sound to help tell the story in a powerful way. The music is mixed big with generous dynamic range, something clearly evident in both the energetic drums of Terence Blanchard's original score and the engaging implementation of delicious vintage tunes. The trebly snapping of fingers above the music or a whistle from somewhere in a crowd serves to draw you in all the more.
The 4K disc repeats the paltry extras from the bundled Blu-ray. An extended trailer scored with Prince music reveals too much of the movie, while the five-minute featurette is little more than an ego stroke for Mr. Lee, although it's the only glimpse we get of the real Mr. Stallworth. A digital copy is included.
ULTRA HD BLU-RAY
STUDIO: Universal Studios, 2018
ASPECT RATIO: 2.40:1
HDR FORMAT: HDR10
AUDIO FORMAT: Dolby Atmos with TrueHD 7.1 core
LENGTH: 135 mins.
DIRECTOR: Spike Lee
STARRING: John David Washington, Adam Driver, Laura Harrier, Topher Grace, Jasper Pääkkönen, Robert John Burken

In a story so jaw-dropping it has to be true, rookie African-American cop Ron Stallworth (John David Washington), the only officer of color on the Colorado Springs police force, initiates an undercover investigation into the Ku Klux Klan amid tense race relations in the 1970s. His part is played over the telephone, and to perpetuate his ruse he is partnered with white officer Flip Zimmerman (Adam Driver). Flip attends meetings in the guise of "Ron," requiring the two men to coordinate their words and actions in order to present a unified front as they pretend to be a single hardcore bigot. The absurdity of this situation is seldom lost on director/co-writer Spike Lee, who plays the material for laughs as well as drama, suspense, and an opportunity to educate.