Best Speakers of 2023 (So Far) Page 2
Home Theater Speakers and Subwoofers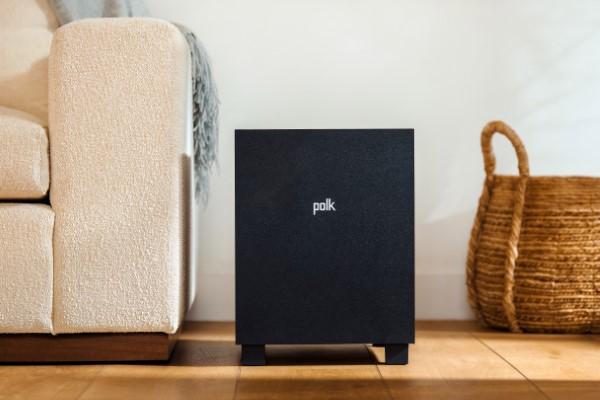 Polk Audio Monitor XT10 Subwoofer: $299
If you crave subterranean bass output but are on a tight budget, Polk's XT10 subwoofer is worth a look. Okay, for three hundred bucks it can't hit the lowest of lows but it can deliver plenty of oomph down to 30 Hz and do so from a cabinet that's reasonably small and lightweight. Inside, a 50-watt Class D amp feeds a down-firing 10-inch woofer. The port also fires from bottom of the enclosure so you won't have to worry about mischievous cats or kids tossing Legos into it. Around back is a basic set of controls to adjust level, phase, and low-pass crossover (40- 160 Hz) plus a line-level LFE input and a set of stereo RCA inputs.
Though the bass could be a bit boomy with music, resident bass expert David Vaughn was "pleasantly surprised by [the XT10's] sub-30 Hz performance" with movies. "During the opening sequence of Overlord — one of the most bass-intensive discs out there — the XT10 was able to rattle pictures on the wall. As the German anti-aircraft guns attempted to repel the aerial armada approaching the French coastline, the bass dipped below 25 Hz and the explosions from the flak were surprisingly impactful." While the lows are not as tight or accurate as what you'd get from a sub costing three to four times as much, Polk's XT10 produces a generous amount of bass for the price, making it a solid value and a great soundbar companion.
AT A GLANCE
Plus
Compact design
Plenty of output above 30 Hz
Wallet-friendly price
Minus
Weak output below 30 Hz
A bit boomy
Full Review Here (posted 3/22/23)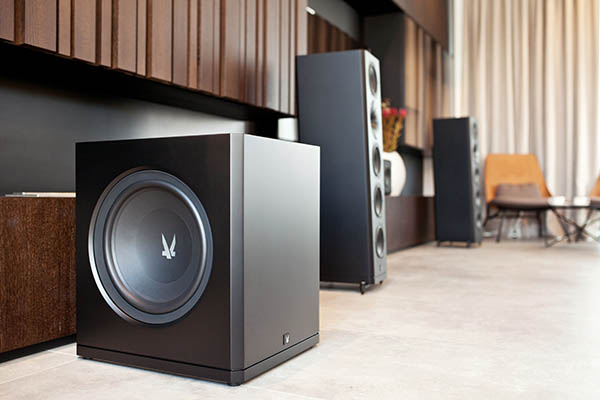 Arendal 1723 S Speaker System: $7,996 (as tested)
If you haven't heard of Arendal you're not alone. The brand hails from Norway and has been producing and selling speakers in Europe for more than a decade. We assembled a 5.1 home theater setup comprising four models from the well-crafted 1723 series: Pairs of Tower S and Bookshelf S speakers, a Center S, and the app-controllable Subwoofer 2S, which mates two 14-inch drivers with a 1,200-watt amplifier in a somewhat imposing sealed enclosure. Everything is THX Ultra Certified for reference-level volumes in rooms up to 3,000 cubic feet with a viewing distance of around 12 feet. A testament to the confidence it has in its speakers, Arendal offers a 60-day in-home trial and a generous 10-year warranty on everything but electronics, which itself is generous at 5 years.
The system performed admirably with movies and music, producing sound that was balanced and neutral. As reviewer Jim Wilson put it, "The speakers are indifferent to volume and comport themselves when pushed, yet when played with restraint they are just as revealing. I heard nuances in familiar songs that aren't anywhere near as evident with other speakers. I'm not kidding, I literally experienced details I didn't know were there. I could listen to these speakers all day every day, there is absolutely no fatigue or strain." And the Subwoofer 2S, which earned a Top Pick in its own right, shrugged off the brutal opening sequence of Edge of Tomorrow — a torture test known to destroy lesser subs — producing powerfully deep, articulate bass. In a word, performance from top to bottom was impressive.
AT A GLANCE)
Plus
Impeccable build quality
Small in size, large in sound
Stylish design, superb engineering
Minus
Pricey
Subwoofer app a bit finicky
Full Review Here (posted 3/8/23)
Soundbars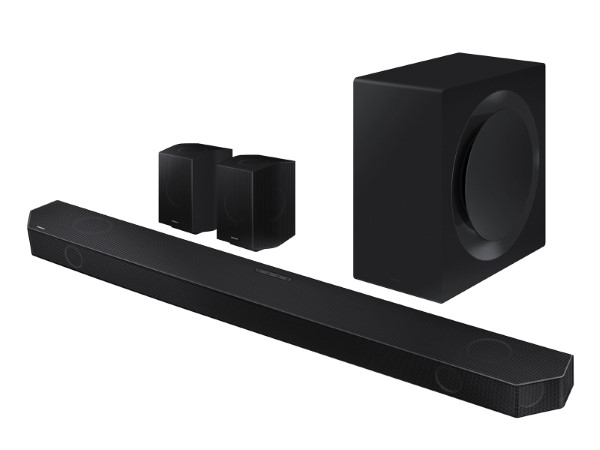 Samsung HW-Q990B Atmos Soundbar: $1,500
In 1998 Altec Lansing introduced the Voice of the Digital Theatre before anyone knew what a soundbar was. With its companion subwoofer, the system offered an impressive space-saving solution for improving TV sound but it was before its time and never gained traction. By the early 2000s, the concept started to catch on as a convenient alternative to the complexity of a standard surround setup with five speakers and subwoofer. Fast forward to today and soundbars are ubiquitous and range from a simple three-channel soundbar with no subwoofer to a sophisticated system like Samsung's HW-Q990B, which delivers a credible home theater experience from a svelte 4-foot-wide soundbar housing 15 (!) drivers, two wireless surround speakers, and a wireless subwoofer.
With a total of 22 drivers powered by 400 watts of integrated power, the system's 11.1.4 configuration is remarkable for providing a convenient, space saving path to powerful sound — including object-based Dolby Atmos and DTS:X soundtracks. It didn't take long for veteran reviewer Rob Sabin to be wowed by what he heard. "The resulting sound bubble was enthralling…World Cup soccer and NFL football games were delivered with convincing stadium sound that placed me in the middle of the crowd noise and gave voice announcements an appropriately echoey feel." The Q990B can hold its own against a full-fledged surround-sound speaker setup but it also excels with music. At $1,500, it's not cheap but boy can it deliver.
AT A GLANCE
Plus
11.1.4-channel Atmos or DTS:X playback (with wireless rear surrounds)
Audiophile-grade sonics
Superb dynamics
Extensive adjustability
Intuitive SmartThings app for control
Minus
Some functions hard to reach with remote
No Atmos/DTS:X indicator on app
Full Review Here (posted 2/8/23)
To browse all Sound & Vision-recommended AV gear, broken out by category, visit our Top Picks page.
Also see 2022 Top Picks of the Year