Best Gear of May 2021
As a pandemic-free summer beckons, we look back at the unique collection of products we had the pleasure of evaluating in May. From a dynamic duo of subwoofers that deliver impressive performance and unparalleled setup flexibility for $600 or less to what may be the world's first "smart" ceiling-mount video projector, we present our latest Top Picks in the hopes that at least one of them will inspire you.
Polk Audio Reserve Surround Speaker System: $3,195
Polk Audio's Reserve speaker series is a more affordable follow-up to the flagship Legend series, the apex of which is represented by the L800 towers that earned a well-deserved
Top Pick
designation in 2019. Though the outward design of the new series is comparatively understated, the four models chosen for the Atmos-capable 5.2.0 home theater setup we reviewed incorporate the Pinnacle Ring Radiator tweeters and Turbine cone drivers developed for the Legend series. The R600 towers that anchored the system also feature an upgraded version of Polk's patented Power Port that uses a proprietary filter to eliminate unwanted noise.
The upshot of these technical features, which represent nearly five decades of research and sound enhancing refinements, is crisp near-full-range performance from a streamlined speaker system that relies on the towers for bass duties instead of bringing a separate subwoofer into the fold. Even without a dedicated subwoofer, bass impact with movies such as Tenet was, in the estimation of reviewer Al Griffin, "thoroughly satisfying." Griffin was also impressed with the system's ability to convey dialogue clearly while creating an immersive sound bubble with a believable sense of height when he cued up the Atmos soundtrack of 2014's Godzilla on Ultra HD Blu-ray. The R600 towers were equally capable with music, exhibiting a revealing quality with impressive dynamics and imaging that extended well beyond the physical boundaries of the speakers. Would the addition of a subwoofer produce deeper bass and a more dynamic presentation with action movies? Sure, but in medium-sized rooms most people will be more than satisfied with the system as is.
AT A GLANCE
Plus
Crisp, near full-range performance
R900 height module delivers immersive sound
Impressive build quality for the price
Excellent value
Minus
Revealing sound can be slightly bright with some sources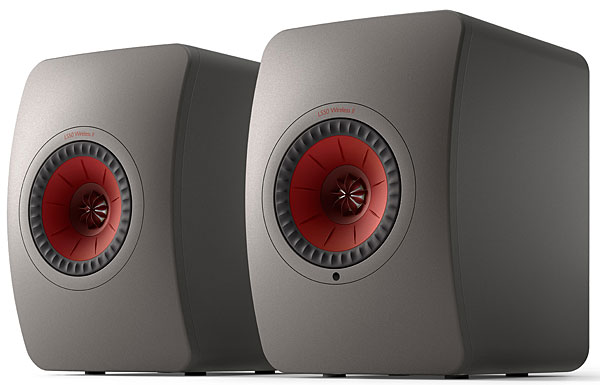 KEF LS50 Wireless II Powered Speakers: $2,500/pair
Wireless speakers with integrated virtual assistants and onboard streaming are everywhere these days but how many of them deliver an all-in-one streaming solution
and
true audiophile sound? Not many. Which is why you might want to check out KEF's LS50 Wireless II, an update of the LS50 Wireless speaker the venerable British brand introduced a few years ago. Though the new version looks almost identical to its predecessor, it features several innovations designed to incrementally improve sound quality, including the use of a newly developed "disc" that absorbs unwanted "backwave" sound from KEF's signature Uni-Q concentric driver, which in this case positions a 1-inch tweeter in the throat of a 5.25-inch woofer (where the dustcap is in a conventional woofer). The arrangement, now in its 12th generation, is designed to promote the smooth, controlled directivity and even off-axis response.
In a nutshell, the LS50 Wireless II is a Roon Ready hi-res wireless streaming system that plays MQA music files and supports streaming via Chromecast, Apple's AirPlay 2 platform, and KEF's intuitive Connect app, which puts Qobuz, Tidal, Spotify, Amazon Music, and a half dozen other streaming services at your fingertips. All this from two compact speakers that also provide a full complement of digital and analog hardwire connections along with onboard digital processing and amplification (100 watts of Class AB power for each tweeter and 280 watts of Class D power each woofer).
Getting back to that audiophile sound, reviewer Dan Kumin was blown away by the sonic capabilities of these little speakers — especially their ability to produce respectable bass and faithfully reproduce an intimate Chandos recording of a string quartet performing the works of 19th-century composer Anton Fesca as streamed via Qobuz. Singling out cellist Yves Sandoz, he wrote, "I've heard a lot of top-shelf cello in real life, and this, via the KEFs, is quite simply what it sounds like." The veteran audio reviewer remained impressed as he expanded his listening to other musical genres: "Tonally, the LS50 Wireless IIs nailed my ideals of coloration-free, timbrally honest reproduction, with impressive spatial and dynamic qualities even in my 3,000-cubic-foot studio."
AT A GLANCE
Plus
Serious all-in-one streaming solution
Remarkable tonal and dynamic range
Excellent ergonomics and app
Roon Ready Certified
Minus
High volume level slightly reduces resolution