Best Gear of March 2021 Page 2

Linn Majik DSM Streaming Integrated Amplifier: $3,835
Almost 50 years after Scotsman Ivor Tiefenbrun built his first turntable — the iconic Sondek LP12 — Linn is firmly established as the crown jewel of Scotland's hi-fi community and remains a family business dedicated to high-performance audio. Today the company is run by Ivor's son Gilad and has string of hi-fi innovations under its belt, including 1974's Isobarik speaker whose patented woofer configuration lives on in the Akubarik tower, three current-generation versions of the LP12, and many other innovative products. Linn was also early an early proponent of streaming in 2007 when it introduced the Klimax DS, one of the first hi-res network music players.
Fast forward to 2021 and the Majik DSM builds on the original network player concept by combining a 24-192/DSD-capable wireless streaming device with a preamp and 2 x 50-watt power amp in a feature-packed component you can control using a standard remote or companion app equipped with a universal search tool that pulls results from across streaming services and music stored on your home network. In addition supporting Tidal, Qobuz, AirPlay, TuneIn, and Calm Radio music services, the Majik DSM is Roon Tested and boasts five HDMI 2.0 ports with 4K/HDR10 video pass-through, including one with Audio Return Channel (ARC) for routing stereo audio back from a connected TV, plus optical, coaxial, and USB digital inputs. There's even a selectable RCA line/phono analog input and headphone output. Want to stream via Bluetooth? No problem. Add speakers and you're good to go.
But the parade of features doesn't stop there: Near the top of the list is a DSP-based room-correction system Linn calls Space Optimisation that uses acoustic modeling (instead of the usual microphone-based room measurements) to compensate for room anomalies below 80 Hz. The system works like a charm and is even user adjustable, making it easy to dial in the bass just the way you want it. Reviewer Howard Kneller put Space to work with the torturous synth bass line on London Grammar's "Hey Now" from 2013's If You Wait and was impressed with how it subdued destructive room interactions and brought out detail that would otherwise be obscured.
In the end, it always comes back to sound quality — something the Linn delivers in spades. Listening to Lee Morgan's trumpet on "Are You Real" from the Art Blakey & The Jazz Messengers' album Moanin', Kneller was captivated by how the versatile Majik "captured the instrument's intense, brilliant sound" while conveying Blakey's percussive strikes with precision and "pop." What you have here is a serious streaming system guaranteed to delight audiophiles.
AT A GLANCE
Plus
Great sound quality
Multiple HDMI inputs (w/ARC)
Effective Space Optimization room correction
Built-in phono stage
Minus
Dealer setup recommended
Small speaker terminals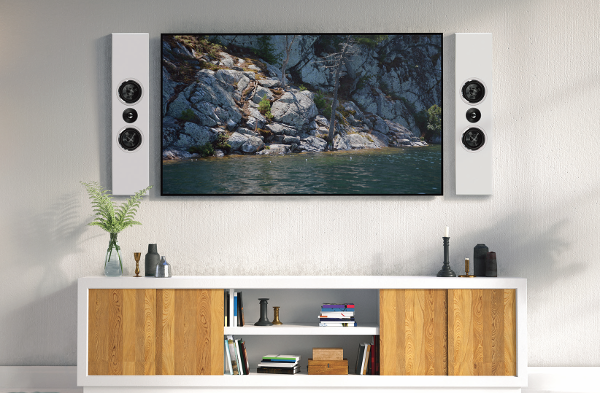 PSB PWM-1 On-Wall Surround Speaker System: $6,193 (as tested)
PSB namesake Paul Barton has been building excellent speakers for almost 50 years and, thankfully for the audio buying public, shows no signs of letting up. His latest creation is a line of slim on-wall speakers for enthusiasts who want great sound from a setup that doesn't commandeer the room it occupies. In our case, that room was a 12 x 15-foot space we outfitted with five PSB PWM1 speakers — the smallest of three models, all rectangular and designed to hug the wall — plus a PSB CustomSound CSIR Sub/CS 500W amp combo (shown below). The PWM1s were arranged in a standard home theater layout (front left, center, right plus two rear surrounds) that occupied no floor space whatsoever. With a depth of less than 5 inches, the svelte CSIR sub with its 10-inch woofer turned out to be a perfect match for the PWM1 speakers in terms of cosmetics and performance; it can be mounted on the wall or placed upright on the floor using a supplied pedestal (which is how we used it).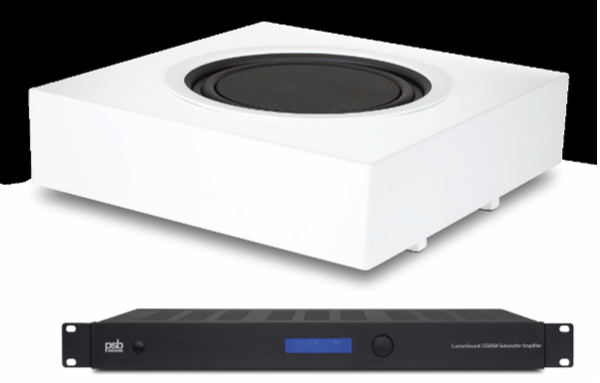 Tests conducted by reviewer Michael Trei demonstrated that even a midline AV receiver can drive this low-profile home theater setup to realistic cinema-sound levels without strain, though a top-line AVR delivered a more authoritative experience. For a little butt-kicking surround action, Trei fired up Mission: Impossible — Ghost Protocol and enjoyed a "truly seamless sensation of envelopment" with coherent dialogue and a surprising degree of impact from such a small subwoofer. The system also handled music expertly, conveying the richness of Holly Cole's sultry voice on "Little Boy Blue" from 1995's Temptation. With his latest speaker series, the renowned PSB designer has struck a perfect balance between stealth and performance, whether you're listening to music or watching a movie.
AT A GLANCE
Plus
Dynamic sound for on-wall speakers
Versatile installation options
Solid build quality
Minus
Sub pricey compared with standalone units
To browse all Sound & Vision-recommended AV gear, broken out by category, visit our Top Picks page.