Best Gear of December 2021 Page 2
Fluance Ai41 Bluetooth Speaker System: $250/pair
The Ai41 Bluetooth speaker replaces and improves upon the outstanding Ai40, one of our
Top Value Picks
in 2019. Like its predecessor, the Ai41 is a two-way bookshelf design built for Bluetooth streaming that mates a 5-inch woofer with a 1-inch silk-dome tweeter in an attractive cabinet just shy of 11 inches tall. Though it looks almost identical to its predecessor, there are notable differences. For one, the Ai41 is a ported design, whereas the Ai40 was sealed. The system also packs more power (90 watts vs. 70 watts total) and boasts a set of stereo RCA analog inputs plus an optical digital input and a subwoofer output with an 80Hz low-pass crossover, whereas the Ai40 provided only RCA inputs.
Instead of an app, you get a compact remote that puts everything you need at your fingertips, including a feature missing on many of today's wireless speakers: bass and treble controls. Most important, the Ai41 conveys vocals with lifelike presence and is able to play loud and clear without turning multilayered music into mush. If you're looking for a turnkey stereo setup you can have up and running in minutes, you can hardly go wrong with Fluance's impressive Ai41 speaker system.
AT A GLANCE
Plus
Excellent, full-bodied sound
Cosmetically appealing design
Sturdy build
Remote control with tone controls (!)
Minus
No multiroom Wi-Fi streaming
Full Review Here (posted 12/16/21)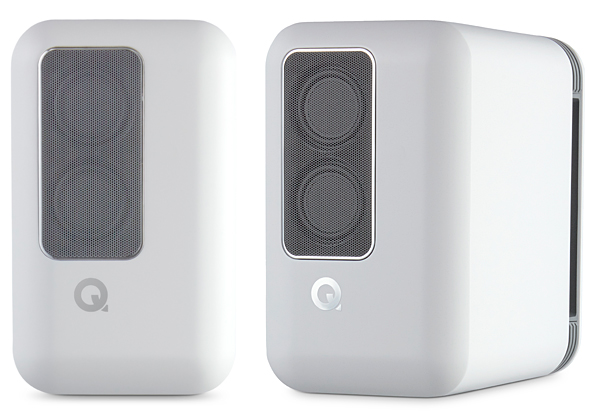 Q Acoustics Q Active 200 Loudspeaker Review: $1,999
The décor-friendly Q Active 200 wireless speaker system from England's Q Acoustics is latest entrant in the bustling "just add music" category. But it is far from ordinary — and I'm not talking about its distinctive, space-age looks. In addition to receiving 24-bit/96kHz resolution music wirelessly over a 5GHz link from the supplied hub, each speaker uses a pair of unconventional full-range drivers to produce sound reviewer Daniel Kumin described as "impressively neutral and accurate." An evolution of the "distributed model drivers" NXT introduced almost two decades ago, Q Acoustics' Balanced Mode Radiator (BMR) drivers use a conventional voice coil to produce sound but vibrate like a ribbon (or planar-magnetic) driver instead of moving in and out like a traditional speaker cone.
The dual 2.25-inch BMR drivers excel at creating a spatial stereo effect and are supported by a conventional (and unseen) 4.5-inch cone woofer that fires through a port in the back of the speaker. The woofer kicks in at the unusually low crossover frequency of 150Hz to keep it focused on reproducing deep bass, and each speaker has its own built-in 100-watt power amplifier. Besides delivering hi-res signals to each speaker, the hub is Roon Ready and supports wireless streaming via AirPlay 2, Chromecast, and Spotify in addition to handling UPnP streaming over Wi-Fi or wired Ethernet and providing optical digital, HDMI, and analog stereo inputs. The sonic payoff is a deep, spacious, and diffuse soundstage with a stereo effect that remains strong well off-axis. "I could sit 30 degrees off-center and still hear generous spread to the 'off-side' speaker," Kumin wrote. "It was not full-width stereo, of course, but most conventional direct-radiators collapse almost entirely into the near-side speaker under the same conditions."
AT A GLANCE
Plus
Accurate response and tonal balance
Spacious imaging with impressive off-axis performance
Unique looks and fine finish
Minus
Peak level may fall short for very large rooms
Ergonomics of physical controls and indicators
Full Review Here (posted 12/22/21)
Kaleidescape Compact Terra 12 TB Movie Server: $10,995 (as tested)
Who needs the cloud when you can have your very own movie server? Video guru Kris Deering hitched the new 12 terabyte (TB) version of Kaleidescape's Compact Terra movie server ($7,995) to a
Strato Player
and marveled at its ability to download a 4K/HDR movie in just 15 minutes — a massive increase in download speed over previous servers. He also loved being able to rent 4K movies that have never made it to disc (as many as 500 at last count) and enjoyed using Kaleidescape's outstanding interface to instantly access any movie — or scene within a movie.
Having lived with a Kaleidescape system for a year, Deering concluded: "I continue to love and highly recommend the Kaleidescape experience. A/V quality is second to none, and I appreciate the rental option for movies I want to watch but don't want to buy without a test run. As for Kaleidescape's new Compact Terra 12TB server, it provides another entry point to this fantastic ecosystem, and also offers an option for those looking to improve the performance and increase the capacity of an existing Kaleidescape setup."
AT A GLANCE
Plus
Compact form factor (fits in standard-width rack space with Strato C player)
Significantly boosts movie download speed
Minus
Pricey
Immersive audio support is spotty via the Kaleidescape Store
Full Review Here (posted 12/29/21)
To browse all Sound & Vision-recommended AV gear, broken out by category, visit our Top Picks page.