Best Gear of April 2021 Page 2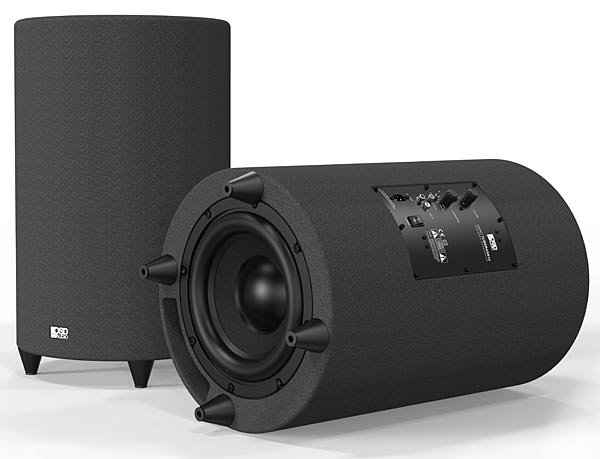 OSD Audio Nero TubeBass 10 Subwoofer: $179 (as tested)
I don't know about you, but my first thought was "too good to be true" when I saw how much OSD is asking for its Nero TubeBass 10 subwoofer. Turns out, the little canister is a brute that offers ridiculous value for $179, while trading the usual black-box form factor for a 19 x 13-inch cylinder that packs a down-firing 10-inch driver and 400-watt amplifier.
This is a subwoofer that won't dominate the room. But given the low price, it's also a no-frills design that (unavoidably) lacks wireless connectivity, app control, EQ presets, and DSP/automated room correction. Instead, you get the old-school basics: a volume control, a rotary dial for selecting a crossover point between 30 and 120 Hz, a phase switch, line-level RCA and LFE inputs, and a black-mesh-fabric-covered tube with four rubber feet that provide stability and clearance for that down-firing woofer. That's it.
For his evaluation, Al Griffin set up the TubeBass 10 in the corner of his 12 x 16-foot home theater and hitched it to a Rotel RSP-1576MKII surround processor feeding Elac Uni-Fi 2.0 speakers and set the Rotel's low-pass crossover to 100 Hz. Then he ran some test tones and confirmed usable output down to the 30-35Hz range before firing up some music.
Comparing Bill Frisell's "Blues Dream" from the CD With Dave Holland and Elvin Jones, Griffin was surprised with "how much bass OSD Audio's cylinder sub was actually generating in my room" and marveled with how tight and impactful the bass guitar and kick drum sounded on Roxy Music's "The Space Between" from Avalon on multichannel SACD. The little subwoofer also did an impressive job with movies, adding fullness and punch (sans infrasonic rumbling) to the mayhem in Pacific Rim without audible distortion. What more can you ask from a sub that costs less than 200 bucks?
AT A GLANCE
Plus
Inexpensive
Compact form factor
Good extension and output
Minus
Limited features
No wireless option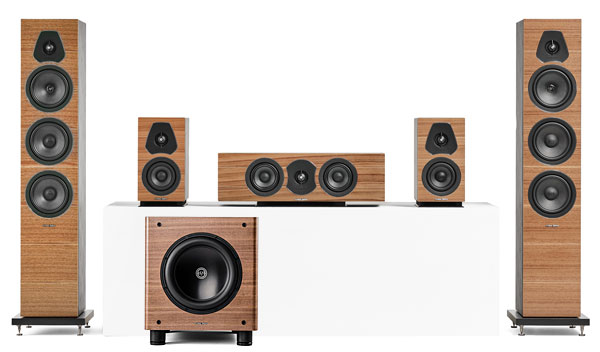 Sonus faber Lumina Surround Speaker System: $5,296 (as tested)
You probably think Sonus faber, the Italian maker of rarefied speakers like the $120,000 limited-edition
Aida
, is out of reach, but the company's new Lumina series starts at $899 for the pair of compact speakers we used as surrounds in the outstanding home theater setup we put together. The $5,300 system is anchored by a pair of Lumina III towers — stylish for sure with leather-wrapped top and sides but not full-on exotic — and includes a Lumina CI center speaker, and a Gravis II subwoofer (there's no sub in the Lumina line).
Whether you're listening to music or taking in some Hollywood action, the Lumina system pays rich dividends. With just the towers and sub playing, music was beautifully balanced and superbly detailed without any harshness or exaggeration. A broad range of solo and group vocals, in particular, sounded excellent. "I found the Lumina IIIs, supported by the Gravis II, to be rewardingly neutral," observed reviewer Tom Norton. "Nothing appeared to be overemphasized or underplayed."
Putting dynamic range to the test with Ford v Ferrari, a demo-quality Ultra HD Blu-ray that chronicles Ford's quest to beat Italy's Ferrari at Le Mans '66, Norton remained impressed. Whether it was roar and growl of engines, the screaming of brakes and tires, or the screeching of twisted metal as cars spin out of control and shatter, "the overall sound was exceptionally dynamic, well-balanced, and not overly bright even in the most challenging scenes." And the ominous sounds of battle in 2019's Midway showcased the Gravis II sub and its ability to keep up with the mayhem without obvious distortion. If you're looking to upgrade, you need to add Sonus faber's Lumina speakers to your list.
AT A GLANCE
Plus Crisp detail and open-sounding midrange
Immersive 5.1 performance
Stylish and affordable
Minus
Cl center speaker has limited off-axis response
To browse all Sound & Vision-recommended AV gear, broken out by category, visit our Top Picks page.