Batman and Harley Quinn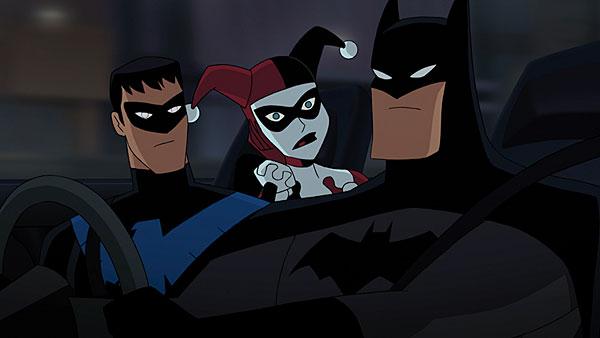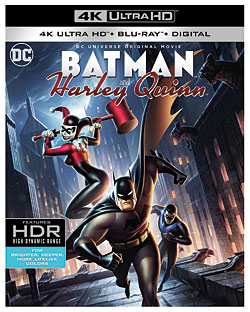 That bit of recasting aside, great lengths have been taken to re-create the look and sound of Batman: The Animated Series, a laudable pursuit. Whereas that show began its run with traditional hand-drawn animation, what we see here is fully digital in its largely uncomplicated depictions of the iconic characters and the seedy streets of Gotham City. The lines are crisp, the blacks are strong, and the colors are bold within the 16:9 frame. That said, I noted drastic motion anomalies from time to time throughout the movie, as faces and more are apparently ripped apart. By comparison, this unpleasantness did not occur with the included Blu-ray Disc.
I quickly needed to raise the volume of the DTS-HD Master Audio 5.1 soundtrack above my typical level in order to properly appreciate the dialogue, which seemed crushed by the music and effects. Even so, the surround channels failed to impress, with only modest involvement at best from start to finish. Bass, however, is generously, cleverly applied, most obviously in the inevitable explosions.
Bonus material (on the Blu-ray only) is definitely enjoyable if not plentiful. We go up close and personal with returning Nightwing/Robin voice actor Loren Lester and are given an in-depth discussion of the increasingly popular Ms. Quinn. Her two best episodes from TAS are served up as well. An HD UltraViolet Digital Copy is supplied via a printed code.
Batman and Harley Quinn is now the 29th DC Universe Animated Original Movie and the first ever released on 4K disc. It's fun despite being visually and dramatically dark, with some laugh-out-loud moments. Highly recommended for bat-fans, although the 4K video glitches might make the less expensive Blu-ray/DVD combo pack a more desirable alternative.
Blu-Ray
Studio: Warner Bros., 2017
Aspect Ratio: 1.78:1
Audio Format: DTS-HD Master Audio 5.1
Length: 74 mins.
MPAA Rating: R
Director: Sam Liu
Starring: Kevin Conroy, Melissa Rauch, Paget Brewster
Sometimes even Batman can't go it alone. When Poison Ivy teams with an evil alien plant-man for a scheme that could doom every human being on the planet, he first turns to Nightwing (sidekick Robin, now all grown up), but even that's not enough. Their best hope of stopping these baddies in time is to team with Ivy's lone confidante, Harley Quinn. Down on her luck and currently out on parole for her latest crimes, the unstable Harley is the loosest of cannons, even without her partner, The Joker. Melissa Rauch (The Big Bang Theory) replaces original voice actress Arleen Sorkin, delivering a potty-mouthed, innuendo-prone take on the beloved anti-heroine.

SPONSORED VIDEO