Avengers: Infinity War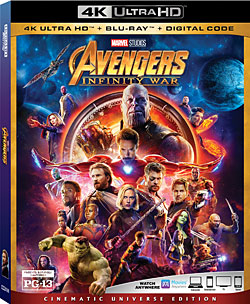 Captured using the recently developed Imax/Arri 2D digital camera, the 2.39:1 Ultra HD image here is often shadowy. That characteristic matches the story's dark tone, yet nuances are plain to see, and not just in the sprawling CGI cities but also in intimate character close-ups. Special effects comprise much of the film's runtime, and they include a computer-generated lead villain. Fantastic worlds are rendered with precise lighting and focus, and high dynamic range helps us to appreciate this grand achievement even more. Some strange artifacts on the fine parallel lines printed on Vision's face did pull me out of the moment, but that only happened with a couple of shots.
Infinity War features a Dolby Atmos mix with a TrueHD 7.1 core, and although I noted solid, and sometimes refreshingly subtle, surround activity, the bass presence and overall volume level were lacking. Whether it was the heft of an oversized dwarf stomping around his workshop, the crash-landing of a gigantic spaceship, or the arrival of a literally earth-shaking invasion, I was left feeling, "Oh, is that it?" The sonic deficit isn't unforgiveable, but events on this scale—Thanos hurling an entire moon like it's a baseball for Pete's sake—deserve better.
Extras reside on the included 1080p Blu-ray. The best among them is the audio commentary by directors The Russo Brothers and writers Christopher Markus and Stephen McFeely, while the four featurettes are for people who don't like commentaries. Half of the deleted scenes consist of tiny expansions of existing moments, while the others provide genuine substance. A roundtable discussion with some of the MCU's most accomplished filmmakers is exclusive to the digital edition (a Movies Anywhere online code is supplied).
Ultra HD Blu-ray
Studio: Walt Disney, 2018
Aspect Ratio: 2.39:1
HDR Format: HDR10
Audio Format: Dolby Atmos with TrueHD 7.1 core
Length: 149 minutes
Director: Anthony and Joe Russo
Starring: Robert Downey Jr., Chris Hemsworth, Mark Ruffalo, Chris Evans, Chris Pratt, Josh Brolin
The first decade of the Marvel Cinematic Universe has all been leading to this, an adventure so utterly spectacular that...well, it's going to need a whole other movie to wrap the story up. Jam-packed with a who's-who of familiar faces (and masks), Infinity War is a remarkably complex tale of conflict and loss highlighted by thrilling, high-stakes action. No time is wasted in thrusting us into the battle against the malevolent Thanos (Josh Brolin from Deadpool 2). He has a plan to load the six magical Infinity Stones into his newly forged Infinity Gauntlet, whereupon he will alleviate the woes of overpopulation across the universe with but a single snap of his nigh-omnipotent purple fingers. Accompanied by a squad of ruthless minions, Thanos will stop at nothing to realize his life's mission, and only Earth's mightiest heroes and their allies have any hope of defeating him.