Avengers: Endgame
Avengers: Endgame
is not merely the latest installment in the Marvel canon, but one that builds upon all that has come before to complete story arcs begun as far back as 2008's crucial
Iron Man
. It also concludes the most recent dramatic "phase" in the 22-film series, and of course drops the other shoe from the 2018 Avengers set-up,
Infinity War
. And it does all of this with a deft touch, despite its plethora of fantasy characters and an absurdly brisk three-hour running time.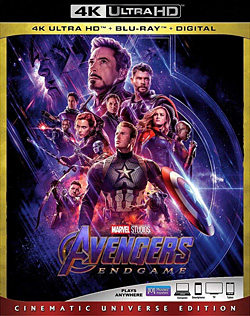 Even without that massive context, Endgame is a thrilling story, one that manages to be funny and deeply emotional as well. Mankind is reeling from the effects of The Snap, when single-minded Thanos wiped out half of all life across the universe. The plucky surviving Avengers soon discover that undoing the damage appears to be impossible, so life goes on, in a fashion, until a glimmer of hope suddenly arrives from an unexpected ally. The answer lies within Ant-Man's domain, a mysterious microscopic quantum realm where the usual rules of time and space don't apply. The team has one slim chance, whatever it takes. And it will take plenty.
Directors Anthony and Joe Russo and writers Chris Markus and Steve McFeely love all of their characters, even the villains, and they clearly respect each frame of every Marvel movie that came before. Together, they give us profoundly moving moments more than ten years in the making, and an incredibly satisfying payoff to an unparalleled journey.
Although the colossal two-movie saga represented the first Hollywood feature films to be captured entirely with premium-format IMAX cameras, final production was completed at only 2K quality. These releases are as high-profile as they come, so full native 4K would have been a wise investment. That being said, the upscaled 2160p image on this disc is beautifully organic and free from any traces of unpleasant digital distraction. The clarity of focus and depth of field serve to draw the viewer in to the comic book world. Nuances in the exquisite, ubiquitous visual effects abound, and the weave of cloth, beleaguered faces of our heroes, and infinite blades of grass are plain to see. High dynamic range is readily apparent during a nighttime Tokyo sequence where bright points of light and candy colors make their presence known. Scarlett Johansson's hair has never looked so scarlet, and various forms of space-y energy burn boldly on the screen. In comparison, the color and contrast look a bit harsher on the bundled HD Blu-ray, and the 2.39:1 image a little softer.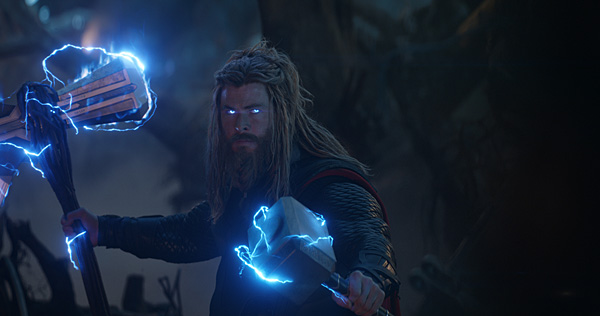 The Dolby Atmos soundtrack for Endgame (exclusive to the 4K disc) grabs the listener early on with an ambitious mix of Alan Silvestri's music—the classic team theme plus new material—and a generous dose of thunder overhead. The journey through the quantum realm is a busy, directional treat, and the Infinity Gauntlet in action brings an all-encompassing crack. Heavy roof shutters move into position above us, and off-camera cues are placed discretely in the surround speakers. While not truly reference-caliber, it's an awesome presentation, and even more impressive than Infinity War.
Extras-wise, the HD Blu-ray offers an audio commentary with the directors and writers that's mandatory listening for any serious Marvel fan. A bonus Blu-ray platter carries six non-essential deleted scenes absent the unfinished Hulk scene shown with the theatrical re-release.
A handful of featurettes all feel a little obvious and rather rushed, frankly. (An additional one comes with the included Movies Anywhere digital copy.) The Russos, who reinvigorated the whole Marvel Cinematic Universe to an extent no one could have predicted, deserve more than five minutes. Where is the saga-spanning mega-documentary? That's another three-hour epic I would gladly sit through.
Ultra HD Blu-ray
Studio: Walt Disney, 2019
Aspect Ratio: 2.39:1
HDR Format: HDR10
Audio Format: Dolby Atmos with Dolby TrueHD 7.1 core
Length: 181 mins.
Director: Anthony and Joe Russo
Starring: Robert Downey Jr., Chris Evans, Mark Ruffalo, Chris Hemsworth, Scarlett Johansson, Jeremy Renner

There is simply no precedent for a cinematic event of this magnitude.