Autonomic Mirage MMS-2 Media Server Page 2
Although the MMS-2 is a two-zone server, only one output (Main) provides a 5.1-channel-capable digital audio output. The second output (mysteriously called Player A) is two-channel analog only. The sound from the digital output through my Sunfire Theater Grand surround processor was startlingly good. And the fact that the MMS-2 plays 96-kilohertz/24-bit music files, such as the ones you can download from HDtracks, makes it even more muy bueno as a main audio playback device. The second-zone analog audio output was decent, certainly good enough for analog multiroom audio distribution, but—not surprisingly—definitely not up to the level of the digital zone's output in terms of soundstage depth and spaciousness.
Tunetown
Once installed and set up, the MMS-2 ceases to be a component and metamorphoses into an overflowing digital-media cornucopia that's capable of satiating your voracious entertainment appetite with its never-ending audio bounty—and doing it with just a tap or two of your finger on a control panel or remote.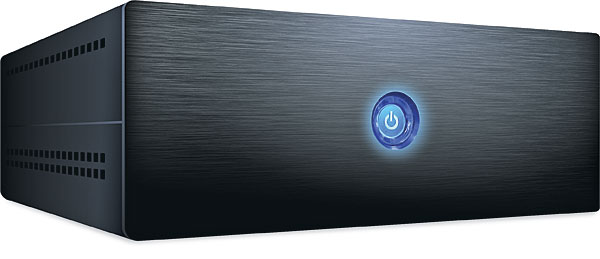 The Autonomic folks politely declined to set me up with specially engineered, matching AMX and Crestron wholehouse control systems (with multiple wireless touchscreens for control plus a couple of 65-inch flat-panel HDTVs that would be so useful for checking out the MMS-2's metadata/slide-show video output capability). So I couldn't outright compare how easy it is to control the server with those particular high-end automation systems.
On the other hand, they did happily provide me with copies of the iPad and iPod Mirage Media Controller apps. (So I ask for $70,000, and I get $70. It looks like somebody has a problem with decimal points.)
Rather than reinvent the click wheel, Autonomic decided to leverage the millions of dollars Apple has spent on usability design and make the company's Mirage Media Controller apps look and operate in much the same way Apple's own iPod music apps function. This means that if you've used an iOS device—which is almost guaranteed if you're downloading the Autonomic app—you'll instantly be able to operate either zone of the MMS-2. For that matter, the Web browser and standalone computer app interfaces work similarly, so people like me, who never crack open an owner's manual unless there's money taped inside, can enjoy multizone audio bliss in minutes. The various interfaces let you listen to your own music files and create favorite songs, artists, and even Pandora or TuneIn stations on the fly. It's actually easier to create a Pandora station from something you're listening to through the Mirage apps than through Pandora's own interfaces.
Help Me, Gandalf
As much as there is to love about the MMS-2, there are a few pits that I'd like to nick. None of them should or likely will dissuade you from acquiring an MMS-2 for your system, but you should know about them nonetheless. Most importantly from my standpoint, I have to get my complaints out there now because many of these issues are to be rectified in the upcoming firmware update. (Of course, thanks to my satellite Internet woes, I'll have to sneak into Panera with the MMS-2, a router, my computer, and an oversized coat in order to download it successfully.)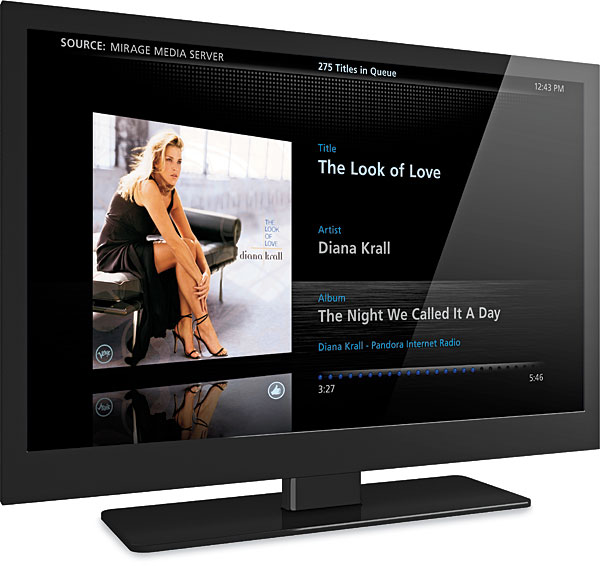 The most unfortunate aspect of the otherwise classy minimalist industrial design happens to look very sexy in the company literature and on Autonomic's Website. Yet it can be terrifying to the young, the old, and the flu-befuddled hallucinating reviewer who happens to be sleeping on the couch in the theater room. What appears to be a subtle and alluring power light on the front of the MMS-2 is actually a blue plasma field generator that lights up a darkened theater room well enough that your great-grandmother could probably do delicate needlepoint work without additional light. Even during the day, the MMS-2 sits there, incessantly flashing and scanning your theater like some ominous blue Eye of Sauron that's scouring the world for the one remote that will rulethem all. I know, a piece of zebra duct tape is an easy fix; but Autonomic assures me a firmware update will eliminate the problem very soon.
The remaining offending bits are less egregious. At the moment, there's no way to change the names of the two different outputs. Until the new update, you're limited to the dryer-than-chalk names Autonomic chose: Main and Player A. (I want to be able to call them things like Farnsworth's Freaky Fun Zone, Suppository Repository and Throne Room, and the ever-popular Who the Hell Named This Zone?)
Some people might find 500 GB of internal storage to be a limiting factor, but with the music-streaming juggernaut that the Internet has become, it's probably not going to be that big of an issue in the future. I thought perhaps that one of the USB ports on the back of the MMS-2 might be used to attach an external drive; but, at the moment, they're reserved for tech support use.
Finally, I was slightly disappointed in not being able to create music queues directly using an iOS app. Instead, you have to create queues using the Web interface. (You can then create a stored playlist from that queue using either the Web interface or an iOS app. Or you can simply create playlists beforehand using iTunes or WMP and let the MMS-2 incorporate them automatically.) Autonomic says providing the ability to create queues from within an iOS app would have complicated the design and distanced it from the standard Apple experience.
It's one of those unfortunate trade-offs you sometimes have to make between ease of use and extent of capabilities, and I really can't fault them for their choice. After all, queues themselves may not matter much in the days ahead since it's so much easier to let Pandora pick the music for you.
Thank You for Your Server
There's certainly more than one way to skin a server—and more than a few companies with their own individual approaches to providing multizone music. At $1,995, Autonomic's MMS-2 isn't the least expensive way of getting two zones of music into your home, but it's also far from being the most expensive. One thing that you can say for sure is that the MMS-2 is by far one of the most feature-packed, robustas-hell, dual-zone music servers you can buy today. It's simply outstanding in almost every aspect. The audio quality of the main zone's digital output is stellar. The caliber of the Mirage Media Controller interface designs is first class. The array of streaming audio providers compatible with the MMS-2 is excellent. And the cloud integration with file upload/download is a feature that truly sets it apart from the rest. While it's not the unit I'd recommend as a standalone music server to hook up to your HTIB, it'd be a shame not to incorporate the MMS-2 into an AMX-, Crestron-, Control4-, RTI,- or URC-controlled system.
Of course, there's the Chucky A/V component factor to consider, although I'm sure it's just my absinthe-fueled imagination that causes me to keep looking at the MMS-2 out of the corner of my eye when I'm in my theater room. Even if this particular MMS-2 were able to wreak havoc on my life, the fact that I'd still want to keep it is a pretty strong indication of what a terrific piece of gear it is.