Autonomic Mirage MMS-2 Media Server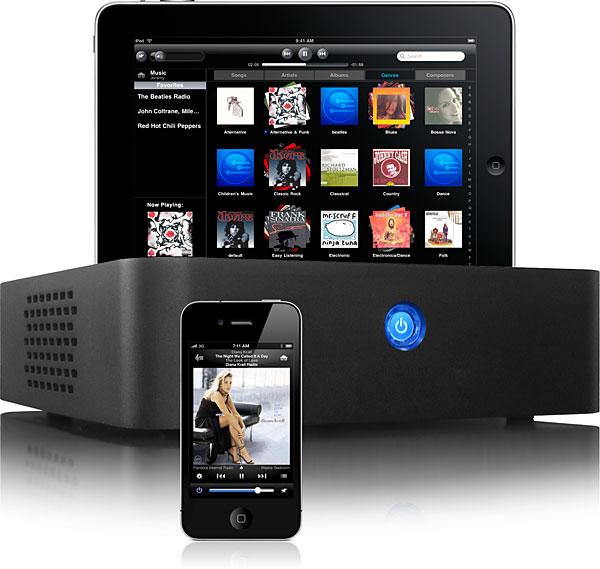 Price
: $1,995
At A Glance
: Upload and download content from Internet services • Excellent user interface • Designed to integrate with a variety of home-automation systems
There are some days when you're just not sure it's a good idea to get out of bed in the morning. Enjoy a few days like that, and you've made a week that's rotten enough to justify drowning your sorrows in a pool of bourbon and absinthe. Now put a couple of those disastrous weeks on your calendar, and you'll lay off the bourbon and go straight for the absinthe.
Well, let me say this. Either my bottle of Kübler has a leaky cork, or 2011 thus far ain't been one of my finest achievements.
Mr. Fustercluck Pays a Visit
Here's the short version of the sad series of unfortunate events. Things start off in a happy, antidepressant-supported way. Autonomic Controls sent me its two-zone music server, the Mirage MMS-2, to review. Suspiciously, though, not long after the review sample arrived, the hard drive in my laptop self-destructed, taking with it quite a few important-but-not-backed-up files. (Yeah, I'm an idiot.) Then a late-night lightning strike fried several key pieces of gear (all on surge protectors, by the way) that I needed to test the server. Adding insult to injury, WildBlue decided I'd been hogging too much of their satellite Internet bandwidth, and they throttled my service speed down to dial-up levels—just in time to cause me major problems when I needed to download a large firmware update for the MMS-2 (the upside of which is that I got to experience some exceptional assistance from Autonomic's tech support team). Oh, and then there were a number of quite interesting and definitely fraudulent credit card charges on one of my accounts (someone out there really likes DirecTV), some family issues, a bout of the flu, some constipation, a hemorrhoid, and—oh, am I giving you too much information?
Deep down, I know that these are all just unrelated coincidences. But somehow I just can't shake the feeling that this particular MMS-2 is some sort of electronic Chucky bent on my personal destruction.
What Is This El Diablo Machine, and Why Does It Monitor Me?
It seems like it should be, but it's not easy to fully describe this devious device and all that it can do. Basically, Autonomic's Mirage MMS-2 is a small, 7.5-inch-wide black box with a Windows Embedded device operating system and a 500-gigabyte hard drive stuffed inside. (I think Shrinky Dink technology may have been involved.) It's a two-independent-zone-with-half-the-storage companion piece to the company's more formidable five-zone, 1-terabyte model, the MMS-5. Both units are designed to function as an invisible component serving up digital audio within a larger home automation/multizone audio system. To support this, Autonomic has created the protocols necessary to fully integrate the MMS-5 and MMS-2 into AMX-, Crestron-, and Control4-managed systems. They also make it easy for installers to drop one of the Mirage servers into certain RTI- and URC-controlled systems. As a result of this puzzle-piece, plug-and-play-in-someone-else's-system design, a Mirage MMS box doesn't come with its own remote control. Most users will simply experience the MMS-2, for example, as another screen on their touchscreen controller or handheld remote control. Although they don't provide quite as seamless an experience, apps for the iPad ($49) or iPod ($19) to control the MMS-2 (or MMS-5) directly are also available.
The hardware is one thing. The MMS-2 now gets a bit more difficult to describe, primarily because there's so damn much this machine can do.
In its standard media server role, the MMS-2 can be configured (quite easily, by the way) to monitor your iTunes and/or Windows Media libraries and mirror that content on its internal drive. (This "sync tool" feature saved my ass when my laptop's hard drive failed.) You can also authorize the MMS-2 as one of your five allotted iTunes-enabled devices, so it'll play any of Apple's DRM'd music you may have in your collection—and that's pretty rare as far as audio servers go. It'll play just about any digital audio format under the sunspot-shedding sun; and, unlike some multiroom digital audio devices, the MMS-2 plays your personal content from its internal drive. You can stream music from your network by pointing it at a network-attached drive or shared folder. As long as your A/V system is on, your music is available.
The MMS-2 can also stream from a multitude of Internet services. It supports Pandora and the newly rebranded TuneIn (RadioTime). If you're a SiriusXM subscriber, the MMS-2 will give you access to their online service, too. European and U.S. owners can even add their Spotify accounts.
As if all of this weren't compelling enough, there's more. You get a free Ginsu knife with every purchase. (Sadly, this isn't actually the case—although probably a good thing, otherwise I might have ended up slicing off a body part or two.) What you do get is the ability to set up an account (free or fee) with MP3tunes—MP3tunes refers to it as a storage locker for your media files—and sync (both ways) the content stored on the MMS-2 with MP3tunes' servers. Not only does this give you a backup in the unlikely event that the MMS-2's drive fails (what? never!), it also gives you worldwide access to your digital content anywhere you have Internet access and a computer or Web-enabled device. Likewise, media you've uploaded to your locker from any other device will get sent (if you want it to work that way) to your MMS-2. While it wasn't yet available for me to try out, Autonomic will almost certainly have similar integration with Amazon's Cloud Player available as part of a free firmware update scheduled to go out before you've had a chance to read this. That's quite an impressive array of features packed inside such a little component.
Getting to Know You
Physical setup was boringly easy, with only an Ethernet jack, a power cord, a digital audio out, and an analog audio out to mess with. Configuring the MMS-2 was less boring but just about as simple. Using a Web browser to access the unit's configuration pages, you can give the MMS-2 its own name and, if you want, unique IP address. Then you can assign your online credentials for iTunes, MP3tunes, Pandora, and the rest. You can also install the Media Synchronization and Mirage controller standalone applications (Mac or Windows) directly from the MMS-2 to your computer. The Media Synchronization program is what you use to let the server know you want it to sync with your local iTunes or Windows Media libraries. In addition, should you so desire, you can set the MMS-2 to monitor any other folder(s) on your network for digital audio files and grab new ones as they appear. The configuration pages are also where your installer will be able to prep the MMS-2 for integration into an AMX, Crestron, Control4, RTI, URC, or other control system. Finally, you can activate one or both zones' audio outputs, as well as create a bevy of automatic media playback schedules.