Audioengine HD3 Loudspeaker Review Page 2
Associated equipment included a Pinnacle Baby Boomer sub. Signal sources were a pair of Windows 10 desktop PCs and (for Bluetooth) an iPad mini. The computers recognized the HD3's USB connection and installed its driver immediately. While music tracks played without incident, demanding test tones involving hard left/right pans (such as the Windows 10 test tone from the Control Panel) could cause a glitch in the audio wherein the left channel was truncated or absent. Audioengine says this a known (though seemingly inconsequential) issue. There was also a quick fade-up applied to some signals coming in through the USB input, though the audio began immediately at the selected volume with a Bluetooth connection to my iPad.
Secret Sauce
Running a silk dome tweeter with an analog (that is, not Class D) amp may be the secret sauce in Audioengine's characteristic warmish sound. Maybe it's part of what keeps the top end smooth and civilized, albeit sometimes noticeably reticent. Midrange is addictively sweet: It makes you want to listen to any music with a human voice. For small speakers, these are fairly punchy. When I ran them full-range and loud with a bass-drum-heavy track, I could feel the breezy turbulence of the slot-shaped ports. If you can stand hearing gross distortion, you could use the speakers as fans. But if you really want to hear bass-rich music at a rambunctious volume without audibly taxing the little woofers, toggle in the 100-Hz filter and let your sub do the heavy lifting.
DGMlive.com has been giving away a succession of free live tracks to celebrate the 2016 tour of King Crimson with its seven-man (and three-drummer) lineup. While MP3 at 192 kilobits per second wouldn't be my first choice for encoding, free is a good price, and the lossy format didn't prevent the variety of metal textures, the whirling sax lines, and Jakko Jakszyk's humanizing vocals from coming through in the right balance. The compact combination of Audioengine's 2.75-inch woofers and the dual 8-inch Pinnacle sub didn't enable this crunching math rock to stomp its mastodon feet as heavily as my main system would allow, with the multiple 7-inch drivers in my Paradigm Reference Studio 20 v.4 speakers crossing over to the 10-inch driver in my overachieving Paradigm Seismic 110 sub. But I could follow Tony Levin's bass guitar and Chapman Stick lines as well as the three drummers passing the beat around, with the Pinnacle sub underscoring their bass drums.
I paid tribute to former Crim bassist John Wetton, who died a few days before this was written, with Ronan Chris Murphy's 2005 mix of the band's 1974 live recording "Asbury Park," ripped to lossless ALAC 44.1/16 from the box set The Road to Red box set. As I toggled the HD3's output for Wetton's monster bass lines in this improv, the surprise was greater fuzz-bass menace when I allowed the speaker to operate below 100 Hz. What the little woofer lacked in bass extension, it made up for in bass definition.
The dustier corners of my music library include orchestral works ripped to MP3/192 that I no longer listen to, having gone lossless. But I dusted off Herbert von Karajan's 1963 release of Beethoven's Symphony No. 8 to see how the strings would emerge through the silk domes. Usually, an inherently astringent string sound and lossy encoding would be a recipe for earache. Some blurring attendant to the track resolution was indeed apparent at high volumes, but the Audioengines kept the music listenable enough for me to sail through all four movements. Sticking with Beethoven and the Berlin Philharmonic—but switching to Symphony No. 9, Claudio Abbado, and FLAC 96/24—got me a more refined string sound that held up better at high volumes.
My HDtracks download of Eric Dolphy's Out to Lunch! is FLAC at 192 kHz and 24 bits. Whether I was hearing the 16-bit bottleneck, a hardware limitation, or just the speaker's voicing, the result wasn't the ultimate in resolution. I've heard this material sound livelier on several other systems, including my Era/Peachtree desktop rig. I ran through Jade Warrior's Kites and Way of the Sun (from the Elements anthology, ripped to ALAC 44.1/16) and couldn't help noticing the pronounced rolloff in the masses of chiming tuned percussion. Airy these speakers are not. However, the HD3's mellow voicing did make the loud, slashing string-quartet parts less abrasive. Overall, the advanced dynamic demands of the music were well served, considering the diminutive size of the speakers. They can't play at rock-concert levels, but they can dominate a small- to medium-sized room.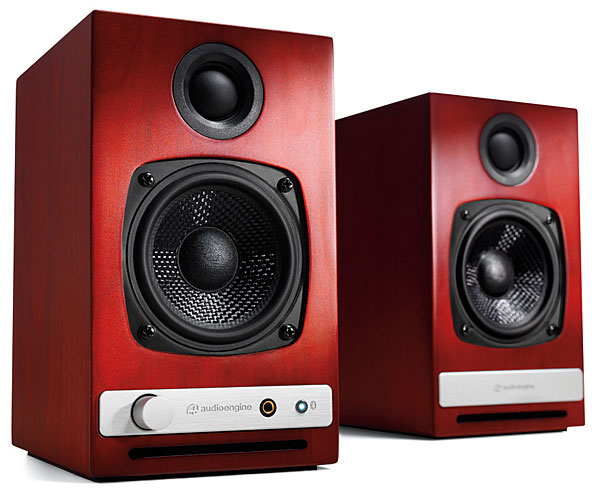 Can Jam
I used the HD3's headphone minijack to run through an hour of test tracks with HiFiMan's Edition X V2 planar headphones. It provided plenty of juice, but while the result sounded good, it didn't sound exceptional. Midrange was somewhat bland and colorless. Images didn't seem to stand out from the background. The DAC mated well with the speakers, but when driving the headphone output, it couldn't get the most vibrant listening experience out of revealing high-end headphones like the HiFiMan. My four-star Performance rating reflects both speaker and headphone performance, but it's weighted toward the speakers—since most people buying speakers will use them as speakers. And admittedly, most people will be plugging in less fastidious (and less expensive) headphones than these.
The Audioengine HD3 excels in several areas. Just the retro sight of the pair of speakers on my desk was enough to cheer me up. The front volume knob mercifully kept me from fumbling with onscreen volume sliders. During work hours, the HD3 made music clips a temptation—and even with spoken-word material, its naturalness and lack of edginess made themselves known. After hours, the Bluetooth connection picked up whatever music clips I was playing on the iPad, and I was invariably pleased with the results. While I was underwhelmed by the headphone output, you might feel differently with different headphones. And the ability to patch in a PC without going through the network was a constant boon.
There are cheaper active speakers out there—including Audioengine's own A2+ (at $150 less)—and better ways to explore high-resolution audio. But the ever-palatable voicing and musical empathy of this product make it a jolly companion and well worth its price, and perhaps just the ticket for your desktop.