Audioengine HD3 Loudspeaker Review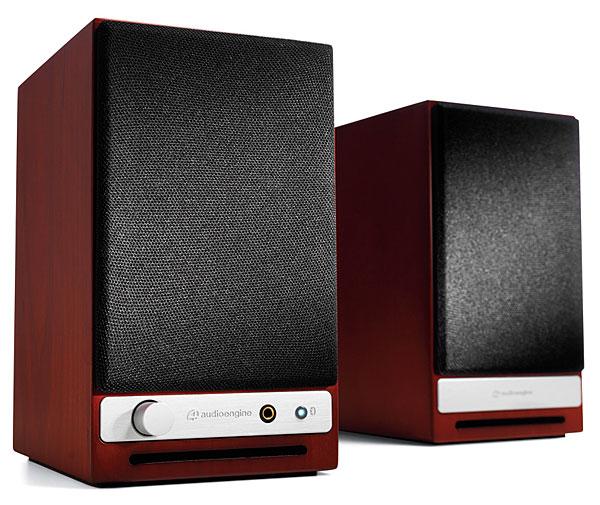 PRICE
$399 pr
AT A GLANCE
Plus
For desktop or in-room listening
PC-friendly USB and line inputs
Class A/B analog amp
Minus
Limited (but adjustable) bass
THE VERDICT
Audioengine, always a champ in powered compact speakers, sweetens the deal on this one with a PC-friendly USB input and headphone jack.
Twelve-year-old Audioengine is best known for active compact speakers, though the company also makes passive compact speakers, a subwoofer, a small amplifier, a USB stick DAC, and a couple of streaming DACs. The HD3 loudspeaker is more or less an amalgamation of most of those products, infusing a sweet little speaker with a Class A/B amp, DAC, Bluetooth streaming, and a couple of less common features that just might make it irresistible to those in the market for a pair of small wireless speakers.
The Smarter USB Input
One of those features is a fully functioning, computer-friendly USB input. USB jacks are not unknown in wireless speakers, but often they're just for firmware updates. More often than not, they fail to support a direct computer input. Even with fullfeatured A/V receivers, the USB jacks usually accept only USB drives, not computers. Other manufacturers excuse the omission by pointing to the wireless and network features of their products. In lieu of excuses, Audioengine offers a USB input that'll speak directly to your computer without clogging up your network. That makes it an ideal desktop companion.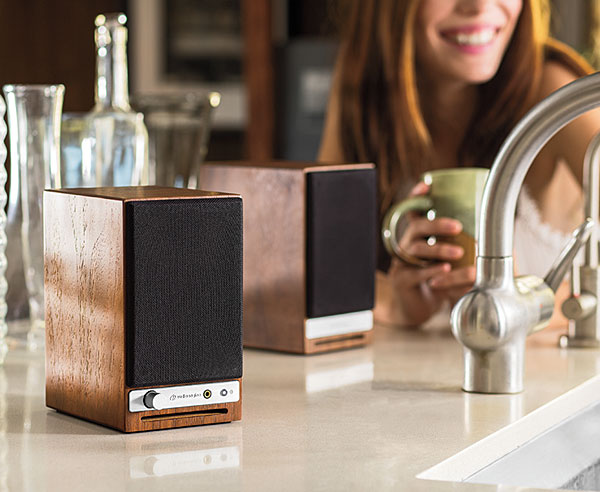 Please note that the Audioengine A2+ speaker and the DACs in the company's other products are also computer-friendly, though the HD3 ($399/pair) isn't merely a dressedup A2+ ($249/pair). While the two speakers share drivers, crossover, and power supply, the HD3's amp is different, and the enclosure options include walnut or cherry veneer as well as satin black paint.
A front-panel headphone minijack is another feature that might make you exclaim, "Why doesn't everyone do this?" True, you can plug your headphones directly into a computer, tablet, or smartphone. But then you're limited to the DAC and soundcard of that device. If they're no better than average, Audioengine's DAC may be an improvement.
At first glance, the HD3 looks engagingly retro. Each cabinet has an aluminum strip beneath the grille , and the strip on the left speaker contains the volume knob, headphone jack, and Bluetooth pairing button. The left speaker feeds the right with a speaker-level signal; the generic soldered-tip 16-gauge cable provided with the A2+ for this purpose has been upgraded here with snug-fitting banana plugs.
On the back panel of the left speaker are the USB jack, RCA stereo line-level input and output, analog minijack input, and Bluetooth antenna. Ethernet isn't provided, presumably because you'd use USB to attach a computer. If you connect a subwoofer to the full-range, variable analog-out, you can toggle the speaker's acoustical output between full range and high-pass filtered above 100 hertz. The filter limits the speaker's bass response, and the subwoofer's low-pass and level controls are used to achieve proper blending. Running full range without sub, the HD3 is rated down to 65 Hz –2 decibels. See our Test Bench measurements for an independent assessment.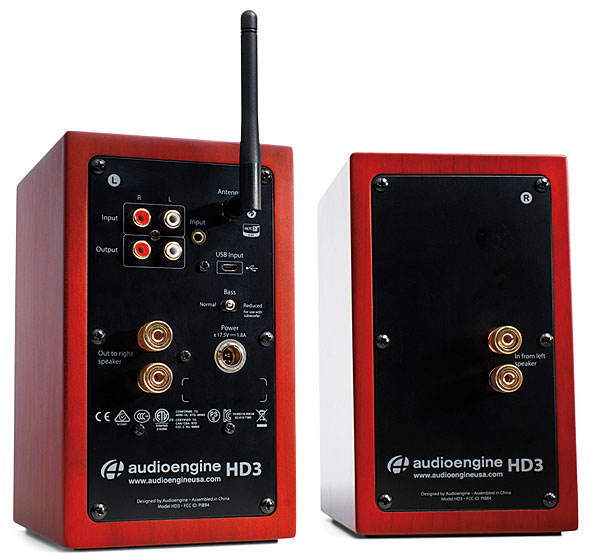 The HD3 sports a 2.75-inch cone woofer made of Kevlar (that's the bulletproof-vest stuff) and a smooth-sounding 0.75-inch silk dome tweeter. They sit behind a magnetically attached grille, with a skinny slot-shaped port at bottom front. Backing the drivers are Class A/B linear amps, one for each channel. The power supply is an external brick.
A threaded insert in the rubber bottom pad can fasten each speaker to a stand. Audioengine sells accessory floor stands for $160 (26 inches) or $170 (34 inches) per pair, made by Sanus. For desktop use, the DS1 rubber stands ($29/pair) would be a good idea, tilting the small speakers 15 degrees upward toward your ears.
The DAC uses 24-bit upsampling for internal processing at both the USB and Bluetooth inputs for improved signal-to-noise ratio and a lower noise floor. Hi-res audio purists should note that the DAC operates at 44.1 kilohertz (CD quality) or 48 kHz (slightly better), so the system isn't necessarily hi-res throughout the signal chain. However, it had no trouble accepting files stored at up to 192 kHz and 24 bits and via my PC running foobar2000 music software, seamlessly converting these in the process.